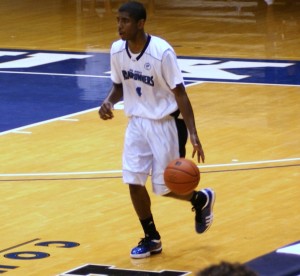 BDN takes a look at the how the recruiting class of 2010 is shaping up.  First of all we know that Josh Hairston, Andre Dawkins and Tyler Thornton are in the fold, but who are they really after to fill that class out?  Duke is happy to have all three of these kids but they are still seeking an [private] athletic wing, a point guard and a physical presence down low.
What this mean is that Duke is looking to bring in six players next year and seven counting red shirt Curry.  Duke is confident that current bigs in the program will all blossom.  Mason and Miles Plumlee alongside Ryan Kelly and Olek Czyz give the Devils a lot to work with.  Three of the four are very versatile players while one is an athletic project.
Harrison Barnes remains Duke's biggest target but he is  followed closely by Kyrie Irving.  Okay, you're asking where is Brandon Knight, right?  Knight is very much on his radar, so he is still listing Duke but Brandon is hard to read and takes a low key approach to recruiting.  He is well aware that there is a spot here if he wants to come, but Duke cannot sit by waiting on his decision.  That's why they have turned it up with Kyrie Irving.  Duke loves his athleticism and his demeanor.  Duke very much feels that they have a good shot at landing Irving.
Duke will on the recruting trail in July and Irving and Barnes will get a lot of attention at that time.  Duke is in desperate need of a point guard and Thornton is well aware that he'll likely be a backup at Duke and/or a program kid and is accepting of that role.  The Blue Devils like Ray McCallum as well and they have been told that he is no hurry in his recruiting by those close to the situation.  The bottom line is that Duke will look his way if and when there comes a time when they feel less confident with Irving.
Despite reports that Irving is leaning towards Indiana, recent statements to BDN indicated that he was in the early stages of the process.  Irving will visit Duke in the near future.  Duke feels as if his athleticism is just too enticing and again, they feel good about the situation.  Should that change on his visit and different vibes are felt, then they'll turn their attention to Ray McCallum and offer him.
Harrison Barnes' recruitment will go on for a while yet, but Duke feels good about their positioning and their relationship with the key prospect.  Again, he will visit Duke after he does UNC and this will be for the third time late this month.  The feeling is that this one may go down very much like Kyle Singler's recruitment, meaning they felt confident but had to let it play out.
Ideally, Duke wants to bring in a wide body athletic type and don't sleep on a kid like DeMarco Cox for he is very much what they are looking for physically.  While he needs work on his grades, there is time to turn that situation around.  Duke is interested in Tarik Black, but they'll need to get some more views of him in order to get a good feel for his game.   We'll keep you posted on any developments with concerns to unofficial visits and such.[/private]