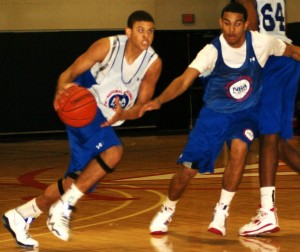 Ray McCallum, Jr. is a listed 6'1" point guard from Detroit Country Day in Beverly Hills, Michigan. His father is the head coach at Detroit Mercy and was formerly an assistant under Kelvin Sampson at Indiana and Oklahoma. After his father took the head coaching job in Detroit, McCallum moved from Bloomington, Indiana to suburban Detroit. The diminutive and cerebral point led his new team to a 24-2 record and has developed into one of the more coveted point guards in the country. During the recent LeBron James Skills Academy, McCallum sat down with Blue Devil Nation to talk about a variety of topics.
(Blue Devil Nation Premiums summer AAU coverage is unmatched.  Andrew Slater reported live from LeBron James Skills Academy this past week and the interviews are now rolling in.  Mark Watson is headed to the Peach Jam, so the in person coverage continues.  In fact, BDN will cover the rest of the major AAU events this season with our dedicated staff.  Join now to see what you are missing.  In a recednt survey our members overwhelmingly agreed that BDNP is the best subscription site around.  You'll be glad you did.)
Blue Devil Nation
How is your recruiting going right now?
Ray McCallum:
It's been good so far. I'm having fun with it, you know. Just trying to enjoy it because you only go through it once in your life. I'm just trying to enjoy it.
Blue Devil Nation:
Do you have a time frame for when you'd like to decide by?
Ray McCallum:
No, I'm just trying to enjoy the rest of the summer and again the last time I'm playing AAU ball. Have fun…see where I end up at the end of the summer and which schools are still interested in me.
BDN:
I'd really, what are some things that you'll find in the school that you ultimately decide upon?
RM:
I want to go somewhere where there's a good coach, a good team, a good history, a place where I can play, play my game, win, you know, academics. Everything really, you know.
Blue Devil Nation:
How important is immediate playing time for you?
Ray McCallum:
That's my main goal. I mean I've been playing since I was little and I've always wanted to do that. I've been starting since I was a freshman. I'm going to leave it up to that and try to go somewhere where  [private] I can come in and start.
Blue Devil Nation:
What are your strengths and what are some things you'd like to improve upon?
Ray McCallum:
I think my strengths are running a team, finding an open guy, you know, and I think can really score. I think all of those things and my shot. My shot has gotten a lot better. I've been working on that. I've gotten a lot better, but I really don't think you can ever shoot it perfectly.
BDN:
How do you feel you've performed in the recent point guard camp, the NBAPA camp, and during the spring in general?
RM:
I feel I played real well. I mean the NBA camp was good. It was a good experience playing with the top one hundred players in the country and then coming here.
BDN:
Was this your first major sneaker camp?
RM:
Yeah, this was my first one.  Then the Deron Williams was exciting, you know, getting to go against the top 20 pgs in the country.
Blue Devil Nation
:Well, let's talk about that.  Who were some of the toughest guys you faced there?
Ray McCallum:
Let's see. Brandon Knight, Joe Jackson, Kyrie Irving, and Kendall Marshall…I mean everyone who was there was very talented.  So, it was good and I felt like I learned a lot.
BDN:
Who's been the most aggressive program recruiting you?
RM:
Well, pretty much everyone is showing me the same amount of love…right now.
BDN:
You get the one phone call per…
RM:
Yeah, the one phone call per week, er, month. I get a lot more e-mails and stuff like that.
Blue Devil Nation
How do you think that having a father who's been a lifer in this business has differentiated from many other kids?
Ray McCallum:
I think I've got an advantage in the recruiting process. Going through what my dad's been through, you know, being at a big time program. Seeing all the big-time players come through and how all of their recruiting goes.
Blue Devil Nation;
As his son, you've also seen firsthand and dealt with the recruiting losses that he had. The sometimes devastating nature of a coach having put in a lot of work on trying to secure a player… for the player to only decide at the last minute for another program.
Ray McCallum:
Yeah, it can be, but you've got to always think that if you miss out on one great player, that there is another out there to go get.
Blue Devil Nation
What schools have you visited so far?
Ray McCallum:
I went to Midnight Madness at Kansas. I went to a game at Notre Dame. I went to an unofficial at Arizona. Michigan for an unofficial. I went to a game last year at UCLA.
BDN:
What's your current height and weight?
RM:
6'1" and 179.
BDN:
Who will you seek guidance from, whenever you do decide upon a college?
RM:
My parents really.  They've taught me everything and I really rely on their advice.
Blue Devil Nation
Can you talk about the transition from Bloomington to Detroit Country Day?
Ray McCallum:
It's been great. It's an excellent school and a great mix with athletics. I've really improved as a ballplayer since I've moved there. I'm very fortunate to have wound up there.
BDN:
What's it like at Detroit Country Day? I know they're a great academic school and they've produced many great players like Webber and Shane Battier.
RM:
First of all, they compete for state championships in all sports and, you know, the Sporting News ranked it like fifth in the country in best high school sports programs…and, academically, it's great and you have to wear a blazer.
Blue Devil Nation
You played with DaShonte Riley, Jordan Dumars, and Donnavan Kirk at Detroit Country Day. Have any of them encouraged you to go to college with them?
Ray McCallum:
They've all brought up their schools, but they're mostly joking about me joining them.
Blue Devil Nation
The year before you arrived I remember Donnavan was somewhat frustrated that your predecessor wasn't getting the big men the ball enough. As the point guard on that team, how did you try to placate all of those guys?
Ray McCallum:
Yeah, I averaged six assists. I tried to get everyone touches. I try to feed the bigs, you know. They told me the year before they didn't really have a point guard. So, they didn't get the ball. My main goal is to dominate this year.
BDN:
How'd you guys do?
RM:
Oh, man, we went 24-2 and we lost terribly in the Elite 8.
BDN:
Wow.
RM:
Yeah, the two teams we lost to were Bloomington
BDN:
I heard about that game and it must've been an emotional one for you.
RM:
Yeah, it was and Flint Power in the Elite 8.
BDN:
Who'd they have?
RM:
Nobody. They had nobody we should've had a problem.
BDN:
You know the year before, Kirk was saying he couldn't believe they lost to a team with no starter taller than 6'3" and DCD had five D-I athletes and four guys 6'8" or bigger.
Blue Devil Nation
:Speaking of Dumars, did it take any time for you to get used to seeing Joe Dumars consistently at your home games?
Ray McCallum:
No, I'm real close with Joe and their family. Me and Jordan are best friends and I'm always over at their house. He's at our practices.
BDN:
But it's still an odd thing, compared to the average kid in America, to have the Pistons' GM observing your high school games.
RM:
Oh, no, it's definitely unique, but he's real cool and you wouldn't even know he was there. He's got a real laid back and cool office too.
BDN:
How much will your role differ in the upcoming season?
RM:
Oh, it's going to be real different. We only have one big kid left. He's about 6'9"
BDN:
Amir Williams?
RM:
Yeah, he's good and so we have me and a whole bunch of guards.
BDN:
Which players do you try to model your game after?
RM:
Let's Chris Paul and D.J. Augustin actually.
BDN:
From a size perspective, Augustine is a good player for you to emulate. I know you had an injury last year. Has that completely healed?
RM:
Oh, yeah, I'm all good.
BDN:
Fairly or not, there was a perception that you were a Kansas lean for a little while. Is that accurate?
RM:
No, no, right now, everyone's equal.
Blue Devil Nation
Do you view yourself as a scoring point guard?
Ray McCallum:
You know, when I play with great players, I pass first, you know, score, when I need to score. When you're at camps like this…with such talented players, you've got to get everyone involved. However, when I'm with my high school team, I feel like I'm more of a scorer. I mean I think I'm a combination of both.
BDN:
What style of play do you feel best suits you?
RM:
I honestly think I can play either up-tempo or the half-court game.
BDN:
Now, you've moved around, but will distance be a factor at all?
RM:
No, not at all. I've been everywhere.
Blue Devil Nation
:Do you workout often?
Ray McCallum:
Oh, I workout everyday. I'm in the gym. I work on strength and conditioning.
BDN:
At Detroit Country Day or at your dad's university?
RM:
Both, but Country Day has very good facilities for a high school.
BDN:
How closely do you follow college basketball?
RM:
All the time. Whenever there's a game on, I'm watching it.
Blue Devil Nation
I'm sure you've vicariously felt the successes and the pains that your father has experienced on the recruiting front. How does it feel to be the one coveted? To be the prize.
Ray McCallum:
It's crazy. It came so fast, you know. This was my last one. I can't believe I'm in this situation and I'm very grateful for it.
Blue Devil Nation
Were you always highly recruited or did it change when your dad left Indiana?
Ray McCallum:
Well, yeah, but you're right it really picked up when my dad left Indiana because before the other programs thought I'd go there because of him.
Blue Devil Nation
Do you know Mason Plumlee fairly well?
Ray McCallum:
Oh, yeah, Mason… That's my boy. He's like one of my best friends.
BDN:
Which Duke coaches have you communicated with?
RM:
Coach Collins. He-mails me quite often. Nate James will call me and tell me things.
Blue Devil Nation
What's your feeling about Duke, both as a program and as a university as well?
Ray McCallum:
They have so much great history. It's a great school and a great team. I mean they're always guaranteed to get into the NCAA Tournament. And Coach K…he's everything. In terms of the university, I mean it's Duke. It's amazing.
BDN:
What's your opinion, from afar, of Coach Krzyzewski?
RM:
I mean he's a Hall of Fame coach, he's won three national titles, and just won a gold medal for the country. He's very likely going to have the most wins of all-time.
Blue Devil Nation
Does your father have a relationship with him?
Ray McCallum:
I don't think they're too close, but they definitely know each other.
BDN:
What would you like the audience to know about you as a person?
RM:
I'd like them to think of me as a good person with a good character…likes to have fun, but is a good student. Just an overall good kid.
Blue Devil Nation
I think that'll come across in this interview.  Thanks for answering all of my questions.
Ray McCallum:
Oh, no problem. Thank you for asking me them. [/private]