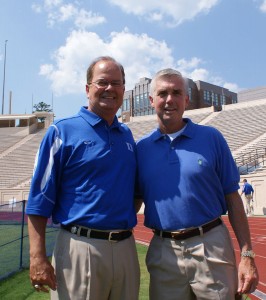 Coach David Cutcliffe has made his way out through the dew-covered turf at Wallace Wade Stadium to spring practice several times in the past couple of weeks.  As he makes that stroll each crisp spring morning, signs of change are in the backdrop.  Construction workers are going at it early on both ends of Wade and, just behind the practice field itself, a visitors locker room is being erected.
But the construction doesn't stop there for it is happening on the field as well.  Cutcliffe is now in his second year as coach of the Blue Devils and, like the construction crews, he has to tear down and build.
When Cutcliffe arrived in Durham, it was his job to demolish the old way of thinking around Duke Football.  He assembled the best support staff in Duke Football history and then they immediately hit the road recruiting.  After that, he led the win-thirsty Blue Devil Football program to four victories, but he didn't stop there.
To this day, Cutcliffe has demanded a work ethic from his players and he's been unafraid to challenge the fan base and those who can get the ball rolling on much needed changes to Wallace Wade Stadium and the football program in general.
"We're continuing to work on changing the atmosphere around the football program and we will not stop until that task is finished," stated Cutcliffe before last season began.
Cutcliffe has held to his promise thus far and he is making strides to build a program, not just a winning season.  That kind of change takes time, but there is little doubt that Duke is finally on the right track and that football is once again exciting.
The Blue Devils suffered some key senior losses and must break in a lot of young players this spring.  A quick look up and down the roster and then adding the incoming players clearly shows that Duke is one of the youngest, if not the youngest, teams in the  ACC.
"We're so much further ahead than where we were last year,  it's like night and day.  Not a lot of numbers (players), but sometimes that's a good thing with a lot of young guys getting reps.  It's been one of the more energetic springs I have been around.  We are a faster football team on both sides of the ball.  That's one of the things we felt like was key.  Our conditioning level is excellent, which has allowed us to work hard," said Cutcliffe when questioned as to how spring practice had been going.
Coach Cutcliffe had also mentioned earlier this spring that, despite the losses and the youth replacing them, this looked like a football team.  Perhaps he was referring to what the team looked like when he came in last year, for he more or less said they were fat and lazy — or perhaps out of shape is a kinder term.  I asked Cutcliffe if he could elaborate on what he meant when he said we looked like a football team and he replied –
"Just the overall fitness, bending our legs, playing lower, using our hands better – things that a football coach would look for.  I don't want to confuse that statement with we are ready to take on the world, but it's starting to really look like football and when you can compete and the energy level is as high as it is it has that feel and sound at football."
Cutcliffe is still well aware that his team must replace some key components, especially on the offensive line.
"We have a lot of work to do, obviously, in replacing three starters in the offensive line.  That's obviously a work in progress, as is replacing Eron Riley."
Despite those areas of concern, Duke quarterback Thaddeus Lewis recently told the Blue Devil Nation that the receivers had made good strides.  That is good to hear from the senior who will lead the offense.  But it was a player on the defensive side of the ball who said good things about the offensive line.
"Those guys are working really hard," said Duke linebacker Vinnie Rey.  He continued, "Sometimes they get a pancake on us and sometimes we knock them back, but they are coming along."
When Cutcliffe was asked about Vinnie Rey and what he meant to this years team he stated –
"Vinnie Rey has had a great spring – Vinnie is our leader.  He is our passionate and vocal and work leader and not just with our defense but with our football team."
Another concern is the secondary where Duke has some bodies but needs players to step up and claim the position with their play.
"We are still trying to deal with the secondary.  I see some growth but, unfortunately, Leon [Wright] has been out with his hamstring again.  That's allowed Zach Greene, Lee Butler, Colin Jones and Chris Rawakamba to get some work in.  At safety, Matt Daniels is an extremely talented youngster and we've just got to take our execution to another level.  We also have Byas and, of course, Catron Gainey is in there as well.  The experiment with Greene has been slowed due to his injured ankle, so it's hard to evaluate there.  But this does let us evaluate where we are and, hopefully, we will find some freshman help when we get here in the Fall, but we are not counting on that.  Instead, we are trying to get with the squad we have here currently," said Cutcliffe
Last season the tight end position had little depth due to injury, but this season the position could prove to be a strength and may be the most improved unit.
"Seeing Brandon King and Huff back healthy and Danny Parker who has had back problems all fall is healthy is positive for the position.  Getting Ryan Hall in early has been a big plus, so it is a position that could be a strength for us and I think it will be."
The Blue Devils have a few more practices before they go to the summer break and that means the spring game which will kick off on April 18th is just around the corner.  BDN asked Cutcliffe about that game.
"I'm looking forward to the spring game but I am kind of wondering what the format is that I want to use.  With the squad as small as it is, we may not be able to have a standard spring game, but I am still thinking about that and we'll send a release out to our fans soon.  We had a great crowd last year and I am expecting a good crowd this year with alumni weekend being the same weekend.  I am really anxious to get a huge crowd out here.  We are going to make it fun and I can promise you it will look like football."
You can find out more information on this game by going to GoDuke.com and it would be nice to see a big turnout for the affair.  In closing our chat, I asked Coach Cutcliffe if he had a message for the Blue Devil Nation [Duke fans] and the coach said without hesitation –
"I would tell the Duke fans the same thing I would tell our players in that this is year two.  Anything we did including our fan support was awesome for year one, but isn't good enough for year two.  Everybody needs to step up.  This football program needs to step up and we will, but our fans need to step up.  We need to break season ticket sales, we need to have a full stadium from the corners all the way to the bottom.  It's time to go … what are we waiting on?  This is good football here and we're really excited and ready to start this thing."