Does Major League Baseball still produce TWIB? I used to watch This Week In Baseball every weekend when I was a kid. Well, if MLB has TWIB, then BDN has TWIDF. BDN Premium's Football Friday is your weekly look inside the world of Duke Football. It's been a busy week in Durham, as the Blue Devils were recognized for their work in the classroom and also added a verbal commitment to the class of 2012.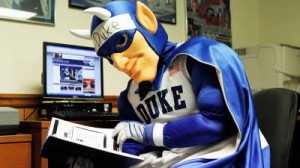 [private]
Duke named among top 10 percent in APR
The NCAA honored the Duke football program, along with 14 other Duke teams, for placing among the top 10 percent in the multi-year Academic Progress Report. The APR is an attempt to provide a real-time evaluation of each student-athlete's academic progress (as opposed to graduation rates, which are retrospective). While this kind of recognition has become expected among Duke teams, it's still a great acommlishment. The Blue Devils were first in the ACC and second overall with 15 teams recognized; Notre Dame had 17 teams honored. As the Duke football program strives for excellence on the field, they also continue to excel in the classroom.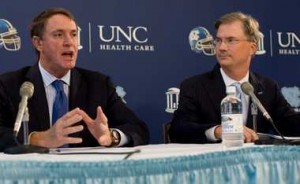 NCAA visits UNC, again
UNC defensive end Quinton Coples was spotted at a post-draft party in Washington, DC along with former teammates Marvin Austin and Robert Quinn in pictures posted on Facebook. This is either a complete non-story or a really big deal. Here's why. If Coples paid his own way for the trip and related expenses, his attendance at the party is allowed by NCAA regulations (though ill-advised given UNC's recent issues). If, however, Coples did not pay for any part of his trip to DC, Coples will likely be ruled ineligible for at least part of his senior season. Experts have Coples ranked among the top 5 NFL draft picks in 2012, so this could be another high-profile UNC player with eligibility issues. Given the similar infractions last year, the NCAA could have solid ground for strong sanctions against UNC. Stay tuned.
Duke receives third verbal commitment for 2012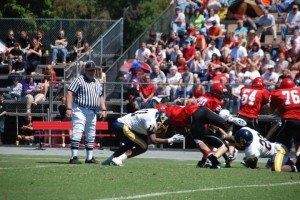 As you know by now, Dwayne Norman committed to Duke on Wednesday night. The Blue Devils were the first to offer the 6'0" 185 pound strong safety prospect from University Christian in Jacksonville, Florida. Norman joins fellow Jacksonville native TE Erich Schneider and DE Allen Jackson as the first three members of Duke's class of 2012. Thus far, all three prospects appear to be solid verbal commitments to the Blue Devils.
As for Norman, he's a hard-hitting safety prospect who totaled over 70 tackles and an interception as a junior, while also lining up at wide receiver. His highlights can be viewed here. Norman finishes tackles very well and does an excellent job getting into the opposing backfield. He will need to improve his coverage skills to play at the college level, but has the speed (4.5 sec 40-yard dash) and athleticism (33 inch vertical) to make the transition.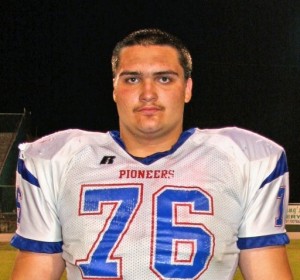 New Blue Devils on campus
Several members of the class of 2011 moved on to campus and began their first college courses this week. The first summer semester began on Wednesday, and the Blue Devils will have 8 players enrolled for this term. Several of these players worked hard to finish up their final semester in high school early so that they could arrive on campus as early as possible. The remaining members of the class of 2011 will join them for the second summer term at the beginning of July. Fall training camp will open during the first week of August, at which time all members of the team are required to report to campus.
The players enrolled on campus are:
OG Cody Robinson 6'3" 290 pounds
OG Lucas Patrick 6'3" 305 pounds
CB Tim Burton 5'9" 170 pounds
CB Jared Boyd 5'9" 170 pounds
P Will Monday 6'4" 185 pounds
TE David Reeves 6'6" 245 pounds
WR Nick Hill 6'2" 200 pounds
LB Jon Woodruff 6'3" 205 pounds (January enrollee)
Duke to host Nike camp this weekend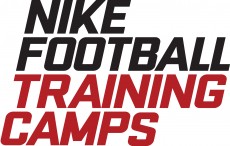 Spring football is in full swing for most high school prospects, and that includes both spring football practices as well as combines and camps. On Sunday, Nike will hold an invitation-only football camp on Duke's campus for top prospects in the class of 2012 and 2013. Needless to say, this is great exposure for the Duke program, and a testament to the recent improvements in Duke's football facilities. With the indoor practice facility under construction, Duke's commitment to football should be clear to prospects. Duke will host their own football camps the 2nd and 3rd week in June, but this camp is another great opportunity to get top prospects on Duke's campus for unofficial visits.
Here's the list of Nike Football Training Camps this spring:
March 27         Miami
April 3              USC
April 10            TCU
April 15            Georgia
April 17            Florida State
April 30           Penn State
May 1               Rutgers
May 7              Houston
May 15            Stanford
May 21            Ohio State
May 22            Duke
June 5              Oregon
June 19            Washington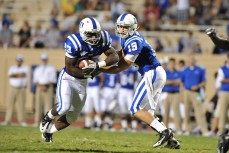 Al Featherston does it again
If you've read this far, clearly Hooked on Phonics worked for you. Maybe you're willing to read a little more. If so, we highly recommend the next installment of preview articles by Al Featherston at GoDuke. This week, Al speaks with Kurt Roper and analyzes what should be an improved running game for the 2011 Blue Devils.
That's what's happening in the world of Duke Football this week. Until next week, WE ARE DUKE. [/private]