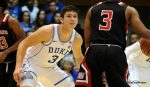 The Duke Blue Devils are in a good place as a team heading into tomorrows match up with Boston College.  This will not only be the ACC opener for both teams, but the league as well.
Duke comes into the contest with an 11-0 record as one of the few undefeated teams left in America.  And that record has come against good competition which in turn has the team ranked number one in all the land.
The Blue Devils are very good now.  Yet many will claim they see weakness in the team.  Well, of course, they can get better and will.  After this Saturdays game with the Eagles, Duke will get a major break of eleven days.
While a good portion of that break will be spent studying and taking exams, the team will also have time to practice.  And during those practices, there will be plenty of adjustments made.
In fact, the Blue Devils get another break of ten days after their December 20th contest with a good Evansville team in Cameron Indoor Stadium.  These two breaks will provide time for the staff to tweak the defense.
But Duke already has shown plenty of strengths.  They are one of the most dominant teams in the paint in the country and they can score.
Duke has already defined their starting lineup and the bench as well in recent outings.  In short, they are in a very good place for this time of the season which is early December.
As for the match up with Boston College tomorrow, Duke will be a clear favorite.  But this will be yet another test for a young team in that it is on the road and the Eagles have some experience.
The Eagles come into the game with a 6-3 mark and they have shown improvement from a season ago but recently lost  Deontae Hawkins (12.4 ppg, 9 rpg). They are led by Jerome Robinson (16.0 ppg) and Ky Bowman (15.8 ppg) and have good players in, Jordan Chatman and Nic Popovic.
Duke should be able to have their way in the paint if Marvin Bagley III and Wendell Carter Jr. have their normal games.  And the Blue Devils depth inside may enable them to get their opponent into foul trouble.
The key, however, will be to push Robinson off the three-point stripe while controlling Bowman who scores in multiple ways.  That means Duke will need a good effort from their backcourt of Trevon Duval, Grayson Allen and Gary Trent Jr. on the defensive end.
I don't think Duke coach Mike Krzyzewski will allow his team to take the Eagles lightly.  That will most likely enable the team to win an always important ACC battle and head into the break with as good a record as a team can possibly have.
I expect Boston College could come out strong early as Duke adjusts to some jet lag on their farthest journey north this season and the noon start.  But as the game progresses, I see another victory for a young, but talented bunch.  In fact,  it should be a double digit win.
Take advantage of our 2 for 1 special for Blue Devil Nation Premium members as the coaches will soon be on the road recruiting this month.