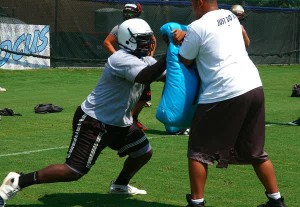 While Duke is working hard to improve their defense on the field this spring, the coaching staff is also working hard to upgrade the defense with a talented group of prospects in the class of 2012. Several defensive line prospects have received verbal scholarship offers from the Blue Devils, including a few local prospects who are attracting interest from national powerhouse programs. One of the first linemen targeted by the Duke staff is D.J. Reader, a 6'4" 315 pound prospect from Greensboro, NC. As a junior at Grimsley, D.J. played along both the offensive and defensive line, earning him offers from several top ACC programs. He's also a standout pitcher for the baseball team. His highlights from the gridiron can be viewed here.
BDN: Can you start off by describing your strengths for fans who haven't had a chance to see you play?
I guess my strengths would be I'm a good drop blocker, good at using, working with my hands, and a good pass blocker most times.  So, I mean, yeah, that's about it.
BDN: You've played well on both sides of the ball in high school; do you have a preference for where you would like to play in college?
Yes, sir.  I don't know, but my whole thing, I really like to play both sides, because I like being able to know what you've gotta do as an offensive lineman, what you've got to do as a defensive lineman, so I know how they work against each other on the field.  But I guess when I get to college, they'll decide where they want to put me.
BDN: What are some of the things you have been working on this offseason?
This offseason, just, I'm playing baseball right now, so in the offseason, I just work on getting stronger and faster.
BDN: What are some of your goals for your senior year?
My goals for my senior season are just to help my team win, and hopefully we get to the playoffs.
BDN: As you look at your college decision, what are the most important factors you are looking for in a school?
One of the most important things, I don't know, I have a couple teammates that are division I guys, so I mean I might try to base my decision off of them, and just where I feel comfortable.
BDN: Which schools have you been in contact with the longest, or have been hearing the most from?
Schools that have been recruiting me the longest are NC State, [North] Carolina, Clemson, and Duke.  And Maryland.
BDN: Have you had a chance to visit any schools so far?
Duke, [North] Carolina, NC State, and Clemson.
BDN: Do you have any other visits planned for this spring or summer?
I'll probably go down to Maryland this summer, a couple more schools this summer.  Not in stone right now, but I'll figure it out.
BDN: Are there any schools that you feel like you've developed a good relationship with at this point in the process?
Not right now.
BDN: Thanks a lot, D.J., and best of luck to you.
Okay, you too.