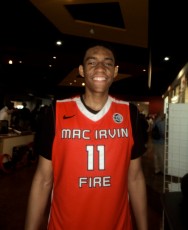 Deep in the South Side of Chicago sits Simeon Career Academy, a vocational school that has helped churn out graduates with skill sets that are able to enter the labor force. One of its recent graduates, Derrick Rose, was just named the youngest MVP of the NBA.
Jabari Parker, a 6'7" 215 lb sophomore forward at the school, has accomplished something that even Rose didn't: he's started every game of his high school career. This past March, the multifaceted sophomore, who last year was named ESPN Rise's National Freshman of the Year, lead Simeon to a 48-39 victory over Warren for its second consecutive and fifth overall state title.
Chicago is called the City of Big Shoulders. If following in the footsteps of the MVP might be too much of a burden to some, it's not to the soft spoken Parker. The Parker name carries a lot of weight in Chicago, where his father, Robert "Sonny" Parker, has tried to give back to the community that helped raise him.
His dad, Sonny, was an all-state player over at Farragut, the alma mater of Kevin Garnett. Mr. Parker then became a Junior College All-American at Mineral College and spent his last two years in College Station at Texas A&M, where he was named the Southwest Conference Player of the Year. After graduating, he became a first round draft pick in 1976 of the Golden State Warriors, where he played in the Bay Area for his entire six-year NBA career.
In 1990, he began the Chicago-based Sonny Parker Youth Foundation, a non-profit which seeks to offer year-round recreational and educational after-school programs for Chicago kids in grades K-12, in order to provide alternatives to gang and drug-related violence that still plagues parts of the Windy City. In the mid-90s, the altruistic Mr. Parker would have the last of his seven children, Jabari, who likely will turn out to be the best basketball player of his scion and a future contributor to the legacy of his foundation.
A 3.5 student, Jabari Parker, is very demanding of himself on and off of the court, but feels that his Mormon faith has kept him grounded, as others have tried to tout him as the next great one. Looking for a demanding college coach that will treat him the same as his teammates, the versatile Parker traveled to Durham this past winter to catch a Duke game with Shabazz Muhammad. The 2013 prospect has spoken with Duke coaches Mike Krzyzewski and Nate James and appreciates their straightforward approach.
In April, Jabari visited the University of Washington, where reportedly Coach Romar, a former Golden State Warrior teammate of Sonny Parker, is interested in hiring his older brother, Christian.
At a recent AAU tournament, the gracious Jabari Parker, who now plays with Nike's Mac Irvin Fire, spoke at length exclusively with Blue Devil Nation.
Which schools are recruiting you?
The full list?
Well, as many as you want to mention.
Sure, Duke, Kansas, Washington, Illinois, Michigan State, Northwestern, DePaul, Providence, Florida and that's it, really.
Note - I have never seen a more in depth, informative and concise interview with a player of major interest to Duke fans as this Jabari Parker interview conducted by BDN Recruiting Analyst Andrew Slater.  You will be  a flat out expert on Parker by the time you read this 3264 word interview and learn about a key prospect  In short, join BDN Premium.  And folks, we are just scratching the surface on warm ball recruiting coverage!  Once you are a member and finish this article, you can then jump to the latest on Alex Poythress and Tony Parker and there is more to come.  And remember, this interview is exclusive, meaning you will not find it elsewhere nor will you see well studied questions designed to bring you up close and personal, BDN style. - Mark Watson
That's plenty. Do you have a timeline for when you'd like to decide by?
I'm going to [private] open up my recruitment fully. I'm not going to commit too early because I'd like to get my teammates the same good looks that I've received.
You want to give them the opportunity to have all of those eyes watching them.
Yeah, that's right.
That's generous of you. For those that haven't seen you play in person or, perhaps, have only seen your highlights on YouTube, can you describe your game to the audience? How do you view yourself?
It's not complete. I feel that there's still a lot that I have to work on, but I feel that I sometimes lack all the intangibles. Like there are times where I find myself being lazy and not diving for loose balls or grabbing an extra offensive rebound that I should or even sometimes not moving enough without the ball. Some of my strengths are that I can shoot well. I'm a triple threat. I'm pretty good at scoring on the break. In transition, I'm able to make passes and I'm good defensively. That's it.
In terms of position, what do you view yourself as? A three? Four?
Yeah, a 3/4. In high school, they run me at a lot of four.
Yeah, outside of two high school games with Simeon, I've primarily watched you on the AAU circuit, where they've played you at both forward spots and even a bit at center. Who is "the guy" that you try to model your game after? Is there any one player or a couple of guys?
Some of the main small forwards in the League, like Paul Pierce, a lot of people compare me to him. I like to watch Carmelo Anthony a lot though.
Alright, finally, a Knick gets mentioned.
(laughs)
He's such a tremendous overall offensive weapon. Either in Chicago or on the AAU circuit, who's been the most difficult guy for you try to contain?
It was Anthony Davis at the NBA Top 100 camp. He was so difficult to match-up against.
What are you looking for ideally in a  college program, whenever you do decide? What are some things?
Yeah, I'm looking for a school that will treat me the same as everybody else. At the same time, I'm able to work hard and push myself to the highest levels of basketball. I'm also just looking for a good relationship with the coaching staff and one with good school spirit.
You mentioned schools all across the country. Will distance be a factor for you or not really?
Not really, wherever I go, I'll be able to see my parents or they'll come out to my games to see me. That's fine.
Would they be interested in relocating?
I don't know about that. My dad's in Chicago most of the time and he's really been there for most of his whole life.
Speaking of that, can you compare your game to your dad's? For those that may not know, your dad, Sonny Parker, was a pro for a number of years.
Yeah, sure, a lot of people around the city say that I have some of the same moves like he had and the same athleticism. Well, not really because he was more athletic than I am. Yeah, my father's been there for me and he's been an inspiration and I'm fortunate to have a father figure in my life. A lot of these kids don't have fathers in their lives.
Yeah, I was talking a little bit about it last night with another father, Mr. Pinson, and he was saying that it's an absolute shame that a lot of fathers don't want to be in their son's lives. You're fortunate.
Yeah, and I'm also fortunate because he went to the next level in the NBA.
Yeah, well, that's another story. (laughs)
(laughs)
Does he give you a lot of pointers or is he, sort of, hands off, in terms of basketball?
Yeah, he gives me advice, but he doesn't really try to coach me or anything like that. He mostly gives me advice.
When you need it…he, sort of, picks his spots.
Yes, exactly.
Speaking of that, who will be some people in your life that will be influential in your college decision? Your mother and father?
Yeah, it'll just be my inner circle. My coach from Simeon, Rob Smith. My mom and dad. My brothers, you know, my whole family.
Where do you fit in, in terms of your family? Are you the youngest? Forgive me for not knowing or remembering. It's been a long day.
No, it's okay. I'm the youngest and I've got two older brothers. One played overseas in Hungary and my other brother is trying to coach at the University of Washington.
Oh, okay. Can you tell the audience a little bit about you away from the court? What would you like them to know about you as a person?
I try to be a really good person. I'm able to click with people. I care about people and I'm humble.
I'm a first-hand witness to that.  In terms of your faith, it's a somewhat unusual one.
Yeah, it is.
I literally never have asked about their religion or faith, but, if you don't mind, could you touch on that and possibly how it differentiates you or fills a void?
It helps me stay calm and stay spiritual. Like, I'm not better than anybody else, but I'm also the same as anybody else. I'm just a normal person that happens to play basketball. I'm glad that I have it in my life because I find that it keeps me grounded. I was glad to see people like Jimmer and Danny Ainge have success with spirituality in their lives.
In terms of Chicagoland, they've got a basketball history as strong as anybody. These things ebb and flow, but there's been a bit of a renaissance in Chicago the last couple of years and its continued into your class and the 2014 one as well. Nationally, I'd say Chicago, the New England prep schools, and Texas will be the story over the next couple of years. Can you talk about your class and some of the other bright stars set to come out of the city?
Well, it's always been good over the past years, but, in the past year or so, it's been really good to see some of our guys get national attention like Wayne Blackshear, Anthony Davis, Michael Henry, Sam Thompson. They've really taken Chicago and represented it very well. I'm very glad that the number one player in the country is Anthony Davis of Chicago. I think he does a good job of representing the city real well.
I've dealt with him a few times and he seems to be a really nice kid.
Yeah, he's very nice. He's real nice to everybody.
It's nice to see also a person "come out of nowhere" and wind up as one of the top players in his class.   It can be inspirational for future ballers to keep grinding.
Yeah, and he doesn't even have a really big ego either. He's just a really ordinary person and those characteristics, like his personality didn't change just because he became a really good basketball player.
It'll probably help him later in life after he stops playing as well. Speaking of that, do you have any interest in following your brother into coaching as well?
Yeah, kinda sorta, but I just really want to give back to the community. Chicago has done so much for me and it's helped me get out of the streets and stuff. I'd like to work on returning the favor.
How would you go about that? Have you thought about that?
Yeah, I have. I'll take over my dad's foundation and just work to expand it. Hopefully, helping people in the community.
I've heard from people, including coincidentally today, talk about your father and his foundation. Tell the audience a little bit about what your father does, his foundation and what it looks to achieve.
He really deals with the youth of Chicago and he helps hold workouts and camps for kids and stuff. He tries to reach out..
To keep kids off the street and use that energy toward a more positive means.
Exactly, and he also ran an AAU organization. Actually, Anthony Davis was one of the first players there and Wayne Blackshear. That foundation is really highly thought of by people that play basketball.
That's great. Let's talk about your team, Mac Irvin. You've got some guys that also play alongside you at Simeon. What do you think of your squad this year, the level of talent on Mac Irvin this year, and potentially how it'll help you adjust to playing the college game?
It's similar. I think this tournament, the EYBL, the league will help me to be a better basketball player and get me to look closely at the stuff that I'm not able to do. Stuff that I need to improve at. So, this'll help me to improve for college, the next level, when it's really faster.
Do you like or even prefer to play in transition?  You do it very well for a guy your size.
Yeah, I love transition because, like, on the break, the other guys can't really set up in their defenses.
Right.  I've noticed you picking angles and spaces in transition, which is relatively advanced for a guy your age too. You pick your spots.

Yeah, you're right.
I should've asked you this before, but what kind of system would you like to play in and how important will that be in your ultimate decision? You've got some very different offensive systems or philosophies listed among your college choices.
Yeah, I mean I like a transition offense. That could help me in the NBA because mainly there's a lot of fast break points and a lot of one-on-one stuff. So, if that's stuff that I can improve at, then it'll also help make me into a better basketball player.
Are you a Bulls fan, by the way?
I like the Bulls, but I've got to go with my Celtics.
Oh, a Celtics fan. That's interesting. Did coaches come and visit you during the open period?

Do you mean, like, come by the school?
Yes, exactly.
Oh, well, I wasn't at the school at the time, but I heard that BYU came. Illinois, Michigan State, and, I think, Nevada. I was away, but I also heard that Memphis was there for Kendrick Nunn from Simeon and they're looking at him.
What are you hoping to accomplish this summer?
Just a buildup for the season. You know just get myself out there on the circuit and play with the EYBL, which is new to me because I played with Ferrari before.
Will you be playing with both programs?
No, no.
Strictly Mac Irvin for the rest of the year?
Yeah, that's it.
In terms of something like skill development, are you looking to work on your perimeter shot? It seems like you've been either a little more comfortable shooting from the mid-range and deep this year or are, at least trying to expand your game?
Yeah, I can improve my shot a lot. I'm working on getting my shot a little better and getting my handle a little better.
And how about your body?
I'm working on that too. I'm trying to get a little more ripped.
I noticed that your shoulders are getting a little bit bigger.
Yeah, and I've lost a little bit of weight, too.
How did you do it? Was it a lot of conditioning? What was your secret?
Conditioning, yeah, I've just been working out at the Attack Center with Tim Grover.
Oh, yeah? That's a big time place.
Yeah, me and Tommy Hamilton. I've been building my body up and getting my wind back.
Speaking of you and Tommy Hamilton, are you interested in going to college together? Are you being recruited together?
We've been talking about it. We're interested in going to college together, and I know that he's really interested in Illinois, Michigan State, and Minnesota and those schools. That could be a factor because, you know, me and him grew up together. We have a lot of fun together, he's a real laid back guy. He really doesn't have any beef with people or hold any grudges.
In terms of you next year at Simeon, what are your hopes and expectations for next season? Another state title?
Yeah, another state title and to get on the national scene because next year will be my first year going out to like the big-time places.
Which ones are you going to in case some members of the audience want to catch a game?
We're going to Pittsburgh, we're going to Boston, and I think we're going to Melrose.
Last week there was some speculation that Washington may be your leader because your brother might be hired there as a coach. Can you talk about that, if you would? If it's a touchy issue, we can just move on.
No, no, it's cool. When I went out to Washington, it was very nice. I'm trying to take all my recruitment like all my top five equally. I don't really have a high, but since I went out there, it gave me a better look and a better experience with the campus and the University.
What other schools have you visited?
I've visited Michigan State, Duke, and, you know, Illinois is right down the road.
Oh, sure, and probably DePaul, too.
Oh, yeah, and DePaul, too, definitely.
What did you see and do on those visits?
Yeah, those schools, they have a lot of traditions and I liked a lot of the campuses that they have. They have really good athletic dorms and, you know, I like the coaches and the basketball players.
Did you visit BYU as well?
No, I haven't.
Can you talk about your visit to Duke and what was your impression of the school?
Yeah, Duke was very good. Coach K is one of the best coaches ever.  He's a guy that I can trust and, when I was talking to him, he was telling me the truth and not telling me what I wanted to hear. That stuff that's going to help me in the future and stuff.  Nate James is a really nice guy. And I could get a really good education when I go to Duke, too.
Are you a good student as well?
Yeah, I'm good, but sometimes I can lack on the tests and stuff. Yeah, I have a 3.5.
That's very solid.
I could really be better.
What would you like to major in?
I major now in Information Technology. In my school, that's my career path.
Right, are you good at working with computers? What do you study or do with respect to IT? I apologize.
No, it's okay. We work out on Microsoft, like on Windows and stuff, and Excel. Like formatting documents and stuff so that we can do, like, newsletters for the school and stuff. But, when I go to college, I'll probably major in Communications or Secondary Education. Maybe, one day, if I'm a high school teacher, I'll be able to coach in high school.
Would you like to coach at Simeon one day or would you rather somewhere else?
Probably somewhere else. I'd like to go to a program where I could build it on my own.
Getting back to your father for a second, with all of his connections, has it helped you meet and play with better players? Maybe at the NBA level?
Well, my dad, you know, he's been playing since the 70s and stuff.  Like, I've had the opportunity to meet a lot of people through him like John Lucas and those guys and they help me look at basketball not as the business aspect, but something to love and stuff. It's something that you want to do, not something that you have to do.
Much more of a pure aspect to it.
Yes, exactly.
Thank you very much for your time.
No, thank you. Thank you. I enjoyed it.
Reproducing this article in part or whole is striclty prohibited under user agreement and grounds for membership termination without refund.  We will aggresively go after anyone who does not follow these rules in the future and simply ask that you respect them.  We have had to crack down for some former members felt it was their right to copy, paste and share articles despite binding agreement.   [/private]