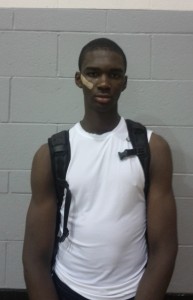 After a one-point loss in triple overtime of an end-of-the-summer AAU event, 6'7" Noah Vonleh, an amiable gym rat from Haverhill, Massachusetts comes over and tries to collect his thoughts. The son of a nurse who escaped war-ravaged Western Africa in the mid-90s is preparing for his own move in the coming weeks. The fifteen year-old decided to leave the comfort of his local public high school, Haverhill, where he dominated the competition, averaging eighteen points, seventeen rebounds, seven assists, and five blocks.
From his home in the formerly thriving industrial city, Haverhill, on the outskirts of Boston, he's heading an hour north to a New England prep school, New Hampton, the chief rival of Brewster Academy (where Duke recruit Mitch McGary attends) that has produced ex-NBA players Lawrence Moten, Darius Songalia, and Rashad McCants as well as former Duke Blue Devil, J.D. Simpson. The versatile forward has also decided to reclassify to the 2014 class, in order to acclimate himself to his new school and the NEPSAC AAA league, the most challenging high school league in the country. New Hampton, located in the foothills of New Hampshire's White Mountains, is coming off of a very good year, where they made a run to the NEPSAC Finals.
Vonleh, who enjoys a 7'4" reach, anticipates that he will have to deal with bigger, stronger, and older players than in his prior Merrimack Valley league. The hard-working forward is eager to utilize the valuable facilities that New Hampton enjoys and the easy access that he'll have to them. One person who will help in his adjustment is his Massachusetts Rivals AAU teammate and fellow high-major recruit, 6'9" Zach Auguste, who played for the New Hampton Huskies last season. This AAU season, the duo has helped Coach Vincent Pastore, Vonleh's longtime AAU coach and mentor to former McDonald's All-American Scott Hazelton, enjoy a few successful runs over the past few months, including recently at the Super 64 in Las Vegas and the Best of Summer Showcase in Southern California. Vonleh, who was one of only seven 2014 prospects to attend the LeBron James Skills Academy, has generated interest from both of the "Tobacco Road" schools and offers from several big-time programs, including Kansas, Syracuse, UCLA, Pittsburgh, Arizona, and Florida.
Always respectful, but understandably exhausted, Noah gave Blue Devil Nation a quick update on his future and a recap of his summer.
I'm sorry to have to talk to you after a terrible loss like this, but what went into your decision to transfer to New Hampton and reclassify to the 2014 class? Why did you choose to do it and what are you hoping to get out of it?
Yeah, I'm going to New Hampton and I'm going to be in the class of 2014. The reason why I left is that the prep school competition is a lot better than the high school competition that I've faced so far. I really think it'll help make me a lot better. I'm really looking forward to it.
[private]
Staying with that theme, tell the audience both a little bit more about both the level of competition that you'll see in the New England prep school leagues and the recent rise of New England overall on a national stage. Both have gotten a lot better in recent years.
Yeah, there's a real rush of great players coming out right now. Andre Drummond, Ricky Ledo, Nerlens and a lot of players have helped to show what we're capable of this summer. I'm not really sure why, but it's great to see.
Not that it's extremely uncommon anymore, but what went into your decision to reclassify?
Yeah, well, I'm still only fifteen years old so I felt that it wouldn't be a big deal and hopefully would help me when I went to my new school and got used to their facilities and competition. I think it'll help me get bigger and better in my time in high school. I'm going to be playing against a lot stronger players and competition, you know. I mean some of these guys'll be a lot older.
As you mentioned, you're still so young, but what is it like playing in front of the college coaches? Does it get you excited or motivated?
Yeah, it kind of gets me nervous and motivated. I want to play my best and perform in front of the college coaches. 
Absolutely, what are your offers and what schools are expressing interest in you?
Providence, Syracuse, BC, Georgia Tech, Kansas… Duke has shown interest and actually so has UNC. That's all I can think of right now. 
What about a position? What do you view yourself as?
A small forward or a combo forward, I guess. Probably a small forward. 
What do you think are your strengths and weaknesses?
I think scoring the ball and my versatility because I'm able to score inside and post up against smaller players or I can take bigger guys off of the dribble from the outside or just shoot over them. 
Speaking of that, do you prefer to play with your back to the basket or face-up? In this game, you played a lot more with your back to the basket, but a lot of other games you stay outside or move around.
Oh, yeah, definitely face-up.
Have you taken any visits and do you have any planned?
I haven't taken any visits really. I think I'm going to wait. I don't have any plans. 
What are you looking for, ideally, whenever you do decide?
A school that will make me better, a school that will push me, both on the court and academically, and that will help me in school. I also like to be comfortable with the players and coaches. Just a place that I'd like to be.
Will distance be a factor?
No, it won't be. 
What are your goals for this high school season?
To help my team become successful and for me to get better.
How do you feel you did in your original sophomore year at Haverhill this year?
Yeah, Haverhill. I thought I did well, but the competition wasn't really great. I think I played well overall, but we didn't win as many games as we probably should or could've, which was a little frustrating. 
How do you feel you've played so far this AAU season?
I thought I've been playing really good this year. We've done well as a team, which is important and we've got some good talent here too. We've been able to beat and compete against a lot of good teams, which is also important. I think I've done really well. I feel like I'm competing against my rivals. 
Whenever you do decide, who will you turn to for guidance?
My AAU coach, Vincent Pastore, and my mom. 
Speaking of your mom, how does your family feel about you going away to school this year? Are they excited for you? Or are they sorry to see you leave?
They're very excited for me. They can't wait for me to go. They think it's a great opportunity. 
Who do you try to model your game after?
Kevin Durant. We're around the same size and I guess I just love to watch him play.
How do you feel you shoot the ball? What do you think is your range?
Well, I think I can shoot it all the way to the three point line. I just didn't shoot it well today. I'm not sure what happened. 
No, no, don't worry about that. I've seen you shoot the ball well before. Who's the toughest player you've ever gone against?
I guess the toughest player I've gone against is Nerlens Noel. He blocks everything. 
Yeah, it's like he's got a broomstick out there or something.
From what we touched on before, what are you looking forward to gaining from facing the competition you're going to see next year?
I'm looking for guys to keep pushing me and competing with me and helping me to get better, both on my team and the teams we'll be facing. I'm looking forward to working with my new coaches, too.
Other than Zach (Auguste), do you know any of your teammates or coaches pretty well at this point?
Yeah, Zach Auguste. Zach helped me and encouraged me to go there. It's good to know somebody who's actually there right now. Also, Mike Auger, who's out here.
Did the coaches there talk to you about what your role will be or what their expectations will be of you?
No, not really. They're going to tell me when I get there.
How far will it be from your hometown of Haverhill?
It'll be about an hour, maybe a little bit more. Not too far.
Earlier you mentioned that the two Tobacco Road schools, Duke and North Carolina, had expressed interest in you.
Oh, yeah, they've both shown interest so far.
What do you know about the programs?
Two things…they get a lot of players to the NBA and they win National Championships.
(Laughs)
What would like the audience to know about you, on or off the court?
That I work very hard at basketball and take it very seriously. I try to put in a lot of hours…day or night.
Thanks very much.
Yeah, I really appreciate it.[/private]