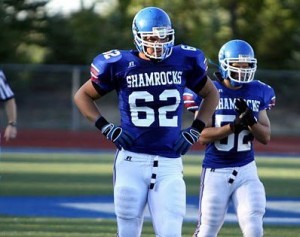 While Duke is working hard to improve their defense on the field this spring, the coaching staff is also working hard to upgrade the defense with a talented group of prospects in the class of 2012. Several defensive line prospects have received verbal scholarship offers from the Blue Devils, including one of the top prospects in the country, who took a visit to Duke this spring. Matt Godin is a 6'6" 260 pound defensive lineman from Novi, Michigan. As a junior, Matt helped Catholic Central to a 9-3 record, totaling over 50 tackles. The versatile and athletic lineman is the type of prospect that Duke is targeting in the class of 2012, but the Blue Devils will face competition from Big 10 powers such as Michigan, Michigan State, and Wisconsin, all of which have also offered. Highlights of Matt's junior year can be viewed here.
BDN: Can you start off by describing your strengths for fans who haven't had a chance to see you play?
My strengths, definitely my quickness off the ball, and then my swing move.
BDN: You've played well both inside and outside in high school; do you have a preference for where you would like to play in college?
It doesn't really matter.  I'll play both.
BDN: What are some of the things you have been working on this offseason?
Just overall getting stronger and just keeping my quickness up too, so doing speed training and stuff.
BDN: What are some of your goals for your senior year?
State championship.
BDN: As you look at your college decision, what are the most important factors you are looking for in a school?
Education, and like the overall feel I get from the people around me when I go there, and just like the tradition.  I mean, there's got to be a solid foundation at the school.
BDN: Since you mentioned education being an important factor, is there a particular field you are interested in studying in college?
Probably business.
BDN: Which schools have you been in contact with the longest, or have been hearing the most from?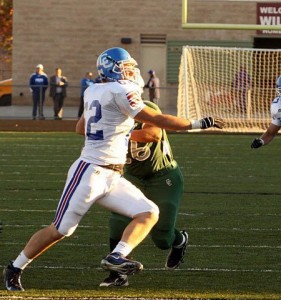 Actually right before you just called, I got off the phone with Coach Cut[cliffe] over at Duke, and then – mostly just the schools that offered me, I've been talking to the most.  Cincinnati, Syracuse, Michigan State, Duke, and Buffalo, and then schools that haven't offered me I've mostly been talking to Wisconsin, Oregon, Northwestern and Illinois.
BDN: Have you had a chance to visit any schools so far?
Michigan State, Duke, what else?  I went to Michigan a few times, I went to Iowa last year.  That's about it.  Oh, I went to Northwestern.
BDN: Do you have any other visits planned for this spring or summer?
I'm gonna be going to Duke again, probably the summer, and then I'm going to Michigan State soon, and then I'm visiting Wisconsin next weekend.  Not this weekend, but next weekend, and then I'll probably make it down to Illinois too.
BDN: Are there any schools that you feel like you've developed a good relationship with at this point in the process?
I was impressed with Northwestern, Michigan State, and Duke.  All of those 3.
BDN: Was there anything specific that stood out to you about those programs?
I mean, I'm not – not anything specific.  Obviously the facilities for all of them were nice, and I like the coaches from all those 3 schools.  Probably Duke and Michigan State though, the coaches and just the feel I got from them, kind of stood out the most.
BDN: Do you have an idea for when you would like to make your college decision?
Probably right after the season, or maybe – it's either gonna be right after the season or right before the season.
BDN: Is there anything else that you think is important for college football fans to know about you?
Distance from where the school is doesn't matter to me.  If I like the school, I'm gonna go.  And I have no favorite.
BDN: Thanks a lot, Matt, and best of luck to you.
Okay, thank you.