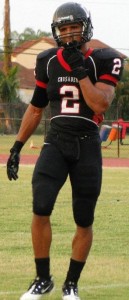 The strength of the new Duke defense relies on a group of dynamic athletes at the safety position to slow opposing offenses. Duke's safeties are led by seniors Matt Daniels and Lee Butler, which means that the Blue Devils will have to reload at the position in 2012. The Duke coaching staff has secured a verbal commitment from Jacksonville safety Dwayne Norman and hopes another athletic Florida safety will join him in the Blue Devils' class of 2012. Ryan Janvion, a 5'11" 175 pound athlete from Miami, recently took a visit to Durham and came away impressed. A four-year starter for Dade Christian HS, Janvion has played all over the field in his high school career, but is focused on playing strong safety at the college level. A star on the field and in the classroom (4.0 GPA), Ryan has narrowed his college choices down to Duke, Vanderbilt, and Wake Forest. As the prototypical elite student-athlete Duke targets, the Blue Devil coaching staff is hopeful that Ryan will fill one of their few remaining available scholarships in the class of 2012. [private]
BDN: Can you tell us a little bit about your high school career and your strengths on the field?
I'm definitely being recruited most heavily as a strong safety. Colleges feel like I can be the best threat at that position because I can be involved in both the run and the pass game. My high school career has been great, I've been a four-year starter at Dade Christian, I started as a freshman. I actually started my 8th grade year during the spring, and that really helped me to get to the point where I am now because I was starting to define where I was going and I got used to playing the game of football early and that gave me an advantage over a lot of people. The game started slowing down for me each and every year and I'm at a point now where I just want to dominate on the field and be an unstoppable force and a game-changer.
BDN: What are some of the things you're working on as you head into your senior season?
I'm definitely hitting the weights hard, trying to put on as much muscle mass as I can, well not so much that as just getting the strength portion in, continuing to get stronger. Since I know where I will be playing as a college player, I've started working on position-specific drills to improve my footwork, making sure my backpedal is right, my plant foot, different things that a safety would use on a gamefield. My hips, making sure my hips are flexible allowing them to turn and stop and do all the things to be able to cover good receivers, that's what I've basically been doing. And also just working on speed because speed kills, you never want to neglect your speed. That's probably one of, if not the, most important parts of the game, especially playing in the ACC football league.
BDN: Where do you stand with your recruiting process in regards to schools and scholarship offers?
I have a lot of offers, but the thing that made it really easy in my case, so to speak, was the academic standpoint. I definitely am one of those guys who is very serious about my academics, I'm a 4.0 student and I have straight A's and I'm at the top of my class, so academics is really important to me. I definitely was only really looking at the schools that have the academic part to it as well, so that just kind of narrowed schools down for me just like that. And then I was able to narrow it down to my top 3 schools which were Vanderbilt, Wake Forest, and Duke, and that's who I just visited this past week, I just got back today.
BDN: That's a perfect segue into my next question about your visits, but before you talk about that, can you talk about what stood out to you about each of your three finalists?
They have great programs. They offer me a great opportunity to play early as well. Wake has been a special one, they were my first offer and they've been on me since my sophomore year. I've gotten to know my recruiting coordinator very well. I also have a teammate who plays at Wake Forest who was a great help to me my freshman year. His name is Daniel Mack and he was the one who really just carried me through high school football my freshman year. It was really new to me and I was one of the youngest players on the field, so me and him definitely have a great relationship.
BDN: That's great to have a mentor like that. Can you talk a little about your visits, what you got to see and what stood out to you?
Well my first visit was to Duke. Duke's campus is beautiful. The coaches actually had left on a retreat so when I saw the campus I didn't get to see any of the coaches, but they actually came down just to see me the next day. I got to meet Coach Cutcliffe again, and my recruiting coordinator, Coach Lubick, and my position coach, Coach Knowles, my safety coach. Coach Cutcliffe is….wow, he's amazing. He's so wise and he knows what he's doing. He's a great head coach and he's definitely going to do big things with that program. I had a great talk to him, I talked to him for over two hours and he really feels like I can be a part of something big at Duke.
BDN: I'm guessing you drove over to Wake Forest after Duke?
The next day I went to Wake. I had a sit down, the same talk with Coach Grobe. They're both…I honestly really can't pick a head coach between Coach Grobe and Coach Cutcliffe, they're both tremendous guys, they're very wise, they know what they're doing and they know how to win. That's definitely going to be a tough decision on my part. I'd have to look at the whole spectrum. Wake also has given me a great opportunity to play early. Two of their main guys at safety are graduating this year coming up, so that gives me an opportunity to step up and play early. Their campus is definitely beautiful. They were the first campus that I ever saw, I got to go up there and visit my sophomore year when I went to a camp, so this was my second time going and I was able to bring my dad and stuff. That was a really good visit to.
BDN: That's a long drive from Winston-Salem to Nashville, so I'm hoping you flew. What did you think of Vanderbilt?
Yeah definitely, we flew. I didn't expect to see what I saw at Vanderbilt. Their campus is really just in the middle of Nashville and it's not closed off in any way. There's main streets running right through their campus, and not just one, multiple streets. It was cool they were taking me on the golf cart and I was like "man, there's no gates or anything like that." The buildings are nice, I met the coaches, I have a great relationship with my recruiting coordinator over there as well, Coach McGriff. I met the head coach and he showed me his background and stuff like that and he's looking to do big things at Vanderbilt, and we'll see how that goes.
BDN: You've obviously narrowed things down to three great schools, so how do you plan to narrow things down and make a decision from here?
Well I'm looking to make a decision soon, like before school starts. I already took my unofficial visits to my top 3 schools so now it's basically just coming here and first of all getting some rest, because I'm exhausted, so I can think straight and then I'll take it over with my parents and my family and see what school is the best for me. Every time I went up there on my visits they would go through all this stuff and they would remind me that this is one of the most important decisions in your life. It's not just the next four years, it's actually the next forty years, because it's what you're going to do after school that matters so you want to get a good education and not regret your choice. You have to be selfish in this decision. You can't think about disappointing somebody or trying to impress somebody. You have to look out for yourself in this decision because at the end of the day it's about you. It's about where you want to go to college. That's where I'm at right now.
BDN: I know you're exhausted and I really appreciate you taking a few minutes to speak with us. Thanks a lot, Ryan, and best of luck to you.
Definitely, no problem.
[/private]