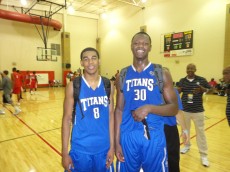 In our latest update, Blue Devil Nation Premium recaps what has happened recently on the recruiting trail and gives you an idea of what to expect next.
It wasn't that long ago that many were writing the Blue Devils off after being shocked by Lehigh in the first round of the NCAA Tournament.  For several weeks after the upset, there was only criticism. But three months have now passed, and the dark skies have cleared considerably, as Duke has added several key pieces for the future in incoming freshman Amile Jefferson and transfer Rodney Hood.
Amile Jefferson has arrived on campus.  He will spend plenty of time in the weight room, for there is a big leap from high school ball to the high major college game, and Amile needs to get stronger in order to contribute in a big way.   Jefferson will have the luxury to play behind Mason Plumlee and Ryan Kelly in his first season while learning the ropes, but the coaches will give him every opportunity to play when he is ready.
The Duke Men's Basketball staff continued its recent momentum on the recruiting trail, landing coveted Mississippi State transfer Rodney Hood this weekend. Hood is right around [private] 6'8" and is long, lean and athletic. He is an outside/in player, meaning his game is geared towards the perimeter; he likes to get touches just beyond the free throw stripe, from which he is comfortable taking it to the hoop or popping the mid-range J. His ability to knock down those mid-range jump shots draws bigger players away from the hoop, keeps the opposing defense honest, and opens up things for his teammates. Hood is also a good defender and likes to get after it by using his length to his advantage. While he did not dominate the SEC as a freshman, Rodney was a very steady force on a veteran team.
Hood's game has changed little since I saw him on the AAU trail, with the exception of some natural physical growth.  But his frame can still use some muscle, and that is what Duke Strength and Conditioning Coach Will Stephens will focus on as Rodney sits out his transfer season at Duke. One of the things that impressed Hood on his visit was the Duke facilities, which are NBA-quality, and frankly a far cry from what he was used to in Starkeville. Sources also say he liked the structure of the team and its organization, something that he found lacking at MSU.
For the record, we here at BDN never wavered from the position that Hood was a Duke lean, and by now you guys should know how to interpret my cryptic messages enough to have figured this one out.
Rodney will be on campus this coming Wednesday, July 4th, and he will participate in the N.C. Pro-Am.  We'll head over to that event provided we can stand the ridiculous heat.
Freshman Rasheed Sulaimon is already on campus and getting accustomed to his surroundings. He is hanging with the guys, including Nolan Smith who is in town. Quinn Cook arrived today as well, and he is ready to hit the ground running after spending a lot of time with Nolan in Portland. Tyler Thornton and Josh Hairston will be back around the 4th of July as well, and all should play in the Pro-Am.  Seth Curry played in the opening night of the event and played well.  He and some teammates even picked up Sulaimon at RDU yesterday.
Ryan Kelly has fully recovered from his injury and Mason Plumlee is looking stronger than ever.  Both benefited from their time at the Amare Stoudemire Camp, and they have both been working on adding new shots to their offensive arsenals.
Alex Murphy is stuffing the stat sheet for Finland's National Team this summer.  The staff has been very impressed with his play and progress since he's arrived over a year ago.
Mike Krzyzewski and the staff circled the wagons after the Lehigh loss and decided they wanted more athleticism and toughness, and I believe they are on the road to reshaping future rosters in that way. But don't get caught looking ahead, for they are more than a little excited about this season's team, especially because Coach loves flying just under the radar on the national scene. The staff feels this year's team will be able to defend the perimeter better and is excited about using the length of Murphy on the outside along with Sulaimon, Thornton, Curry and Cook.  One thing does seem odd though: Murphy and Marshall Plumlee have a year in the program under their belts, and seem like old-timers compared to Sulaimon and Jefferson.  Yet all four of them will be getting their first real minutes when the Blue Devils tip off the season.
The coaching staff is very happy with their recent recruiting successes, but there will be no rest at all. After spending some time with their respective families, Mike Krzyzewski, Chris Collins and Steve  Wojciechowski will head to Las Vegas on the 4th to work with the national team. So while they will only see the new kids on campus in passing, there are no worries, for Nate James and Jeff Capel will break them in before going back to hitting the recruiting trail hard themselves.
So where does Duke stand now with other recruits? Which direction will they go in? First of all, the staff can now afford to be a bit fluid in its approach, meaning the strategy can most certainly change depending on how some dominoes fall, but for now, let me share how I feel things are shaping up.  These are educated guesses.
The top targets are always the most talented and that means Jabari Parker and Julius Randle. However, the addition of Hood makes Randle, who is more of a banger, the top priority. Duke is all-in on Randle and they've made good inroads through Krzyzewski making regular calls, with Capel taking the lead assistant role. Duke will of course face the Tar Heels until the end on this one, and they too have gone all-in.  Some would even say that Randle may tip the balance of power in the rivalry. But keep in mind that UNC has other offers out and a bevy of bigs on their roster, while Duke can make him realize he is their man, and there are no others. When I say "no others" for Duke, I mean the Devils are not pushing hard with a lot of other big men at this time, but of course that could change. Randle has reshaped his body in the off-season, but what a lot of people do not know is that it was Mike Krzyzewski who made a suggestion for this to happen. If we're not the leader for Randle, we're certainly one of the leaders.
Meanwhile, Parker has been flirting a lot with Michigan State, but with a player of his stature, Duke will most certainly hang around.
Duke will also remain hot on Semi Ojeleye and quite frankly, I think he is the Blue Devils' to lose, and they feel he is as enamored with them as they are with him. The bottom line is the kid is a perfect fit. This situation looks good, and it may only be a matter of time before he pulls the trigger -- and it may even come soon.
Austin Nichols is a Duke-type big that would replace the loss of Ryan Kelly, so they are on him and could turn up the heat a bit more in the coming months. Nichols is being hit up hard by other schools too, but Duke remains in decent shape.  The Devils are also still interested in Nichols's AAU teammate, shooting guard Robert Hubbs.
The picture is a little less clear past these two.  Al Freeman has faded a bit but remains a possibility. Duke could chase another big man, but are not doing so now.  We are completely out of the picture with scoring point guard Anthony "Cat" Barber,  who was never formally offered.
The Blue Devils still have interest in Ish Wainright and Marcus Lee as well.  I still think it may be hard to pry Lee away from the west coast, and the need for Wainright could diminish should Ojeleye pull the trigger for Duke.
Everything is still good with 2013 commit Matt Jones, although I can hear many of you getting worried about us being too loaded at that shooting guard spot.  Well, we are.  But it will play out -- as it always does.  I'll be discussing this later.
As for players beyond the class of 2013, we'll cover that the next go-round.
To summarize, there is an overall positive feel around the program right now.  Recruiting is in a good place.  Duke and Coach K will remain in the limelight all summer, as Team USA goes for gold in London. We'll cover several more recruiting events this summer and the Pro-Am, and we continue to work behind the scenes on site changes, including a facelift.
Thanks for being a member of Blue Devil Nation Premium.  Go Duke! [/private]