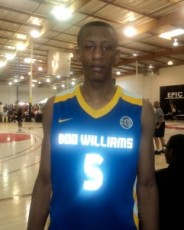 Prospect Troy Williams is a budding prospect coming up in the Boo Williams AAU system.  In fact, Boo Williams is his Uncle and is playing a huge role in offering him suggestions and guidance.  Williams is long and lanky and has a nose for the basket early on and his length allows him to hit passing lanes on the defensive end.  While still a somewhat streaky shooter, Williams has plenty of time to work on that part of his game. Almost all the rankings have Williams listed among the best in the class of 2013 and suitors are starting to call on a regular basis.  Williams speaks to BDN about a recent visit to the Triangle where he stopped in at UNC before heading to Duke.  He also gives us a list of schools chasing him the hardest in this BDN Premium interview.
How would you describe your game for those who've yet to see you play?
Explosive, high flying and you never know what's going to happen next.
The last time I checked in with you, you were pushing  6-7, is that still the case?
I'm closing in on 6-8 and still growing.
Tell me about how you progressed and became listed as one of the nations top players? [private]
After my ninth grade year  on varsity, I didn't play that much, getting like 15 or 20 minutes and in the spring I just got  in the gym.  That's what actually motivated me and my Uncle (Boo Williams) pushed me along.  I didn't get as much playing time as a ninth grader that I was told I would, so I just went out and worked harder.  I was on the 16 under team and then got noticed, so I moved up and played with the 17's and my name got out there even more.  During my sophomore year I added more skills and my athleticism got better and it is just all coming together now.
You play the passing lanes well, with your length.  Do you like playing defense?
I like to block the shot and get the team off on a fast break.  I play the passing lanes the same way.
Would you rather have a blocked shot for a win or a dunk?
I would say the winning block.
What are you like to do when you are not balling?
Eating.  I love eating and then hang out, watching You Tube, playing video games and T.V.  I just like hanging out.
Who will help you make a decision on where you play  in college?
My Uncle Boo and my Aunt Sadie.
Have you made any unofficial visits of late?
Two weekends ago I came back from the UNC and Duke campus, so those were my first two unofficial visits.
Tell me how the UNC visit went.
I was able to play in the open gym with their basketball team.  I got to eat at their tailgate with them and watch some of the football game.  It was real good and a nice campus.  Their history is amazing.  I can see them in the future being in my favorites.
What about Duke?
It was kind of a late schedule and on the spot schedule.  I met Coach K and toured some of the campus, saw the gym and learned a little bit about the history,  I didn't really get to see that much.  Later on in the future ... it's a good school but I don't know if I can see them in my top.
Do you have any favorites early on?  Or, did you have a dream school growing up?
I don't even know that.  I had no dream school growing up.
Back to UNC, you seem to favor them a lot.
I mean, I had a good visit.  Yes, I like them a lot and see them being there at my top.
But you don't see Duke at the top?
No. I can't say for sure I would not like them in the future but I just didn't get to see that much, so ...
Will you take all five official visits before making a choice.
Yes, I can see that happening.
What other schools have been active in your recruitment?
Georgetown, Virginia Tech, Louisville, DePaul, Florida and Kentucky.
Thanks for your time Troy, and good luck this season.
Okay, thank you.
Synopsis - It is obvious to me after our conversation that UNC made a huge impression on him while he was very open about not seeing Duke in his final list.  In recruiting, much can change, but early returns seem to indicate that the Blue Devils should concentrate their efforts elsewhere in the class of 2013. [/private]