Duke gained its 21st win of the season by disposing of St. John's in Madison Square Garden.  In the process, they found a couple of new pieces to fit into the puzzle in freshmen Elliot Williams and Miles Plumlee.
Both players made positive plays, but Williams showed flashes that he could be a huge contributor as Duke readies for the season's stretch run.  Williams played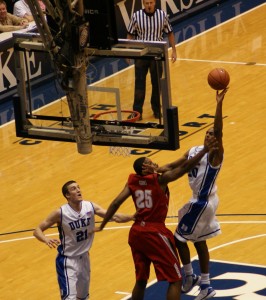 good on ball defense and switched up with overall precision in Duke's man to man defense.
Williams also showed off his athleticism by making most of his offensive touches count leading his team in scoring at the half.  More importantly, he looked more comfortable within the team concept than any other time this season.
Earlier in the season, Williams seemed to be seeking his shot first and foremost, but he played well within the team concept against the Johnnies.  In not seeking his shot right away points came to him allowing him to show off other abilities beyond his scoring prowess.
Plumlee also had nice ups on a block, some good boards and was more relaxed on the offensive end which resulted in some key points.  The emergence of the two freshmen also allowed Duke to experiment with new lineups.
But the most important thing the two newcomers brought to the table were fresh legs.  Those fresh legs meshed well with team leaders Gerald Henderson, Kyle Singler and Jon Scheyer.
Duke also got some great play from Lance Thomas who is showing consistency and the team survived the loss of David McClure due to a flu bug.
Paulus and Smith continued to struggle and that's part of what led to lineup changes.   But the important thing on this evening was a win and this win cannot necessarily be measured by normal standards.
Duke will now try to build off this victory when Wake Forest comes into Cameron for the second to last home game of the season.  Needless to say Duke needs a victory over a team ranked just ahead of them, but more importantly to stay in a crowded ACC race for the top four spots which earns a bye in the fast approaching conference tournament.