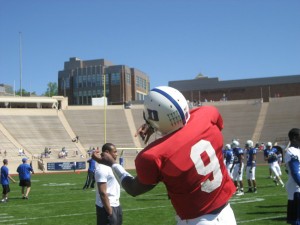 Here is part two of our interview with Duke quarterback, Thaddeus Lewis -
You are heading into your senior season, your last go round at Duke.  Are you feeling any pressure?
It's no pressure.  You know what?  I cherish every day of it and every single day you have to go out there and work hard and not slack around because this is it.  My first summer session is already gone and now I'm in my last summer session.  There is no pressure at all.  I just have to go out there and do what I can do to help this team, no more and no less.  As long as this team wins, I've done my job.  I can throw for 5 yards or 500 yards but as long as we win it doesn't matter.  The one thing I want to do is be the leader and help these young guys coming on so this program can be where it needs to be now and in the future.
You're going into your second season under the Cutcliffe regime.  Are there any differences going into this coming season than past years?
Everybody is into it.  People can't wait for football season to come around.  All around this campus and outside of campus, I think Coach Cutcliffe has done a good job of reaching out to Duke Nation and the community, even the faculty.  I think that helps out this football team a lot in that he's the head coach.  Some coaches might be untouchable but he's easy to reach.  He's reaching out to people and they take to that.  So, they are excited about it.  He's a great coach and a great guy and the success we've had last year has carried over into this season.  So, I'm pretty sure the expectation of Duke Football is a notch higher than it was last year.
Thaddeus, you've been around the school and program for four years now.  You've seen kids come and go and recruits come in to visit.  What do you see different in say, when a recruit steps foot on campus now as opposed to previous years?
We are not just going after guys or giving up, saying like Florida is recruiting him.  We're going after the top players in the country, bring them in, not scared of recruit against anybody.  The faith and belief of these coaches in what they know they can do, well, he's just doing a great job.  It's no back down with Duke recruiting anybody.  We're going to recruit the best and we want to go against the best, so that's what it is all about.  Even today, it's a prime example that we had 27 freshman come in.  We ran 25, 75 yard sprints today.  Who would have expected those guys to come out there and run them today?  There is no complaining, no moaning and no crying, the guys ran them and they are in shape and that let's you know we are bringing in football players.  They were sent a packet and told what to do and they did it.  It  was obvious they had been working and the type of players this staff is bringing in are going to be good for this program.
The Richmond Spider on 9-5-09.  You've played them before and you guys didn't score a point.  They are the defending national champions and have seven or eight of their top tacklers back and a solid offense.  Are you already thinking about those guys?
Oh yeah, no doubt.  We watching film on them already and it's just the beginning of the summer.  I remember 06 when I was a freshman and I got in the third series of the game and was so nervous that I forgot the first play I called, but then settled down.  To see them back on the schedule, you never forget what happened on 06.  Richmond is a good football team and those guys can play.  It's the home opener and they are the defending national champions, so they are a really good football team.  They will come in and play hard and we have to match that intensity.
You had a similar situation last season when James Madison came in ranked #2 in the nation in their division.  I think Duke caught them a little off guard in a sense and they were like, wow, what hit us.  With Richmond this year, Duke will not be able to sneak up on them because people are saying, hey, Duke is really turning themselves around.
Yeah, I heard that they said they're not taking us lightly.  To hear that is kind of like a slap in the face.  But it's okay.
What will Thaddeus Lewis do as a captain to tell the team, hey, just because we beat James Madison like that, doesn't mean this game will go like that.  How are you preparing your team and letting them know they'll have to come to play in the opener?
I'm just letting those guys know I remember what happened in 06 when Richmond came in here and put it on us.  A lot of people circled that game as a win and we lost that game.  I remind the seniors that were there with me, that we lost that game and remember what we went through and we'll tell the younger guys just follow us and we'll show you how to get this done and tell them to just stay hungry.
Your mom is your biggest fan - is she looking forward to this football season more so because it is her son's swan song?
This is her last season, but I think her thing is that her son is graduating and getting a degree from Duke University.  (smiling widely) She is excited about this last season and she'll be here every game cheering me on.
Thaddeus Lewis, thanks for you time.
Thank you.