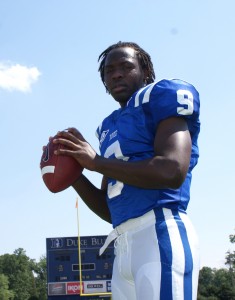 What have you been up to in the off season?
Working hard and taking classes.  Working out and getting better for this upcoming season.
What is it like going into your second season under Coach Cutcliffe and his system?
Easy.  This will be my first time going into a season with the same offensive coordinator and staff.  I know the offense more and what they expect out of me, so I can go with the flow now.
Have you been working with some of your receivers?
We get together with all the recievers.  After we run on Tuesday and Thursday running 707's, we interact with the defense a little bit to keep everybody going.  Also, we get together sometimes by position and go watch film, so we can be on the same page and teach the younger guys the system.   That way, once summer ball comes around, we'll be ready.
Will Duke have any new wrinkles in the offense this season?
I would think so.  I haven't really talked to coach like that, but they're working hard and may have a few tricks up their sleeve.  We'll see some new things with Duke Football this season ... I'm pretty sure, pretty sure.  The mastermind Kurt Roper will have something up his sleeve this season.
How does it feel to have Brandon King back at the tight end spot?
That will help a lot.  The tight end is the x-factor in the offense and a lot of people don't give them the credit.  I mean, that guy blocks, catches balls, gets back at the fullback position.  With Brandon King coming back and Brett Huffman and Danny Parker stepping up, that allows you to do different things with your offense.  You can go a double tight end sets because you have that dual threat and that will help raise this offense to another level.
Have any new guys stepped up around you?
Johnny Williams and Donovan Varner have stepped up.  The freshman Conner Vernon has come in and done a good job.  The other freshman just got here.  Corey Gattis has done a good job working out with us and Desmond Scott has come out there catching passes and he can run routes.  So, everybody is contributing and we had a trial run today with the incoming freshman.  Sean Schroeder went out there and threw it pretty well and the other freshman Tyree Watkins came in, so they sent out there and did a tremendous job.  It looks like it'll be interesting with the competitive nature of this football team going into the summer camp.  Everybody has to come and bring it and I'm  pretty sure that will happen and we'll better ourselves as a team.

Duke suffered some key losses on the offensive front.  Are you worried about some inexperience across the front?
The guys we have coming back actually played a little bit last season, so I'm not worried at all.  With the addition of Brandon Harper there and the growth of Brian Moore and the rest of the guys on that line ... and the keys of the offensive line coming back, Bryan Morgan, he's kind of the captain of the ship down there.  So with him coming back his knowledge and experience will help bring the other guys along.  With this offense and how we operate you can't hold it longer than a few seconds and I think they'll do an outstanding job this upcoming season.
Check back in this weekend for several more questions and answers  in part II of BDN's interview with Thaddeus Lewis.