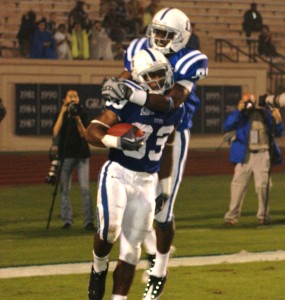 BDN previews Saturday's matchup as Thad Lewis and the Blue Devils travel to Miami to face the #20 Hurricanes. The game will kickoff at noon ET on ESPNU.
Scouting the Blue Devils (5-5, 3-3 ACC)
Last time out
Duke was defeated by Georgia Tech at Wallace Wade Stadium, 49-10. After jumping out to a 10-0 lead, the Yellow Jackets dominated the remaining three-plus quarters, scoring 49 unanswered points.
Duke's touchdown came on their first possession, as Thad Lewis found RB Re'quan Boyette for an 18 yard score. The Duke defense also came out fired up, forcing a three and out on Georgia Tech's first possession, and a fumbled punt on Georgia Tech's second possession, which handed the ball to the offense at the Georgia Tech 14 yard line. Will Snyderwine, returning after missing the previous game with an injury, connected on a 31-yard field goal to put the Blue Devils up 10-0.
From that point on, it was all Georgia Tech, as the Blue Devil defense continually gave up big plays, while the offense struggled to move the ball downfield. In fact, Duke's leading receivers on the day were RB Re'quan Boyette and RB Desmond Scott, as the dynamic receiving corps of Conner Vernon, Donovan Varner, and Austin Kelly totaled just 7 catches and 75 yards combined. After a promising start, the Duke defense gave up a total of 519 yards to the Yellow Jackets, including 7 plays of greater than 20 yards.
Season
The Duke offense is led by senior QB Thad Lewis, who ranks third in the ACC with 264 passing yards per game and 16 TDs. Lewis was recently named as one of five finalists for the Johnny Unitas Award, which is presented to the nation's top senior quarterback. The four-year starter has been instrumental to the program's resurgence, etching his name in the Duke and ACC record books as one of the most prolific passers in conference history. Lewis is now just 240 passing yards shy of the Duke career record of 9,614 yards, currently held by Ben Bennett. Duke's receiving corps of freshman Conner Vernon, sophomore Donovan Varner, and junior Austin Kelly all rank in the top 10 in the ACC in receiving. The Blue Devils have struggled to run the ball all season long, ranking last in the FBS at just 63.9 yards per game.
Defensive Coordinator Mike MacIntyre was recently named National Assistant Coach of the Year by the American Football Coaches Association, and with good reason. The Duke defense has steadily improved under MacIntyre's leadership, despite an overall lack of size and depth. The Duke defense ranks 6th in the ACC in total defense, and has also forced 16 turnovers on the season. The defense has sealed several of Duke's victories with key defensive stops and forced turnovers late in games.
Duke's special teams unit continues to improve, converting 14/18 field goals and a perfect 28/28 extra points. The return game has also set up good field position for the offense in recent weeks, though lead returner Johnny Williams is expected to miss this week's matchup with Miami.
Scouting the Hurricanes (7-3, 4-3 ACC)
Last time out
Miami fell to a resurgent North Carolina team in Chapel Hill last Saturday, 33-24. QB Jacory Harris threw for 319 yards and a career-high 4 interceptions in the loss. North Carolina's Kendric Burney set a single-game ACC record with 180 interception return yards, including a 77-yard TD.
The Miami offense moved the ball effectively against the ACC's top defense, totaling 435 yards and 3 touchdowns, including runs by RB Graig Cooper and Damien Berry. The defense also performed well, holding North Carolina's rushing attack to 3.6 yards per carry and no touchdowns. The turnovers proved to be too much to overcome, however, resulting in 17 points for the Tar Heels.
Season
While this is not the dominant Miami program of the past two decades, Randy Shannon has begun to bring in the coaches and athletes necessary to return the program to the nation's elite. Facing one of the toughest schedules in the country, including their first four games against nationally-ranked opponents, the Hurricanes boast a 7-3 record, including wins against Florida State, Georgia Tech, and Oklahoma.
The Hurricanes rank 4th in the ACC in total offense and 5th in the ACC in total defense. QB Jacory Harris received national attention for his early season success, but has cooled as the season progressed, having now thrown 16 interceptions on the year to go along with 19 touchdowns. His offensive line has also allowed 28 sacks, ranking ahead of only Maryland and Virginia in the conference. An elite receiver has yet to emerge for Harris, although Leonard Hankerson does rank 9th in the conference at 60.0 receiving yards per game. RB Graig Cooper ranks 4th in the ACC in all purpose yards with 128.0 yards per game.
The Miami defense, despite its ranking, has forced only 14 turnovers and 19 sacks, both of which rank in the bottom four of the conference. The Hurricanes are also the second most penalized team in the ACC, averaging almost 8 penalties and 60 penalty yards per game. The defense particularly struggled in a 28-27 victory over Wake Forest, in which senior QB Riley Skinner was able to throw for 408 yards against the Miami secondary.
Injuries
The Blue Devils injury report has grown considerably over the past two weeks, as a result of the long season and two particularly physical contests against UNC and Georgia Tech. Last week, the Blue Devils lost 2nd string QB Sean Renfree for the remainder of the season with an ACL tear. The week before, starting OG Mitchell Lederman was lost for the year with a broken toe. In addition, Duke expects to be without standout DT Vince Oghobaase, WR and lead kick returner Johnny Williams, and senior RB Re'quan Boyette. Several other key players appear on this week's injury report, including QB Thad Lewis, WR Austin Kelly, K Will Snyderwine, LB Abraham Kromah, and LB Vincent Rey, but all are expected to suit up on Saturday.
The injury report for the Hurricanes, on the other hand, brings some good news, as Miami expects to have two key players back on defense for the first time in the last three weeks. LB Sean Spence and S Ray Ray Armstrong both practiced this week and should be available to play on Saturday. QB Jacory Harris injured his thumb during last week's loss to North Carolina, but practiced as usual on Wednesday and is expected to play on Saturday. The Hurricanes will be without explosive punt returner Thearon Collier, who sprained his ankle in practice earlier this week. Travis Benjamin will likely field the returns in his absence.

Closing Thoughts
A win for the Blue Devils will bring them one win away from bowl eligibility, a feat the program has not accomplished since 1994. A Blue Devil victory would snap the program's 39-game losing streak against nationally-ranked opponents, along with a five-game losing streak to Miami. The Blue Devils last win against Miami came in 1976.
Last year at Wallace Wade Stadium, Duke held a 24-14 third quarter lead against Miami, before Jacory Harris took over, leading the Hurricanes to a 49-31 victory. In the second half, Duke's lack of depth and Miami's superior talent took center stage. Duke has taken the first steps in closing the talent gap, bringing in players like WR Conner Vernon and RB Desmond Scott in the freshman class; however, Miami is a more experienced team this year and will be playing in front of their home crowd.
After two straight losses, it's a must-win game for Duke, and a great opportunity for the program to upset one of the nation's top programs. Duke's Thad Lewis, Conner Vernon, and Donovan Varner all hail from the Miami area, and the trio would like nothing better than to celebrate their homecoming with a victory. At this stage in the program's development, however, Duke might need help from Miami to win in Land Shark Stadium Saturday. The Hurricanes simply have the superior athletes and an established culture of winning. However, Miami has been prone to penalties and turnovers this season, which could provide the Blue Devils with opportunities to stay in the game and pull off the improbable upset.