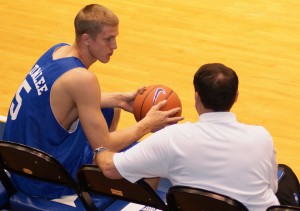 After a tough road loss to Georgia Tech, Duke is looking to regroup at home against Boston College Eagles on Wednesday night.  The Blue Devils are well aware at how important it is to win at home in the ACC this season and they'll surely come out with a lot of fire in an effort to avoid a second straight loss.
One of the keys will be for the Duke front court to establish themselves offensively in not only this game, but the remainder of the season.
To date, Duke has done an admirable job by committee with their front court and it is a well known fact that Krzyzewski said he will play who is playing the best of these guys from game to game.
While the Blue Devils have had solid overall production from their quartet of seniors Brian Zoubek and brothers Mason and Miles Plumlee, there is still a need for these guys to further establish their roles on the offensive end.
In short, I am talking about being more consistent scorers when opportunities are presented.
For this to happen, Duke needs further development from Mason Plumlee, a true freshman who was hampered with pre season injuries and just now getting up to game speed.
Mason grew leaps and bounds in the Georgia Tech loss and many will be watching to see if he can match that production with two ACC opponents at home this week.
It's no secret that the Duke staff feels Mason is a key cog to the Blue Devils success and as he adjusts more to the physical play and speed of the college game and he could well become the fourth go to scorer.
In a recent interview for the Blue Devil Nation Locker Room Report, Mason admitted that he needs to make simpler plays instead of the flashy ones, but he also knows his teammates have been trying to feed him for some emphatic dunks.
The youngest Plumlee gets those feeds because his teammates know what he can do.
Mason already has great chemistry with Jon Scheyer and as he adjusts to his teammates, we could see him reach his lofty potential before seasons end.
His brother Miles will play a key role as well and like Mason, Miles knows how to finish when open.
Ask any Duke player and they will tell you that Miles can jump out of the gym and that he is freaky athletic jumping over players for dunks in practice.
There is a reason Miles started as a freshman in the opener and many of this seasons games for Duke sees what he can do in practice where he seems consistently good.
In short, Miles is a very athletic big who needs to work on said consistency with his game and he has all the tools to make this happen.
If  he can establish himself as more of a down low presence on the offensive where he is needed most on the scoring end for a team that is riding the play of Jon Scheyer, Kyle Singler and Nolan Smith; he'll become a major factor.
Another key will be when the brothers Plumlee get used to one another in the Duke system for there is no doubt they know one another well but that has yet to fully materialize on the court at the ACC level.
Seniors Brian Zoubek and Lance Thomas both have the potential to score well in games.
While Zoubek isn't the most athletic big man, he is a huge presence and he has earned Krzyzewski's praise on many occasions when press members were asking about other players.
The reason being that Zoubs as he is known to his teammates, has had several games where he had or was near a double-double in scoring and rebounding in limited minutes.
As the Plumlee's develop, Zoubek and Thomas will be looked to for toughness and leadership.
There is no reason to think Zoubek cannot relish his role as a senior down the stretch and if that happens Duke will be a tough team to handle.
Zoubs senior teammate Lance Thomas is Duke's equivalent of the Energizer Bunny for the energy and hustle he brings to the court.
Thomas only knows one way to play and that is all out, but that can get him into some tough situations as was seen when he fouled out against Georgia Tech.
Granted, Thomas draws the some of the toughest defensive assignments each game, but he will need stay in contests down the stretch.
While he is not depended on the score a lot for this team, Thomas needs to continue to take his shots with confidence after working on it so hard in the off season.
Thomas is at his best when teams overlook him on the offensive end and he will likely look to exploit that in the coming games where he has proved to come up big at times in the past in ACC games.
While Ryan Kelly gets some minutes down low, I consider him to fall into the category of a "hybrid," alongside Andre Dawkins, thus they are not discussed here.
Of course for any of these guys to progress Duke's big three [Scheyer, Singler, Smith] will have to get them the ball where they need it.
The bottom line is that Duke's front court is still a work in progress and as they become accustomed to one another even more, they will surely get better.
And it'll be important that Duke gets offensive production from them when the teams shooters go cold.