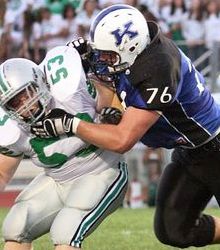 DURHAM- The Duke Blue Devils landed a center this afternoon when Matt Skura phoned in his intentions to play in Durham.  Skura is 6-3.25, 281 rising senior at Worthington Kilbourne High School in Columbus, Ohio.
 "They came to me with a scholarship offer at the end of their camp and I just thought it was the right fit where you are surrounded with really good people," said Skura.
I decided today would be the perfect opportunity to call in and confirm my commitment to Coach Luke today.  Skura plays guard in high school but was recruited to play center at Duke.  "After getting to know some of the offensive lineman and coaches I felt really comfortable and it was a warm experience."
When asked by Blue Devil Nation to describe his game in his own words, Skura replied, "I'd say I'm physical and that's how I like to play, I have great technique and work hard giving 100% in the weight room and in the classroom."
Skura picked Duke over several other schools recruiting him including: Cincinnati, Indiana, Michigan, Michigan State, Toledo and Ohio.
Stay tuned for more football recruiting at BDN.