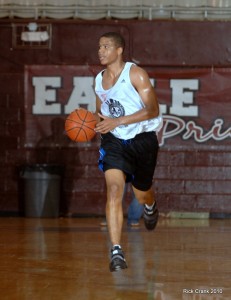 DURHAM, N.C. - On a steamy summer night the N.C. Pro Am continued but no shows from North Carolina and N.C. State disappointed some for anticipated match ups would not take place.  Well, that is if you are a Heel or Pack faithful for the Blue Devils turned out in force.  On a night when the defense mirrored the NBA All Star game seven Blue Devils were in action and three of them scored 20 plus points.  And two of the Devils would go head to head in the evenings most entertaining game
Kyrie Irving wasted little time in wowing the crowd by daring the defenders to stay with him using cross over dribbles and stutter steps to free up his shot or set up a dish to a teammate.  Irving hung in the air for one showboat assist which brought the crowd to their feet, but it was a catch while hanging in mid air and a tomahawk dunk that really had the place rocking.  Irving ended the evening with 22 points and 7 assists.  Irving was scheduled to go against N.C. State freshman Ryan Harrow who failed to show due to prior obligations.
While Tyler Thornton did not score a point, he played solid on ball defense and his shadowing frustrated opponents into mistakes or an uninvited elbow push off.  Thornton dished 3 assists and played a solid overall game.
But the third Team Hendricks Dukie, Josh Hairston impressed as well where he scored 18 points, his tournament high.  Four of his baskets came off either Irving or Thornton assists and he was comfortable in the paint while floating out to hit turnaround jumpers.
Hendrick's won the game by a 110-96 margin and they will play again this coming Tuesday.
In the night cap Andre Dawkins and Seth Curry put on a show.  The two teammates traded baskets early on, smiling at each other as if to say top that as the game progressed. 
"I came out and hit my first couple of shots and then a three from the corner and I was really feeling it after that," said Dawkins who would end the game with a dazzling 36 point effort. 
"I see him do it every day, so it's no surprise for me," said Curry who sat out last season after transferring from Liberty.
Curry nailed a trio of three point shots to start the game setting the bar high but Andre was the first to draw blood with a three of his own.
"He hit the first one and said, "What are you going to do,?" it was fun and good competition.  With two great shooters it was fun to go back and forth, stated Curry.
"Yeah, we were keeping tabs the whole game to see who had more points but he is playing the distributor for his team and didn't put up as many shots as I did playing the two spot for my team," said Dawkins who for a while could not miss.
Curry replied by saying, "He got the points  but I got the win."  He continued, "Last year we were on each others team in practice a lot so we got to know each others game and we try to make each other better."
If last night was any indication of the future, when Curry and Dawkins are both on a roll it will bode quite well for the Blue Devils.
BDN Sidebar -Ryan Kelly chipped in 9 points and played a solid overall game but with former Wolfpack and current Los Angeles Laker Josh Powell [31 points] joining Team Jamison his D-One team fell 101-95 which evened things up after Kelly led them to a win with 31 last week.
Miles Plumlee added 10 points to the victors and had a vicious behind the head dunk.  He was also on the end of Dawkins best assist of the night where he caught a behind the back pass for a dunk on the break.
Rodney Rodgers got a warm reception as he took to mid court in a wheel chair after his tragic accident.  The former Durham Hillside and Wake Forest star spoke of his foundation.
The games will continue next Tuesday with tip off of the first contest scheduled for around 6:00.  Be prepared to walk a distance due to parking issues and keep in mind that the doors will be shut down upon capacity. Admission is free.
For more Pro Am thoughts check out the BDN Premium message board where we report live and be sure to sign up for our twitter page for the best updates available. Be sure to check out our live updates from the recruiting trail where BDN's Andre Slater is in Las Vegas checking out all the action as Coach K, Collins and James scout the nations top prospects.