Archives by date
You are browsing the site archives by date.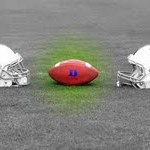 By Mark Watson on October 27, 2010
DURHAM – Duke redshirt freshman Sydney Sarmiento has played a key role on the defensive front for the Blue Devils.  Sarmiento speaks of his first season experience and being a local kid in this audio clip from yesterdays weekly press conference.
Posted in Duke Football | Tagged BDN, Duke - Navy, Sydney Sarmiento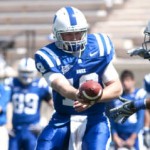 By Mark Watson on October 26, 2010
DURHAM – BDN caught up with Duke quarterback Brandon Connette this morning and we got his thoughts on his play of late where he is used in the red zone.  Just press play -
Posted in Duke Football | Tagged BDN, Blue Devil Nation, Brandon Connette, Duke - Navy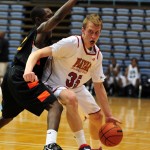 By Mark Watson on October 25, 2010
At the top of the Duke Blue Devils wish list sits Alex Murphy, a smooth and heady 6-8 rising junior who possesses a great skill set on the hardwood.  Duke has had success with prospects and players who have NBA lineage with their most recent commitment coming from Austin Rivers, son of the Boston Celtics […]
Posted in BDN Premium Articles, Duke Basketball Recruiting News
By Mark Watson on October 25, 2010
The Duke Men's Basketball team were an offensive machine in route to scoring 141 points against St. Augustine's in the season opener while the Duke Women held their Blue-White game entertaining key recruits.  Meanwhile the football team continues their struggles on the gridiron and we'll talk about all that in the return of our Monday […]
Posted in Duke Basketball, Duke Football | Tagged Alex Murphy, Coach K, Duke Women's Hoops Recruiting, Kyrie Irving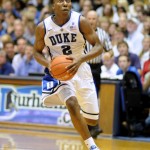 By Mark Watson on October 24, 2010
DURHAM – Here's a couple of post game interviews with Nolan Smith and Kyrie Irving who form the Blue Devils starting backcourt.  Smith led the team with a game high 9 assists while Irving tallied 7 and the two have a friendly competition going. Just press play – And here is Kyrie Irving -
Posted in Duke Basketball | Tagged BDN Post Game, Blue Devil Nation, Kyrie Irving, Nolan Smith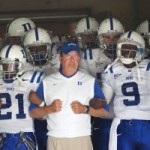 By Duke Sports Information on October 23, 2010
BLACKSBURG, Va.– The Duke football team fell to 23rd-ranked Virginia Tech, 44-7, Saturday afternoon in front of 66,233 sun-splashed fans at Lane Stadium in Blacksburg, Va. The Hokies improve to 6-2 overall and 4-0 in ACC action while the Blue Devils fall to 1-6 overall and 0-4 in the league. Virginia Tech quarterback Tyrod Taylor […]
Posted in Duke Football | Tagged BDN, Duke Football, Hokies trip Devils, Virginia Tech mauls Duke