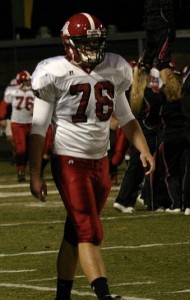 Head Coach David Cutcliffe and the Duke coaching staff have been busy on the recruiting trail, while also hosting several prospects for official visits on campus. Among them were four of Coach Matt Luke's impressive offensive line prospects, including in-state prospect Carson Ginn. Carson is a 6'5" 265 pound offensive lineman from Belmont, who committed to the Blue Devils back in July and hopes to compete for playing time at left guard in 2011. Blue Devil Nation caught up with Carson shortly after his visit to Durham.
BDN: Can you recap your visit last weekend and describe how that went?
I had a great time up in Durham. They showed me a lot of the hotspots around town and what to do on campus. It was a great experience from the coaches, and from the players, too. Honestly, I didn't expect the players to be as kind and as nice to the recruits as they were. I expected it to be kind of a challenge to get them to accept us and spend time with us, but they were real nice and understand what's going on I guess because they've already been through it. I really, really loved it and didn't want to go back home, if possible. It really got me ready to go back up there and be a part of that family.

BDN: Can you talk about your relationship with some of the other offensive line players and commits?
Each of us got paired with an offensive lineman that is there now, and they're so close that they all stay together so we, in turn, were together the whole time, and that allows us to get to know each other a little bit better. They're a great group of guys. You have to be close on the offensive line to plug up holes and trust each other, with the blocking scheme and everything – to know that he's got my back if the defensive lineman goes inside, and I've got his if the guy gets outside. We spent a lot of time together, which is great as offensive linemen.
BDN: How would you describe your relationship with the Duke coaches and where do they see you fitting in with the program?
I've had a great chance to talk to pretty much every one of the coaches. I've talked to Coach Cutclife a couple times, face to face. Coach Hobby, the defensive line coach, came down here, Coach Luke has came to see me, Coach Lubick has came to see me, he's the recruiting coordinator for this area. They're all pretty excited about it, they are. Coach Hobby is excited about how much I've grown, Coach Luke – he's excited about how big I've gotten. Coach Luke sees me as a tackle – he's got one player at every position coming in this year on the offensive line, and he sees me as a left tackle, and we have a senior left tackle now as you know, and hopefully I'll be one of the people fighting for that spot next year.

BDN: How much were you able to follow Duke's season and what were your impressions?
We have nowhere to go but up. We had a great season this year. I've seen a lot of great things in the few years Coach Cutcliffe's been there. Playing teams like Wake Forest down to the last minute. Playing teams – really great teams – down to the wire with a bunch of young players and a couple older players. I'm really looking forward to what we can do later on, especially on offense, and our defense is pretty young, too. Just can't wait to see what we can do – I really believe we will go really far – we'll definitely have a bowl game in the next few years, so I'm pretty excited about that.
BDN: It looked like South Point had another good season, making the state playoffs again. Can you give us a brief recap of how your senior season went?
Well starting off this year, I was playing defensive end, which I have been for the past two years. We won the state championship last year, and we were expected to come back and do it again, returning so many people. Our offensive line just wasn't there and even before the start of the season Coach wanted me to play offensive line and I was pretty excited because I got to switch over the first three or four weeks into the season to offensive tackle. It really gave me insight into what I would be doing in college, but we as a high school team, ran the triple option, so we were a running team, not so much a passing team. I didn't get to really work on how to pass set and get ready for the passing game at college, but it gave me a great insight into how to run block and I had a lot of fun. Honestly, I wasn't looking forward to playing offensive line, I didn't know what to expect, so it was a pleasant surprise that I had that much fun being on the offensive line this year. We made it to the playoffs, but were stopped short in the second round by a passing team, and we lost 56-57 in overtime, because our coach elected not go for two in the first overtime. If that sounds like we're placing blame on the coach, we're not. As an offense, we turned the ball over a couple times when we shouldn't have. We were just really running all over them and it was just a bad circumstance where our defense couldn't stop them.
BDN: That sounds like a fun game to play in, but a tough one to lose.
It was a heartbreaker. Everybody was so excited at the end, because we were down basically two touchdowns all game and we came back and scored, and had a deep pooch kick that landed at about the four and we picked it up, so we got to score right before the end of the game and force it into overtime. It was a heartbreaker, but it was a great game to play in. I've been on both sides of blowouts and a close game, and a close game is by far more fun to win.
BDN: What are your plans for the rest of your senior year?
Just kind of enjoying my last year at home. I'm excited to leave, but I want to enjoy the little bit that I have left.
BDN: When can Duke fans expect to see you on campus?
Our school doesn't graduate until June 15, so I won't be able to make it to the first summer session, but I'll be there July 5 or 6, when the second summer session begins. I'm just counting down the days.
BDN: Thanks so much, Carson, and best of luck with the rest of your senior year.
Thank you so much for your time.
Bookmark Blue Devil Nation as your source for Duke football recruiting updates all off-season.