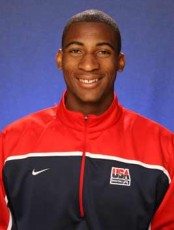 Standing at a listed 6'11" and weighing 265 pounds,  Andre Drummond isn't going to sneak up on anybody, but he seems more comfortable allowing his teammates to shine, with the occasional flash of dominance that causes coaches and crowds to gather and watch him. Drummond has had the body of a man since middle school, but he's very much still a kid, who likes to laugh and have fun. Sometimes, people would like him to take the game more seriously or be something that he isn't quite yet. Drummond understands that he needs to play harder and more consistently. Despite his size and relative athleticism, as my friend and veteran scout Tom Konchalski likes to point out, his best attribute is his passing. 
This past summer, the Mount Vernon, New York native and current Connecticut resident helped the USA Basketball U17 team to a gold medal at the 2010 FIBA U17 World Championship in Hamburg, Germany. Against both Serbia and Lithuania, Andre was a perfect five for five from the field. On a loaded U-17 team, Drummond averaged nearly nine points, seven rebounds, and two blocked shots in almost thirteen minutes per game. The prior year, the nearly seven footer was instrumental in helping the USA team to another gold medal at the inaugural FIBA Americas U16 Championship in Mendoza, Argentina over host country Argentina.
Drummond has spent the past seventeen months at St. Thomas More in Oakdale, Connecticut playing for Coach Jere Quinn, who has molded many current and former college basketball players, including former McDonald's All-American, Eddie Cota. St. Thomas More, the namesake of the school, was credited for coining the term "utopia," which is coincidentally how Andre has viewed his experience thus far, embracing the structure and discipline of the institution. Drummond feels that his time spent here has helped him improve on both ends of the court and view the game differently.
After a recent loss against a deep and older Hargrave Military Academy squad, Andre Drummond spoke with Blue Devil Nation.

This was clearly a very tough opponent with mix of postgraduates and several future ACC players. They've got guards going to Virginia Tech and North Carolina.

We did well and then it kind of got away from us near the end of the game.
They came out really hard at the beginning. You guys were able to take their first punch and come back. What did you guys do put you right back in the game?

They ran out early and Coach called timeout. He said, "Don't get rattled. Just go out there and let's keep playing. Trust each other." We did that and it helped cut the lead and kept our focus.
For you, it looks like you took a shot to the mouth in the first half. What happened there?

A couple of games previous to this..I got hit in my face and lost a tooth. I got hit again today and, so, it kind of shook me up a little bit. (laughs)
I saw you were wearing that mouthguard.

Yeah, that saw just to protect it. They knocked it out. It caused a sharp pain..but just for a little bit and then I wanted to get right back out there.
Coach has said that in the past he's wanted you to be a bit more more dominant and calling for the ball. Is it still a process for you? There's times where you did that today and then there were times where he was telling you to do it a  little bit.

I'm just like more of a team player. I like to get my teammates involved. I like to see my teammates score more than I do. I like to see the smiles on their faces. That's just the type of player I am.
For you and your teammates, what do you learn from a game like this?

We've just got to learn from our mistakes and realize that we've got a game very soon. So, we've got to try to correct our mistakes and play better then.
You guys were coming off of a long break before this game.  Guys were coming from all over. What impact, if any, did that have on this game?
I think it did have an effect. It was a long break.
One of the things that Coach was talking about was just how much more aggressive that they came out of the gates. He mentioned that their effort coming out of the gates, particularly on defense, set the tone early. Can you touch on that? Did they surprise you early on in the game?

Yeah, I think everybody was kind of relaxed before we went out there. Maybe too relaxed. They gave us, like you said before, a punch in the face and then we were like "Okay, we've got to match their intensity." They took their lead and now we're going to fight back to get in this game.
Another reporter: You're the top national prospect and you've been anointed as "the next Amar'e Stoudamire or Dwight Howard." How do respond or what are your thoughts on statements like that?
(laughs) I don't really get too big-headed or stuff like that.  I just take it all in. I don't really let any of that stuff get to me, one way or the other. I appreciate people thinking or saying that stuff about me, but I'm just trying to enjoy myself. On days like this, it doesn't really matter.
What are the qualities or things that you are looking for in the program that you'll commit to?

I don't have a list, but I'd like a great academic structure and a good basketball staff. That's what I've found here.
I'm sorry. Did you say that you didn't have a list of schools right now?

No, I don't have a list right now. I'm sorry.
What do you feel are your strengths and weaknesses at this point?

Well, I think, when I demand the ball, I can be very good and sometimes dominant, but my weaknesses are getting a little lazy on things like offense. I need to get better at not doing that.
And how do you think you've improved since coming to Saint Thomas More and playing for Coach Quinn?

I think I've gotten stronger. My offense and defense has improved. Mentally, I'm seeing the game more clearly.
Just out of curiosity, on this team, there are guys that are two to three years older than you, but, obviously, for the team to be successful, you need to be a leader and one of the focal points. Is it ever an issue for you to get after some guys or give advice to teammates, who are several years older than you?

(laughs) Yeah, it's sometimes a little weird. You know giving guys advice that are like nineteen or twenty years old and I just turned seventeen years old. It does feel a little weird, but hopefully they understand where it's coming from. (laughs)
At the same time, does it feel strange demanding the ball from these guys and trying to take on that dominant role, when you've got such veteran players around you?

Not really. I don't really call for the ball too much, as you've seen. I just try to get my other teammates involved a little bit. Give them a chance to score too.
Is there a player that you try to model your game after?
No, not really.
How about your experience with USA Basketball? You've not only participated, but been an integral part of both teams you've made.
I'm always happy to see you wearing your USA Basketball sweatshirts and hats at various events.
I'm glad to see that kind of patriotism. Can you tell the audience a little bit about those experiences?
Oh, absolutely, those were amazing experiences. Like you said, I got a chance to play for our country twice. I got a chance to visit some interesting places too. Last year, I went down to Argentina and then, this year, I went over to Hamburg, Germany.
Can you talk about the competition and the travel just a little bit more?

Oh, sure, we got to play against some good teams like Lithuania and then Poland.
Who else did we play?
I'm sorry, but I just don't remember right off the top of my head. The competition was tough though. I played like seven footers and guys like 6'11." So, you know, kids my height and so it was good to get challenged. They were a lot bigger and stronger than I was.
What kind of challenge was that for you?
Oh, it was hard, man. They were tough. I actually had to play. (laughs)
Who's the toughest player that you've faced so far?

That's a tough one, but I'd probably say Michael Gilchrist.
Do you have any visits planned, as of today?

No, none at all at this time.
What would you like the audience to know about you away from the court?

Oh, I'd like them to know that I'm a humble kid who likes to do charity work. I'm proud of that. I just was working on a clothing drive last week. I like to give back to my community as well.
I remember that you were from Mount Vernon originally and moved up to Connecticut when you were eight. That's not far from where I grew up.

Oh, yes, yes.
Well, thanks very much for your time and being a part of USA Basketball.

Of course, thanks. Nice talking to you.
Andrew Slater is one of BDN Premiums Recruiting Analyst's and he's as good as it gets.  Do you want more information on Drummond and where Duke fits in?  Join Blue Devil Nation Premium and discuss the matter with other Duke fans on our members only message board. Memberships are availiable on a trial one month period, three months, six months or a year which is the best bargain at $100.00.  With many upcoming changes in the works, BDN Premium is more than ever the place to be for Duke fanatics.