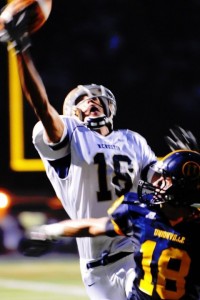 Despite the recent success of Duke's All-ACC receivers Donovan Varner and Conner Vernon, the program has lacked a long, physical receiver to create match-up problems with opposing cornerbacks. On Sunday, the Blue Devils added exactly that type of player with the verbal commitment of 6'4" 180 pound wide receiver Anthony Nash. Nash had a standout junior year at Bayard Rustin HS in West Chester, finishing with 62 catches for over 1300 yards and 16 touchdowns. His efforts earned him 1st Team All-League and 2nd Team All-Area in Pennsylvania. After a slow start to his recruitment, Nash made a name for himself on the east coast summer camp circuit. The big receiver chose the Blue Devils over North Carolina, Boston College, Purdue, and Penn State. BDN first spoke with Anthony after he earned a scholarship offer at Duke's camp earlier this summer, and the newest Blue Devil checked in with BDN again shortly after he spoke with the Duke coaching staff today.
BDN: How did you come to the decision to commit to Duke today?
I had a conversation with my coach and my family and were talking about all the schools. We were talking about Duke and North Carolina, because I went to North Carolina this weekend. And I just felt like Duke would be the better fit for me for my future and my education in the long run. So I went with Duke.
BDN: You mentioned North Carolina as a school you were considering. What other schools were you seriously considering?
Boston College, Purdue, and the other school was Penn State.
BDN: What did the Duke coaching staff have to say when you informed them of your decision today?
They were thrilled. They were really happy. They were pumped up. Definitely Coach Cut, I talked to him and he said I made his day, so that felt good.
BDN: What are your plans for the rest of your summer?
Just to keep working hard and focus on my senior year.
BDN: Is there anything you want to say to Duke football fans?
Just be excited. Be excited.
BDN: Thanks a lot, Anthony, and congratulations.
Thanks!