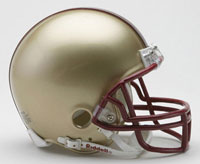 Are you ready for some more football, Blue Devil Nation?  Alright, I'll concede that Mark Watson's Peach Jam coverage has been out of this world this week, and things are really heating up for Duke basketball. So once you've had a chance to read and re-read all of that great coverage, get ready for a little Duke football. Duke football season is fast approaching, and there's nothing you can do to stop it. So get on board! Season tickets and new 3-game ticket packs are on sale now at GoDuke.com, or through the Duke Ticket Office at (919) 681-BLUE.
To preview the 2011 Duke football season, BDN is teaming up with other college football insiders to give an in-depth look at Duke's opponents. We kicked off our series earlier this month with a look at Richmond and Stanford, and continue this week with Duke's ACC opener at Boston College.
Duke fell to the Eagles in 2010 in Durham, 21-15. If it wasn't for a late goal line stand by LB Luke Kuechly and the BC defense, the Blue Devils may have pulled off the upset behind one of their better defensive efforts of the year. What should we expect from the 2011 matchup? We brought in BC insider BCHysteria of BC Interruption to help us preview the 2011 Eagles.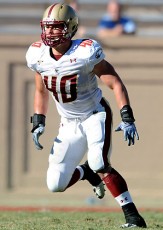 BDN: When looking at Boston College, we have to start with their defense. The defense loses senior leader Mark Herzlich this year and returns only 5 starters. We know how good All-American LB Luke Kuechly is, but who else is expected to step up for the Eagles, and what question marks remain heading into August?
There are a few names that you will need to know going into the 2011 season. First of all Kevin Pierre Louis is coming off a fantastic season where he logged in 93 tackles. Mix him in with Kuechly and BC should have a very dynamic linebacking corps this season. Another player that you should look out for is corner back Donnie Fletcher, who led the Eagles in interceptions last year. I expect big things out of him this season. One of the biggest questions for the Eagles has to be their defensive line, which is filled with unknowns. Max Holloway led the team last year in sacks, is returning, along with Kaleb Ramsey, but the rest remains one giant question mark. Who will step up on the line?
BDN: After an inconsistent 2010, there were mixed reports regarding the BC offense coming out of spring practice. With nine starters returning, including the dynamic rushing duo of Montel Harris and Andrew Williams along with a more experienced QB in Chase Rettig, what changes do you expect to see in the offense under new coordinator Kevin Rogers this fall?
Reports have come out that Rogers isn't going to be tweaking the offense that much from the style they played last year. Meaning a pro style passing game, with a few wrinkles here and there, but he's not going to suddenly turn the style into an Option style. During the spring game he did show some different looks like 5 WR sets which we did not see last year. I think what frustrated BC fans last year was a stale, predictable game plan and with Gary Tranquill gone, we hope to see that change this year. Hopefully that means much more success through the air and more points on the board. 
BDN: After making two straight ACC championship games in 2007 and 2008, the Eagles seemed to take a small step back the past two years. With a tough road schedule in 2011, what are the expectations for the 2011 season? Which games are the most crucial on the Eagles' schedule?
That is the million dollar question haunting BC fans right now. We have watched the Eagles continue to step backwards (mostly on offense), but with Rogers will this change? BC has a very tough schedule this year starting with two solid out of conference opponents in Northwestern and UCF. Those two games could easily dictate the tempo of the season. Another important stretch for BC will be their October slate which includes Clemson, VT, Maryland and Wake Forest. If BC can take at least two of those, they will be in good shape to at least a bowl. So basically if BC starts off slow, they could easily finish 5-7, but if they turn it around like I hope they will 8-4 might be a possibility.
BDN: Due to the new ACC scheduling, Duke and Boston College have been relative strangers in recent years. Duke last traveled to Chestnut Hill in 2006, and the Eagles have won the last 4 games in the series, though Duke did give the Eagles a scare in Durham last fall. What are your predictions for this year's matchup in Chestnut Hill? What does BC need to do against the Blue Devils to prevent an upset?
Last year was one of the scariest/frustrating games for BC fans. BC basically handed that game to Duke. If BC wants to win this year they are going to need to contain David Cutcliffe, last year Sean Renfree had his way against the Eagles secondary in the 2nd half. BC also has to not be stupid with the ball, Montel Harris' fumbled twice in the red zone. He is a much better running back than he showed in that game, and if he can hold on to the ball I expect BC to control the tempo of the game. I dont need to tell you, but Duke's defense was putried last year, if BC's offense can turn around their equally putrid offense, they should win.
BDN: With a stingy defense and a new-look offense, Boston College will be a tough early season matchup for the Blue Devils. How do you expect teams to try and attack the Eagles' defense this season? What will be the best way to slow Montel Harris and the Eagles' offense?
BC's defensive achilles heel has always been through the air. If you can get the ball in the air, and avoid the pressure you can beat the BC corners. This may change this year with a new look secondary, led by Fletcher, but keep your eye on highly recruited DB Albert Jean Louis. He is a hard hitter, who may keep opposing QB's from looking his way. Montel Harris can be stopped, and many teams found that out last year. Just frustrate Rettig, force him into a few bad decisions, and Spaz will hand the ball off incessantly to Harris. Harris wears down rather easily, and when D's know what's coming, they can load the box up and stuff him. Happened most of last season.
Previous week: September 10, Stanford at Duke
Next week: September 24, Tulane at Duke