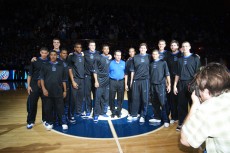 It's time for this season fourth edition of BDN's Duke Basketball notebook as the Blue Devils are set for tip off.  On to the yapping -
Duke has a tough opener vs Belmont, Maui Invitational bits
It's been a long time since Duke opened with an opponent as dangerous as Belmont, who they play Friday at 9:00 in Cameron Indoor Stadium.  You have to go back to the 2001-02 season when Duke came away with a 1 point victory over Seton Hall.  Normally, teams schedule a walk through game in their opener but not Coach Kryzewski, at least not this season.  Belmont returns everybody of significance from a 30 win team a season ago and they have veterans at key positions.  Meanwhile Duke is young, really young and they will have their hands full in that Belmont is much better than the opponents they faced in their two exhibition wins.  This game is actually a part of the Maui Invitational, an event the Blue Devils have never lost a game in, but Duke will advance win or lose, while Belmont then plays at Memphis, a team the Duke could meet if they defeat Tennessee which is  expected in the opening round.  Former Wake Forest Coach David Odom set up these games and Duke could have probably backed out but Krzyzewski knew this game would offer a chance to prepare his team for the likes of Kansas, Memphis, Michigan or UCLA, all top rated teams in the Maui Invitational.  Duke will see a well drilled team in fundamentals in Belmont and while I think the Blue Devils will win, the game could be a lot closer than people think.
Duke turns around to play in mere hours against Presbyterian on Saturday
Duke will turn around after some time for sleep and face Presbyterian at home.  This game will be a walk through and a test for the young Blue Devils legs.  They will need to bounce back quickly in Maui so this game too is somewhat by design.  The reason I say somewhat is that Duke thought this would be a 7:00 game but instead it is a 9:05 tip off.  Interestingly, the 4:30 tip off on Saturday will be about the time the first half is ending for the football team who travels to Virginia for a 3:00 start.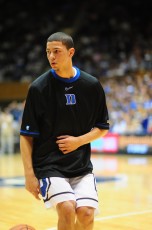 The word is Defense
In talking to the players on media day, the word all of them mentioned is a Duke staple, that being "defense." Be it Seth Curry or Austin Rivers, all the Blue Devils said that what they were working on after the two exhibition games was getting it together on the defensive end of the court.  Duke and defense ... so what's new?  Speaking of Seth Curry, we'll have a video interview with him up in shor
Krzyzewski approaches all time wins mark and there is lots of media attention
If you are not behind the scenes covering Duke, you may not realize how much media pull Krzyzewski has been handling.  Everybody, every outlet from here to Asia wants a piece of Coach who is approaching the all time wins mark.  If Duke wins their two home openers, he can break the record at Madison Square Garden in New York versus Michigan State.  If the Blue Devils slip, that home ticket against Davidson will likely triple in value.  Regardless, Krzyzewski will be honored upon his return.  There are a bevy of specials on, starting tomorrow on ESPNU and speaking of ESPNU, both of the Blue Devils home opener will be televised by that network.  Mike Breen and Doris Burke will be doing the opener, no word on the following evening but likely the same team.  Anyhow, back to the demand on Coach K's time ... there will be several newspaper specials and shows in the works and we'll keep you posted on them either here or through one of our social network outlets.
BDN Social Networks, join now!
Speaking of our social networks, we have a new Facebook group, called Blue Devil Nation and it is an open group, meaning all can participate.  Just follow the link to your right and I will approve you in short time.  There you will find some great photo galleries from the games as well as off beat fun pics.  And you definitely want to follow us on our popular and informative twitter site.
Duke-UNC Alumni Game Update
The promoters had little time to assemble the Duke-UNC Alumni game and as we mentioned on twitter, the game has been postponed.  They are still trying to bring it together but if the NBA and players reach an agreement, it will be a pipe dream.  None of these events which you are hearing of around the nation are sanctioned by the NBA, so players take the risk of injury.  That fact has kept the event from being held at Cameron Indoor Stadium or the Dean Dome in that they want no part of possible injuries.  Of course, players want to play and earn a little coin during the lockout, so it may very well happen yet and it will be at N.C. Central University and it does, don't be shocked if there are two games, you heard that here first.
A salute to the military on Veterans Day
In recognition of Veterans Day on Friday, Nov. 11, Duke Athletics will show its support of our servicemen and servicewomen by inviting over 250 armed forces personnel to Cameron Indoor Stadium to attend the Duke Men's Basketball season opener against Belmont at 9 p.m.  The soldiers from the Marine Corp Air Station Cherry Point, Marine Corp Air Station Cherry Point Single Marine Outing, Camp Johnson and Camp Lejeune will attend the game free of charge and standing amongst the Cameron Crazies in the student section on Friday night.  If you know somebody that fought for oyur country, thank them on this day. Prior to the game, there will also be a moment of silence as we remember all those who have been lost while defending our freedom.
Clash In Cameron, there will be both boo birds and cheers
Now that Mitch McGary has singed with Michigan, the boo birds will likely be out in Cameron on December 17th during the Clash in Cameron which features the nations top high school players.  McGary and his Brewster Academy will play the 7:00 game, while the nations top rated player and major Duke prospect, Jabari Parker will take to the court at 9:00.  Stay tuned foe more details.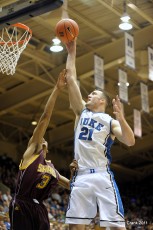 Rasheed Sulaimon is a Duke Blue Devil
Rasheed Sulaimon put pen to paper on signing date and he is now an official Duke Blue Devil.  Welcome to Duke, Rasheed!  In case you are wondering the early signing period began on November the 9th and runs until the 16th.  The next signing period will be from April 11th to May 16th.
BDN will be on the scene all season long
BDN coverage will be top notch again this season.  We are scheduled to be at every game with the exception of #2 ranked Ohio State in the Big Ten-ACC Challenge,at Georgia Tech,  at Clemson.  That's all but three games that we'll be at live and in person via our wonderful staff.  Terry Rains will be in Maui reporting for us and we look forward to that and Andrew Slater will be in New York when Coach K hopefully sets the all time wins mark.  And as always, the original press row tweets from Cameron will continue all season long.  It all started in the national championship season when we were right their in the middle of it all be it on the court for the celebration or in the locker rooms.  BDN gets out there to bring you the best possible coverage we can and that's why this is the most Duke-centric no official site out there!  We can't wait for the season to start!