Archives by date
You are browsing the site archives by date.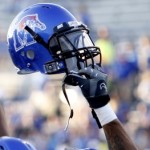 By Patrick Cacchio on September 19, 2012
It's Homecoming Weekend in Durham, and the Blue Devils play host to the Memphis Tigers on Saturday at 6PM in Wallace Wade Stadium. Duke will use the weekend to commemorate its 100th year of football and hope to cap off the celebration with a victory. To give us a scouting report on the Tigers, BDN […]
Posted in Duke Football | Tagged Memphis at Duke scouting report
By Bob Green on September 18, 2012
Blue Devil Nation starts this week's review of high school gridiron action in Columbia, South Carolina, where Heathwood Hall Episcopal defeated Laurence Manning Academy 12-9 in overtime. Lineman Gabe Brandner spoke to Blue Devil Nation about the game and stated, "It went into overtime at 6 to 6. We held them to a field goal […]
Posted in BDN Premium Articles, Duke Football | Tagged Darren Andrews, Gabe Brandner, Johnell Barnes, Joseph Ajeigbe, Mike Ramsay, Parker Boehme, T.J. Douglas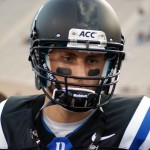 By Mark Watson on September 18, 2012
Here is the Blue Devil Nation highlight reel from the Duke Blue Devils big win over N.C. Central.
Posted in Duke Football | Tagged BDN Video, Duke rips NCCU. Sean Renfree leads Duke
By Patrick Cacchio on September 17, 2012
DURHAM – The Duke Blue Devils defeated the NCCU Golden Eagles 54-17 in the Bull City Gridiron Classic on Saturday night. QB Sean Renfree had a big day, as did WR Jamison Crowder, Durham native WR Desmond Scott, and RB Josh Snead. CB Ross Cockrell added a pick-6 for the defense as well. All five […]
Posted in Duke Football | Tagged Duke players NCCU post-game interviews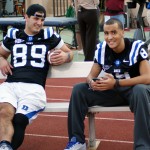 By Mark Watson on September 15, 2012
The Duke Blue Devils pushed their season record to 2-1 with a 54-17 victory over in town rival, North Carolina Central University in the Bull City Classic. The Blue Devils were the beneficiary of two late turnovers which broke the game open after a 41-17 lead which at the time looked as if it might […]
Posted in Duke Football | Tagged Blue Devil Nation, Duke Football, Duke goes to 2-1 with win over NCCU, Duke rips the Eagles