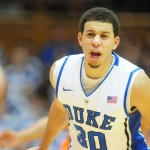 The Duke Blue Devils rode the backs of two seniors and in turn advanced to the next round of the NCAA Tournament with a 73-61 victory over Albany. Seth Curry led Duke with leading the way with 26 points and Mason Plumlee added 23 as the Blue Devils earned the right to face Creighton on Sunday.
The senior duo were a combined 19 of 25 from the field on a day when Duke was relatively cold from beyond the three-point stripe going 4 for 11, so their play was vital in the victory which pushed the Blue Devils record to 28-5 on the season.
In a twist of fate, it was the Great Danes who shot lights out from beyond the three-point stripe where they went and efficient 9 of 15. Knocking down 14 of 16 free throws helped their cause as well enabling them to remain in striking distance for most of the game.
It was only natural that Duke Coach Mike Krzyzwski noted the Albany effort applauded them for staying in the game with their intensity. Krzyzewski also noted that a game like this was what his team needed.
The Blue Devils were never able to break away from Albany and that will serve as a lesson to the team that you have to bring the intensity from end to end on every play to advance in the tournament.
Duke was also able to shake the upset residue from a season ago when they lost their opening game to Lehigh, so I expect we'll see a focussed effort on Sunday in a game that is rumored to start as late as 9:40 on the street in Philly.
I would also like to note that Quinn Cook had eleven dimes on the day, a great effort from the sophomore. Anyhow, it's survive and advance and Duke has done so. Please check back in for mor coverage later tonight and tomorrow.