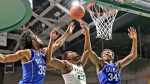 They did it again!  Just when you thought the team was about to lose their third game of the season, Duke came alive.  The Blue Devils uses an 18-0 run to shock Miami and snatch a key ACC road win.  Without further ado, here is volume V of 10 Random Thoughts on Duke Basketball.
30 Point Efforts
No other team in the ACC has more than two players with 30 plus scoring games this season.  Duke, on the other hand, has now had players go for 30 points or over in seven games.  Last night it was Gary Tent Jr.s turn.  After being sick the game before against Wake Forest and still playing well, Trent followed up that game with 30 points which included some big time three pointers.  His effort helped Duke remain undefeated against teams in the current A.P. Top 25.
Comeback Artists
Trailing 66-53, Duke went on an 18-0 run and outscored Miami 27-4 over that  stretch which sealed their fourth conference win.  Gary Trent went 6 of 9 from three-point range, knocking down two consecutive trays to start the comeback.  Trevon Duval also stepped up his game after struggling with turnovers early in the game and ended up having 8 assists.  Duke has had a way of turning up their offense for spurts all season long.  Quite simply, they are capable of staging major comebacks in just a few minutes or when the game looks to be in doubt.
Not to take anything away, but ...
The Blue Devils still need to find some consistency in many areas of the game.  Firstly, they need to protect leads they build in the first half or leads in general.  Duke also needs some work on their free throw game.   They got away with going 10 of 21 from the charity stripe last evening and left a lot of points with misses of late.  Then there is the need for a consistent effort and better shot selection not to mention a better understanding of man to man defense.  Duke is young and learning.  Once they take better shot and gain a killer instinct with the lead, they will be hard to beat.  Just a little bit of improvement in the aforementioned areas could pay huge dividends.
A different role from Bagley
Well of course Marvin Bagley III got his 15 double-double on the season.  And he tallied 13 points, 12 rebounds and 3 assists by deferring to other Duke players at times.  Last evening three other Duke players had more shots than Bagley.  The talented freshman took another step in his development by allowing this to happen which translated to a win.  And if Duke wins, Bagley will still remain the center of attention for many.
Wendell Carter went beast mode
When teammate Marvin Bagley went to the locker room with a shoulder injury, Carter played outstanding basketball.  He was a machine on the boards where many of his game high 14 rebounds came early or in key times in the game.  Carter is a double-double guy as well and he has pout together back to back games with the not so easy feat.  Duke would be well served to make sure he continues to get touches moving forward for he is better when that happens as is the team.  What people might miss is there is a timed development with players from the staff.  They told Carter he would float outside for some shots to better that part of his game when recruiting him.  They are keeping their promise.  BTW, Carter has an insane stat line - 15 points, 14 rebounds, 4 blocked shots, 3 assists and 2 steals.
Allen continues to struggle with his shot
Sometimes players get in a shooting funk.  That has been the case with all of the Duke backcourt players at times this season.  It is scary to think how good Duke can be if all three are hitting on the same night.  What Allen is doing is finding his way into the stat line and remaining the senior leader a team needs.  Last evening he led Duke is steals with 5 and his effort towards the end of the half to get one and assist Trent for a 3 halted Miami's momentum.
That zone
I know there is a part of Mike Krzyzewski that hates going to a zone.  But in the one and done era with limited teaching time with players, not to mention a top-heavy team with concern to minutes: it is necessary.  And when Duke does go to that zone it seems to have a great effect to date.  When they went to it last evening, the Hurricanes offense immediately struggled with the length and movement.
Bad Duval, good Duval
Trevon Duval got into some early foul trouble and had to sit.  He needs to learn to harness his aggression in that Duke needs him on the court.  He is the best option at his position hands down.  I thought he was on his way to 8 turnovers like he had against NC State, but he flipped the switch and halted that.  Instead of 8 turnovers he ended the game with 8 assists.  And he was very efficient from the field going 7 of 11 and 2 of 2 from 3.   There is no position like the point guard spot which makes mistakes stand out.  Duval was good down the stretch and was a part of Duke not committing turnovers after a season high 19 during their 30-9 run to close out the game.
This and that
Duke has now had players garner 25 double-doubles on the season.  Bagley is 2nd in the nation in double-doubles and 1st among freshmen players.  Trent tied a Duke freshman record with six made three pointers.  Coach K is now 1014-273 at Duke and has 1087 total wins.
Next up
Pitt will visit Cameron Indoor Stadium on Coach K Court this coming Saturday.  That game will tip-off at 4:00 on  ACC Network Extra.  Duke should get both rest and good practice time this week.  They should also be able to let injured players continue to mend against Pitt which s struggling while rebuilding their program.
Always check back for new 10 Random Thoughts on Duke Basketball.  And take advantage of our special on Blue Devil Nation Premium where we double your membership through the month of January.  Get two years for the price of one or one year for the price of six months.