[private]You would have played Xavier if the team had advanced past West Virginia this past March ...
Things happen.  You're going to have upsets.  Xavier is a real good team and we look forward to playing them.
What are your thoughts on the three point shot and the line being moved back?
You don't really notice during the game.  If any thing makes a difference, it's you can get a little bit tired and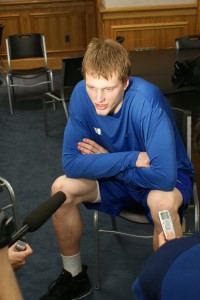 you shoot short on the shot.  The shot's not really that much farther back.  I like it because it's different and brings a different dynamic to the game.
What do you think of Paulus and Smith at the point guard spot?
They both play hard.  If you play hard and win games you earn respect from your teammates.
Did the team take any solace in the fact that they didn't shoot the ball well in the loss to Michigan?
I don't know with a loss like that.  We just didn't play very well and Michigan played good enough to win.  You get the feel that they wanted it more and this team has to be the one which wants it more.
How do you feel about your play so far this season?
It's really all about the team.  I think we've been good, not great up to his point in the season.   We want to define ourselves as a team so we still have things to work on and get better doing.[/private]