John Wall returned from his visit to Memphis on Sunday afternoon and he may pay a visit to Duke possibly on [private] Tuesday of this week, the day before the team leaves for the Coaches versus Cancer 2K Classic in New York.
"Probably some time next week or this week," said Wall on when that visit might take place.  I then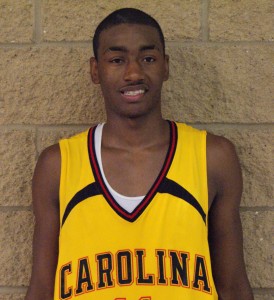 asked if Duke was a serious player at this time and Wall said, "I haven't been offered yet.  Coach K wants me to sit down and talk to him in person and we'll take it from there."
He seemed to have liked his visit to Memphis, bit didn't elaborate too much on how it went saying, "It went good.  I think it's a great school with a great environment.  The fans show support and it was a great visit over all."
When asked who would play the biggest role in his recruitment he stated, "Probably my Mom and my high school and AAU Coach, Brian Clifton."
Wall also has a criteria which has pretty much remained the same saying, "I'm looking at the style of play, how my relationship might go with the coach.  I like a style that lets you get up and down the court."
"The thing I most need to work on is my jump shot," said Wall.  That's about the only thing which needs polish for Wall is a cat quick point guard who plays good on ball defense and finds his teammates with his unselfish play and terrific passing ability.
"All the teams on my list have been aggressive," said Wall.  He continued to name his list and Duke was still in it.  "They had showed some interest before and explained to me how they recruit players and once they offer they stick with that player."
He was of course talking about Kenny Boynton, who recently selected Florida.  That opened the door for Wall.  He also stated that Coach K had handled the majority of the process.
I asked the young prospect to describe his game in his own words.  "I'd say clutch and I can lead my team to victory and get other people involved and he can lead his team to victory," said Wall.  As a person, he said, "I'm cool, like to have fun and try to be a good person."
For those of you think there might be an early verbal to a school, think again.  Wall stated, "I will wait until spring before I make a decision, that hasn't changed.  I'm still wide open."
Walls list of schools - Duke, NCSU, Baylor, Memphis, Kansas, Oregon, Clemson
His team's first game - November 28th [/private]