Josh Smith (6-9, 280, Kentwood HS, Seattle Rotary AAU) is one of the nation's most coveted players in the class of 2010.  Duke is but one of many schools in the chase for the talented front court prospects services.   We caught up with Josh and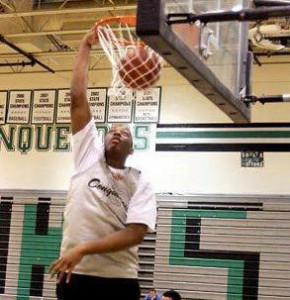 got his thoughts on the recruiting process, timeline of his decision and the schools that are in the race.  Blue Devil Members can continue to read about the latest with one of Duke's ... [private]
Josh dunked for the first time as a 6-4 seventh grader and he hasn't stopped since that time.  In fact, he had so many blocked shots, that his league changed the rules to keep him from eating up the paint.  His Dad, Josh Senior prefers to be called  "Big Josh," but he stands at just 6-3 as his son equaled his height by 12 years old.
I approached this interview as Sports Nation Network which I own, seeking honest answers instead of one slanted for the home team. 
The List - Arizona, Duke, Georgetown, Gonzaga, Kansas, Kentucky, Louisville, Memphis, North Carolina, Ohio State, Tennessee, Texas, UCLA,  USC, Washington and a couple of others.
Has your high school season started yet?
Yes, it started Monday.  Our first game will be December 5th.  We have one starter back other than myself.
Can you tell me which schools have been the most aggressive in their recruitment of you?
I'd say Kentucky, Duke, North Carolina, Louisville, UCLA and Ohio State.
There has been a lot of talk in the past that UCLA was in the drivers seat for your services or that they might lead.  Is there any truth to that?
I would say no.
Suppose somebody had never seen your game - how would you describe it to them?
Over powering, tough in the low post and aggressive.
What are some of the key factors when you think about your pending collegiate choice?
Location won't be a factor for me.  Style of play could be a factor.
Who do you pattern your game after?
Shaq!  I grew up pulling fo him.  Some have called me "Baby Shaq."
If you could meet any NBA player, who would you most like to meet?
Dwight Howard.  I like his powerful dunks and that he tries to make his team better.
What style of basketball do you like to play ... up and down ... structured half court, four out and one in ... ?
Four out and one in.
So you like the idea of being the go to guy in that type of offense.
Yes.
So, there is no leader at this time ...
No.
Is there a school you are more curious about than others?
I would say there is no leader at this time nor one that I have any stronger interest in more than others.
Are you likely to take all of your allotted official visits which the NCAA allows?
Yeah, I'd probably say I would.  I could make an earlier decision if the situation feels right.
What about the NBA ...
Yeah, I want to play in the NBA, but I also have a big desire to play ... play in the league.
You've mentioned a lot of really good schools, some of which have more success putting guys in the league than others.  Will that kind of thing have a bearing?
Yes, a little bit.  When I get into school my first goal is to be successful there and if I'm lucky or good enough to go to the league, I will start to think about that.
With the exception of Washington and WSU, most of the schools on your list are a good ways off.  So, it's no problem to go as far east as Kentucky, Duke or UNC?
I wouldn't have a problem going to the east or anything like that.  It's like, well in Texas I have family in Dallas and Mississippi down south, so I wouldn't have a problem to go down there and play, but I don't have a problem going anywhere.  UCLA is like a ten and a half hour drive or two and a half hour flight.
Who will play a big role in your decision?
Probably my Dad, my Mom, my family and older brother.
How do you like the recruiting process?  Is it tiring, a lot of calls ...
I do, but my Dad really handles most of the calls.  It's not really tiresome though.
Who are the last coaches to have called you?
Coach Matta at Ohio State, Coach Pitino at Louisville ... that's all I know of this past week.  I'm in a get to know process with all the schools.
What are you like off the court?
 I just like to chill with friends, go see movies and do stuff with a lot of other people, whatever is fun.
Josh Smith in three words as a person?
As a person I would say nice, smart and funny.
... three words as a player?
solid, powerful and understanding. [/private]