[private]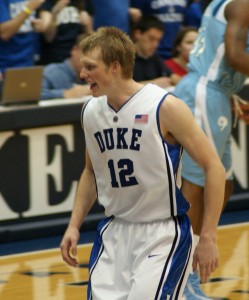 While many fans were expecting UCLA to be in the finals, the Wolverines proved that their program was on the upswing with a 55-52 upset win.  Much of this is due to their new coach John Beilein who has his club at 3-0.
Many of you will remember Beilein as the coach of an inspired West Virginia team which knocked Duke out of the NCAA's last season.  That is one of the main story lines going in.  Another story line is that the Blue Devils travel to Ann Arbor on December 6th, meaning these two clubs twice in 15 days.
Michigan employs a tricky 1-3-1 zone which befuddled the Bruins.  The Wolverines got 19 points from DeShaun Sims who controlled the game in the paint.  Then there is Manny Harris and a cast of kids who can shoot the three, a Beilein trademark.
Duke shot more free throws than Michigan and UCLA hit and missed combined.  It's no secret that the Blue Devils will hope to get to the line again and I expect to see the ball go inside early and often in that Beilein will defend the three with his zone.
Another key will be which team dictates their tempo.  Duke wants to run up and down, while Michigan will be a bit more controlled or methodical.  Both teams have now adjusted to New York, but it's a mystery as to whether Michigan will play loose.  For that matter, Duke was pretty tight in the first half with their offense struggling.
I think Michigan will come out strong and implement their game plan, but as the game goes on, Duke will find a way to counter.  Once Duke has Michigan playing in transition, fouls should mount up.  Then again, if the 1-3-1 zone works as it's suppose to, passing lanes and relocation of the ball is difficult, which would force Duke to seek cutters to the rim.
While this may sound odd, if you are watching on TV, the rim to the right is extremely tight, while the one on the left seems loose.  This was evident to me in last seasons Duke-Pitt game.  In short, lets hope the Devils have the left rim last.
The pick here is Duke 84 Michigan 65[/private]