There is always something special when one of the nation's best programs comes into Cameron for a non conference contest.  The crowd seems to amp it up a bit, the intensity is at a high level, and the play is inspired and emotional.
All of the above held true on a game that started at 1:30 on Saturday afternoon as Duke defeated Georgetown 76-67 for their 67th consecutive home court win against outside invaders.
It was the kind of win that assures the Blue Devils a solid seed come March and a victory that allowed Coach K to further analyze his team before it gets into the meat of the ACC schedule.
The Crazies had a bit of fun ragging on Greg Monroe, the talented freshman that spurned Duke without taking a visit.  It was obvious that Duke did its scouting on Monroe for they got the big man into foul trouble, essentially taking him out of the game during key stretches.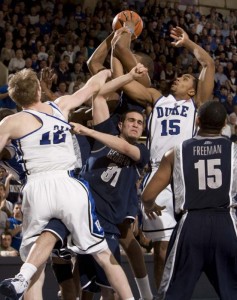 Gerald Henderson continued on his tear of late with an amazing first half show that enabled the Devils to pull away in what was a tight game before intermission.
Georgetown would of course make a run but could get no closer than four.  Singler, who struggled with his shot early, gained his bearing and tossed in 15 points and grabbed a most impressive 16 rebounds.
Paulus added a needed spark off then bench with 10 points and 2 assists and his emotion rubbed of on not only the crowd but his teammates.  Paulus scored his 1000st points moving him to 46th on the all time scoring list.
Freshman Miles Plumlee played his best minutes as well and he should be able to build off the performance.
Jon Scheyer was steady as ever leading his team with 5 assists and playing some really good defense, again leading the way with 3 steals and a lot of contested or deflected passes.
There were a lot of positives and we will have more coverage on this important win tomorrow, so check back in.  Until then, take a look at the game quotes -
Opening statement:
"Well, it's a great game. It's two hard-nosed teams who play defense, and kids who play hard on very possession. We feel very fortunate to have won. I thought we played well enough to win and I think [Georgetown] played well enough to win. It was one of those games. [DaJuan] Summers is a very special player – one of the best we've played against this year or will play against. He's really good. Obviously [Greg] Monroe is a special talent, and they have a great perimeter. I thought Kyle [Singler]'s rebounding performance was spectacular – 16 rebounds in this game when we only had 32, although there weren't that many missed shots. That's a spectacular performance. And, [Gerald Henderson] really gave us a huge boost, I mean he played a terrific game. I thought [Greg] Paulus played withthe fight that he's had throughout most of his career here, and I think he's finally getting healthy. He and Nolan [Smith] out there in this game was a good combination and it limited our turnovers – we had 14 assists and 12 turnovers. The last 10 minutes of the game with Kyle in foul trouble was interesting, but we hung in there and made our free throws, didn't make mistakes down at the end there. I'm real proud of my team, plus the crowd was great. It was a great atmosphere and the crowd helped us, no question about it."
On the switch in lineup and less minutes for the post players:
"A lot of it had to do with their offense. Monroe is a very unique player, and he's their point guard – he plays at the top, goes to the side, and if you play him in a traditional sense, big-on-big, he's going to get a lot of open passes. His vision is terrific, so we thought that was part of how we might be able to limit them. [Miles] Plumlee came in and did a great job for us. We have a versatile team, and we should be able to use our personnel to match up against someone the way we did, and that's why we did it."
On the impact of the technical foul called on Monroe:
"It gave us two points. We were really horrible on three straight offensive possessions in transition, where we could have gotten six points, and I think they ended up getting seven off of those, and that's a huge swing – potentially a 13-point swing. It was one of the worst swings of the game, and we were responsible for that. So, [the technical] just kind of stopped the game for a while, maybe we righted the ship, and we hit the free throws."
On Gerald Henderson's play recently:
"I think he's finally over that wrist injury. Remember he was out for four months – he didn't do anything basketball-wise for four months at the end of last season. It's still not 100-percent, but now he's learned to finally live with it. The last month he's just kind of gone off. I think he's in great shape, probably the best shape that he's been in since he's been here. His weight is down, so instead of playing at around 215-216 [pounds] he's probably 210-211 and all those things have an impact."
On Georgetown's offense:
"Theirs is a read offense. It's based on movements and reads. [Coach John Thompson III] gives his guys a lot of freedom in that offense, and that's why Monroe is so huge with that because he has a great feel for the game and he makes good reads. What we tried to do is rush the quarterback, at least put pressure on the quarterback, so it at least took away some of his vision. He had four assists but he had four turnovers. He had a good game, but when he walks on the floor he can potentially have a great game. He had a good game today and that helps us."
On Greg Paulus' play:
"I thought that was, by far, his best performance this year. What he showed was fight. He was playing really good defensively, playing with emotion, and gave us a huge boost. I mean, we don't win the game without Greg today. Greg had a huge impact on today's game."
"The first half was great.  It was special.  My teammates were finding me and I was knocking shots down.  We got a good lead at the end.  In the second half, shots weren't falling like they were in the first half.  I just started getting to the rim a little more.  They started taking some things away, but I ended up on my drives being able to kick it out to my teammates so it was good."
"I grew up basically in Villanova.  I've been to Georgetown-Villanova games at the Pavilion.  I've been to those games, I've watched them play, and I know what kind of intensity the Big East brings.  Growing up around that, it was fun to play them and beat them."
"This is the second time I've played Georgetown [in Cameron].  Both games have been unbelievable in terms of intensity, and this one didn't disappoint at all.  We won but it was a lot of fun."
"I think after [the Michigan] loss where nobody really played that well, I kind of made it a mission to myself that I could contribute more and do a lot more out there on the court.  A loss really kind of made me realize that.  Up to that point, we were winning but I wasn't playing all that great.  That loss kind of opened up my eyes and told me that I needed to contribute a little more."
"Whether the team is from the Northeast, the South or the West, you want to win and you want to win at home.  You want to protect your home turf.  We really wanted to win this one, not because it was ACC-Big East, but just because we're playing and we hate to lose."
"It was a very intense game.  They're a big, physical team and we've played them a couple of years – I've played them three times – so we knew it was going to be that kind of game.  We knew that was the type of effort we were going to need in order to win."
On Gerald Henderson:
"He's playing well.  He's got a lot of confidence and we have a lot of confidence in him.  Some of the moves that he's making are at a very high level.  It's tough to defend and you can really feel his presence out there."
"Whenever you can play one of the best teams in the country like Georgetown you get that type of experience.  You play a lot of different teams in non-conference and they're big and they're long, and those are the types of teams you could see in the NCAA Tournament.  Having this type of experience to win, it's a good thing for our team."
On his defensive spark in the second half:
"We needed some energy so I tried to make a play.  Luckily I got my hand on a ball and it was just good energy that we needed.  We had those types of plays – Jon [Scheyer] made a steal that was big, Kyle [Singler] hit some threes – so we did a good job of closing the game out."
On his first half shooting:
"Sometimes your shot's not going to fall.  You can't get down on yourself for missing a shot.  Things happen.  I thought the whole team played well and I fed off the team.  That's what happened – I wasn't worrying about whether I was making my shots or not.  Once the crowd got into it, you kind of lose all sense of if you're making shots or not."
"These types of games are very good for us.  This is a very good team.  It's the type of team that's a top team in the ACC.  It's a team that you're going to play in the NCAA Tournament.  It's great preparation.  But when it comes down to it, the game is over and you have to move on.  We have to go on to N.C. State and start the ACC and keep on doing what we're doing – playing good basketball."
On his improved rebounding:
"A lot of times the balls just come to you, to be honest.  But it's those 50/50 balls that you kind of haveto go out of your way to get.  I had a couple of those tonight and I was able to get those 50/50 balls.  One of the other main things that happens [compared to] last year, you're older, a little stronger, you're able to withstand a full-length game.  You're able to have legs and go get balls, and I've been workingreally hard on grabbingrebounds with two hands, especially at this level.  A lot of big guys get hands on ball and tip them out of your hand.  As a rebounderthat's the most frustratingthing."
Georgetown Quotes
Georgetown Head Coach John Thompson III
Explanation on technical foul on Greg Monroe
"They outplayed us, we're not going to sit here and look at that and say that was the reason the outcome was what it was. They outplayed us, that's why we lost."
On Duke's run in the final eight minutes of the first half
"During that stretch I think they did a very good job of executing at the defensive end and we couldn't fall into a rhythm. We didn't execute well at the offensive end, we made some poor decisions. And as happens with good teams, they got to feeling good, they went on a run, and the emotions of the building took over. So we went for too long of a stretch not scoring. But that's a tribute to them."
On lineup changes from first and second half
"The group with [DaJuan Summers], [Greg Monroe], [Austin Freeman], [Jason Clark], [Omar Wattad] was playing well. We were down 15 or 16 and got it to four. Then they got a little tired and the lead went back to 11 or 12 I think. We got them back in there and the lead went back down again so this group was playing well together."
On Greg's reaction to the technical foul
"He was just saying to me 'I didn't say anything, I didn't say anything'. I don't know what went through his mind, but that's what his reaction was."
On what he takes from the game
"It's a non-conference game in the middle of a very tough conference schedule, so it's a very disappointing loss for a lot of different reasons, but we have to moveon. I think we continue to see our comfort level with different groups. Like you indicated, tonight it was Omar [Wattad] and Jason [Clark]. We made two separate runs when those guys were on the floor, so it's going to be a different group on different nights depending on the flow, depending on what my feel is, and what I think is working and what is not working."
On technical foul
"The technical was a key part of the game, let's not try to run from that, it was a key part of the game. On top of everything, now Greg [Monroe] has four [fouls]. It clearly altered how they attacked us and what we could do, but that's not the reason that we ended up with less points than them tonight. They played very well. They made plays, particularly in the first half. Early in the first half they were making tough shots. We played the defense, but they were making tough shots. Then there was a stretch in the second half where we were getting good looks, the ball just wasn't going in, so that's sports, that's basketball, that's life. They beat us today."
On Gerald Henderson
"He put them on his shoulders and carried them. He was terrific. He was unbelievable. He just got into the flow and that happens with good players. He got into a rhythm and made everything he threw up."
On how playing in the environment helps the team
"You go to places and you play the games and hopefully you learn from mistakes. We have to take something away from every game, win or lose."
Georgetown freshman Greg Monroe
Whether he heard anything being said behind him
"A lot of people were saying things. I don't even believe he was really looking at the bench, but I know I definitely didn't say anything. I can't say if I heard someone else, but I know I definitely didn't say anything."
Georgetown junior DaJuan Summers
On his offensive production slowing down in the second half
"I did miss a lot of key free throws, but that's not why my offensive production stopped or slowed down. I tried to find different looks, not force shots, and find the best shots down the stretch. That's probably mostly why."
On team's offensive execution down the stretch
"I didn't say it wasn't great. I said, me down the stretch, I was trying to make the right play. They play good defense. They are a good defensive team and we as a team have to figure out ways to get better shots and not let the other team dictate where we are going to get our shots. That process is key for us, but they play great defense."