[private]
Here is today's question and answer session with Coach David Cutcliffe -
Opening statement -
I want to first say that looking at the tape, it's good to win 31-3 with so many things that we can do better.  We rushed offensively, our execution wasn't near what it had been.  Obviously, I didn't do a good enough job keeping us oiled up during the open date.  Defensively, a little slow starting, but in the second quarter we started playing as good as we could have.  We're glad to get the win and it was certainly big for our seniors.  I wish you could have seen those young men in the locker room.  I've already had a team meeting this afternoon and we will shortly be going out on the field to work on Georgia Tech
(BDN) Coach, Michael Tauiliili had a career high 16 tackles, a forced fumble and an interception,  Can you talk a little about his game?
I certainly can.  He had the interception of course and the fumble recovery, but he's been playing like that all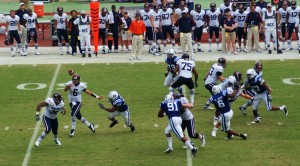 season.  He's had a tremendous start to the season.  He's about 25 pounds lighter than he was a year ago and had certainly proved he's game ... playing at a much faster pace.  He's become a much better tackler.  Mike is one of our captains and I think he's probably grown as much as anybody on our team to this point.  I think he's playing like an All American linebacker.
(Go Duke) After playing some special teams the first few games, you got Butler and Daniels in the rotation in the secondary.  Can you talk about the two.  I assume we will be seeing a lot more of them?
Absolutely you will see more of them.  I challenged both of them during the open date to pick it up.  Meaning assignments, techniques, consistency.  It's hard to put a young guy in the secondary.  It's hard to put a guy anywhere if you don't trust them.  They're both really good prospects.  You saw them.  If you've watched us at all you saw them make plays in the special teams area.  Lee and Matt are going to be playing much more over the rest of the season and they will both be really fine football players.
(N & O)  Following up an Lee and Matt - what is it about them physically?  Where are they at this point?
Well they're both extremely fast.  As fast if not faster than anybody we have on our team.  Now days we have freshman come in in the summer.  They are really good athletes, their bodys have responed really well in weight training and conditioning.
(Chronicle)  I don't know if you know yet, but you got a vote in the coaches poll.  I was wondering, does that mean anything?
Well, I didn't know.  Depending upon who made the vote (laughing).  It might be a good friend, or it could be Coach Spurrier again.  All that is short lived if you don't win.  All we are concerned about is becoming a better football team.
(BDN)  Coach, back to freshman a second.  Can you talk a little bit about how Jay Hollingsworth has developed?
Jay took a huge step in this last game.  He's slowly getting there too.  He's another one of those guys with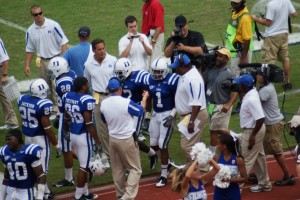 his body  just responding.  He's actually got a little sore hamstring and was able to work through it, which impressed me.  A lot of youngsters can't do that and he's a tough kid, he has great body lean.  If he will continue to work he will be a really fine player.  He has a nice natural body lean and vision - catches the ball real well out of the backfield.  He's going to get a lot of touches over the years.
(NY Times) We are doing a theme on how volatile this weekend was in college football.  You've obviously taken Duke and lifted them up significantly so far.  Can you talk of the line between winning and losing in college football and how chaotic it'll probably be?
I feel sorry for people that take pride in picking winners and have this high percentage.  It's going to be very difficult.  It's a lot of programs like ourselves and there are teams who aren't  your perennial power houses that have made an effort to attract a better player.  And the other part is that a lot of us are doing a much better job of developing talent.  There's a combination of things.  We're a good football team right now.  I would say we are near being a great football team, but we have a good team, which means it could go either way for us every week.  We have to play our best to have a chance to win.  It's going to be harder for teams to put up double digit wins in the future.
(Herald Sun)  Does it help in a kind of backwards way that the team is bringing consistency, that they haven't had in the past?
Well, I think it makes you hungrier.  I would hope we maintain that hunger.  Hey, listen!  We should be hungry enough .. we need a ten or fifteen year stretch of devouring food - we should be so hungry for success.  So, hopefully we'll manage that.  I'm not literally talking about food, you guys know that.
(NY Times) I just wanted to ask - do you have a sense of where you stand in the ACC?  You haven't been through this for a year yet, so there is a lot of newness to it.  But do you know where you stand and do you think Georgia Tech will give you a better answer?
That's a program that has been to eleven straight bowls and they obviously have good players on the field.  They have been successful this particular season.   I haven't played a road game yet.  It's hard to tell where we stand.  From me evaluatiing our team, we've got a long way to go to get to where we want to be.  What we are trying to do is get to where we can at least be competitive and when the game's over feel like we've played well.
(Herald Sun) Do you pay any attention to Navy beating Wake Forest or Northwestern is undefeated?
No, not really but Northwestern should be 4-1, but they are 5-0.  Injuries can change teams, so usually comparative scores in my experience never work.
(BDN)  You've outscored your opponents 76-14 in the second half in each of the first four games.  Is there a recipe for that?
I think it's conditioning.  I also think it's our staff.  We're in systems that we've been in for a long time and we hope we know how to fix some problems at halftime.  I think our staff does a tremendous job of that on both side of the ball and the kicking game.  So, when you are in themes and you are not grab bagging and you believe in the system ... we've really done a nice job of that and I think our players truly are fresh in the second half.  They look forward to it, they really do.  When we are running they're always hollering we want more ... I think it's a ploy to get me to stop, but I think they can go more,  We've shown them you can push yourself beyond what you thought you could.
(AJC) Coach Johnson has kind of developed a reputation down here of gambling on fourth down going for it fourth and three up 14-0 and scoring a touchdown on the play.  When you go against a coach like that who is known as more of a gambler, does that effect your schemes and how you prepare for them?
It effects us because they think they're in four down territory all the time because the style of their offense.  In our study of Navy in the spring and summer - they go for it all the time.  You have to be ready to make fourth down calls on defense every possession.  Their percentage of making them is very high.  So, I don't know if he is gambling as much as he is just confident in what his offense is going to do.
(AJC) Will it help that you've played Navy?
I think it goes both ways.  They have better athletes than Navy.  But they can see us against their offense, so we have got to tweak some things and do some things differently - so there is a little bit of cat and mouse going on.[/private]