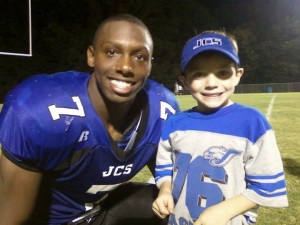 Under Head Coach David Cutcliffe, the Blue Devil offense has featured some of the best receivers in the Atlantic Coast Conference and the country. This fall, Duke fans hope to watch All-ACC candidates Donovan Varner and Conner Vernon help lead the Blue Devils to a bowl game. With the impending graduation of senior Donovan Varner, however, Duke is looking for an elite wide receiver in the class of 2012, and are in the mix for a top prospect from the state of Tennessee. Drae Bowles is a 6'1" 200 pound receiver prospect from Jackson Christian HS. After an impressive junior season that included 14 touchdown catches on offense and an All-State selection at linebacker, Bowles has received countless accolades from coaches and scouts alike. With over 20 scholarship offers, the top wide receiver will have his pick of schools, and the Blue Devils hope he chooses to become an impact player for their program.
BDN: Can you start off by describing your strengths for fans who haven't had a chance to see you play?
Definitely my hands, coaches tell me I have great hands as a physical receiver.
BDN: What are some of the things you have been working on this summer?
Just working on getting better at all aspects of the game of football.
BDN: What are the most important things you are looking for in a college?
The most important things is a place that feels like home. A place where I have a good relationship with the coaches and I feel comfortable. And also a place where I feel like I can contribute early. Those are probably the most important things for me.
BDN: Which schools have been recruiting you the hardest, or have you had the most contact with?
Well I don't have any favorites right now, but probably Tennessee, Vanderbilt, Duke, Ole Miss, and Maryland are recruiting me the hardest right now.
BDN: You mentioned the importance of your relationship with the coaching staff; which coaches do you feel like you have a strong relationship with so far?
Which coaches…probably the schools I mentioned. I have a good relationship with a lot of the coaches right now.
BDN: Do you have any plans for visits this summer?
I'm planning to take at least three visits in July, but I haven't been able to visit any schools this month.
BDN: You mentioned Duke as one of the schools that is recruiting you the hardest; can you talk a little bit about what you like about Duke?
Well Duke is definitely a school I am considering. It obviously is a great school academically and that appeals to me, but I also like their coaches. Coach Cutcliffe seems like a real honest, genuine man and I also really like Coach Loebner and Coach Lubick. I really like their coaches.
BDN: Do you think that Duke is a place where you could contribute early in their offense?
Definitely.
BDN: Do you have an idea for how you would like to narrow things down and make your decision?
I really haven't thought about it yet, I don't know, I'm just going to take it one at a time.
BDN: Thanks a lot, Drae, and best of luck to you.
I appreciate it, thank you very much sir.