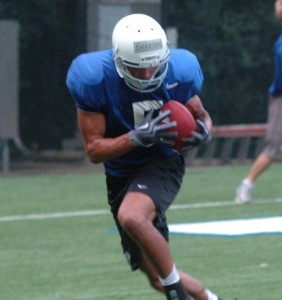 The goal this offseason has been on finding the "best 22" players to put on the field for the Blue Devils. Inevitably, this forces the Duke coaching staff to make some creative and difficult decisions to realize this goal. One of the most prominent changes this spring has involved Brandon Braxton, a once promising wide receiver who has selflessly made the switch to safety. Braxton's strong play on special teams the past two seasons exemplified some of his potential as a defender and tackler, but the learning curve for Coach Knowles' defense is steep. BDN caught up with Brandon after spring practice last week to get an update on his transition.
BDN: How did the decision to switch positions come about?
I had originally heard through the grapevine that they were switching me to defense. I gave Coach Cut a call and went and met with him, and it wasn't for sure or anything at that point, and he said that they had been thinking about it. I told him I would be willing to switch if they thought that would improve our team, and I ended up switching and so far I like it a lot. 
BDN: How do you feel your skill set fits on the defensive side of the ball?
I like the defensive side of the ball because it allows me to react instead of having a set play, so I definitely like that about defense. I also just like flying around and reading, so that's probably my favorite part about defense.
BDN: You've played quite a bit on special teams over the past two seasons, so you've had some experience with tackling, but what have you found to be the hardest adjustment to playing defense so far this spring?
There really hasn't been any really hard thing to pick up, but just learning the defense and knowing checks and seeing different things. Just being comfortable at safety is definitely a huge change from what I have been doing and what I'm used to. I feel like I'm a freshman all over again, learning a whole new system and getting back in the swing of things of college football. I haven't played defense since junior year of high school, but so far I'm picking it up really fast and feel like every day I'm progressing.
BDN: Now that you're on the other side of the ball, who's the toughest receiver to matchup with in practice?
All of them are really good, honestly. Blair Holliday has been playing great. Jamison [Crowder] has been playing really good. Conner [Vernon], everyone already knows that Conner is a stud. Nick Hill is a new and upcoming redshirt-freshman and he's been playing really good. All of them, really, there isn't one that I can pinpoint that's super difficult, they all have different attributes and different things that they bring to the wide receiver.
BDN: You may feel like a freshman all over again, but you're actually entering your third year with the program. What's your assessment of the team this spring, compared to when you first arrived at Duke?
This spring, well I've only been through two springs, but there was such a period when losing was acceptable, and I think that that whole air and people that were here when that was happening is gone. My teammates now don't accept losing as an option. That's the biggest thing that I've seen. We've all been working really hard and the coaches have been pushing us, and we're all up to the challenge.
BDN: The secondary is obviously a key to Coach Knowles' defense. Can you talk a little about some of the players that have impressed you and helped you make your transition?
All of them – Walt [Canty], Jordon [Byas], Anthony Young-Wiseman, they're all veterans and they've all been here awhile. Ross Cockrell, we're usually on the same side, and he's been helping me a lot and he's progressed immensely at the corner position. He's turned into one heck of a cornerback. They've all done their part in helping me pick it up faster and teaching me tricks of the trade and making sure I do well.
BDN: Thanks a lot, Brandon, and best of luck this spring.
Alright, Patrick, thank you so much.