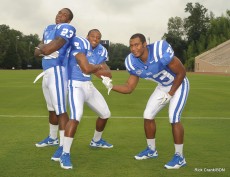 Blue Devil Nation caught up to Duke starting running back Juwan Thompson -
The backfield has been depleted by injury.  Does it get tough taking most of the snaps?
Sure.  It's hard taking 50 snaps and you need some help.  Desmond (Scott) has been out there but in no contact drills yet.  He's been cleared and Josh has been too but he hasn't been out there doing much with us yet.
How do you feel the running game has done to date this season?
We've been doing fairly well.  If the pass is open we will go to it, but we can check to a run if there is pressure.  We've been getting yardage on the runs averaging 4.5 to 5 yards on the run.
Was there a little extra bounce in the step of your teammates this week in practice coming off an ACC win?
Yeah.  The win uplifted us in practice and everybody felt better coming off of a win than a loss.  At the end of the day, it's a new game for us, each week is a new season for us but at the end of the day we have to put it behind us and get ready for the next opponent.
You were close to breaking a big one versus Boston College.  Can you speak to that?
We felt we could get more from outside runs in the second half and so we did some little zone runs, go outside and I slowed down a little bit.  I thought I was going to shoot free but it closed and a few guys up front had trouble with slips from playing on turf.
How important is it to win this weekend and try and even the record to 2-2?
It's very important. We have the opportunity to get this win if we go out there and execute like we're supposed to.  Tulane plays more of a man game on defense, so we'll draw it up.  It's getting better for me out there.  Everything is slowing down for me, so just getting that understanding has been good for me.