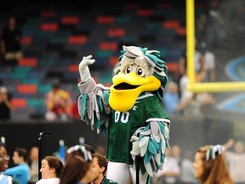 Fresh off a hard-fought ACC road win at Boston College, Duke welcomes the Tulane Green Wave to Wallace Wade Stadium on Saturday. Historically one of the weaker BCS programs, Tulane enters the game off to a 2-1 start to their season after a 49-10 blowout of UAB last Saturday. As we mentioned last week, the Blue Devils have embarked on a crucial three-game stretch heading into their off week October 8. Duke was able to do enough to win against BC, and will now have to put together another strong effort to knock off a much-improved Tulane team.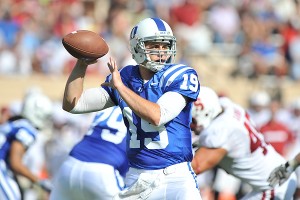 KEYS FOR DUKE
B-E A-G-G-R-E-S-S-I-V-E!: Duke's redshirt-junior quarterback silenced his critics last week with a record-setting performance against a physical Boston College defense. Despite taking numerous hits, Renfree dominated the game, spreading the ball around to Duke's receivers and finishing 41/53 for a career-high 368 yards. The Duke offense is difficult to defend when Renfree is given time to spread the ball around the field and be aggressive throwing the football. Tulane's defense is headlined by former Blue Devil LB Trent Mackey and Iowa transfer DE Dezman Moses, but has allowed over 340 yards of total offense to opponents. Much like they did last week against BC, Duke will need to spread the ball around the field and minimize Mackey's impact on the game. Expect another aggressive passing offense and big days for Renfree, Donovan Varner, Conner Vernon, Brandon Braxton, Jamison Crowder, and Cooper Helfet.

Former Blue Devil LB Trent Mackey anchors the Tulane defense

Dominate along the defensive line: Tulane's offense is potent and incredibly balanced, having picked up 27 rushing 1st downs and 28 passing 1st downs through three games. The Green Wave average33 points per game and are led by sophomore RB Orleans Darkwa (47 carries, 151 yards, 3 touchdowns) and redshirt-junior QB Ryan Griffin (54/79, 718 yards, 6 touchdowns). Griffin's favorite target has been redshirt-senior WR Joe Kemp, who averages over 4 receptions per game, but redshirt-sophomore WR Wilson Van Hooser and freshman WR Justin Shackelford are also dangerous weapons with big-play potential. For the Blue Devils, the key to disrupting the Tulane offense will be the play along the line of scrimmage. Duke must continue to do a good job stopping the run and pressuring the quarterback, and should build off of last week's performance at BC (shutting out the Eagles in the 2ndhalf). Redshirt-junior DE Kenny Anunike has managed to stay healthy and has been an important contributor early this season, leading the team with 5 tackles for loss, including 4 sacks. Senior safety Matt Daniels and sophomore LB Kelby Brown have been very effective against the run, and will have to continue to play at an extremely high level against a talented Tulane offense. With the Blue Devils' secondary a little banged up this Saturday, the defensive line will have to bring pressure to slow the balanced Green Wave offense.
Minimize costly mistakes: The Blue Devils committed 9 penalties for a total of 79 yards last Saturday against Boston College. In addition, they had a punt blocked, missed a field goal, and sent a kickoff out of bounds. Duke has to sort out its kicking woes if it hopes to continue to win football games, and continued mistakes could cost them this week against a hungry, confident Tulane team. With Will Snyderwine again questionable to play on Saturday, the Duke coaching staff may have a difficult decision to make regarding freshman Will Monday if Jeff Ijjas and Paul Asack continue to struggle. Against a team like Tulane, Duke should be able to win the special teams battle, with freshman Jamison Crowder and senior Lee Butler both capable of big plays in the return game. The Blue Devils may not have to play flawless football to win Saturday, but their margin for error is still very small; minimizing drive-killing penalties and kicking miscues has to be a primary area of improvement for this team.
GAME ANALYSIS
Turnovers
Tulane +3, Duke -2
The Green Wave have forced a total of 6 turnovers through 3 games, including 5 interceptions, led by redshirt-sophomore CB Derrick Strozier with 2 and LB Trent Mackey with a 39-yard pick-6. Offensively, Tulane has fumbled the football 7 times, but lost only 2; Duke has fumbled the football 4 times and lost 3.
Sacks
Tulane 10, Duke 4
Tulane has done an excellent job of getting after the opposing QB through their first three games, led by sophomore DT Julius Warmsley with 3 and junior DE Austen Jacks with 2.5. Duke's pass rush has been a one-man show thus far, with DE Kenny Anunike picking up 4 sacks on the year. The Blue Devils' offensive line has allowed 8 sacks on the year, while the Green Wave have given up just 4.
Duke 40%, Tulane 35%
The Blue Devils were impressive on 3rd down last Saturday against Boston College, converting 53% of their opportunities. The Green Wave have converted just 15 of 43 3rd down opportunities. Both teams allow opponents to be successful on 38% of 3rd downs.

Explosives
As we say every week, explosive plays come down to playmakers making plays. Last week, the Blue Devils' offense came up with 3 explosive plays of >20 yards, including 2 touchdown strikes to WR Conner Vernon. The Duke offense should continue to be aggressive and find the end zone on Saturday.
Duke 5, Tulane 5
This is a dead heat. Both teams have scored 5 TDs on the ground and allowed 5 TDs on the ground. Duke has to run the ball more effectively in the red zone to avoid settling for field goals.
Field Goals
Tulane 2/4, Duke 0/6
Speaking of field goals, will this be the week that Duke makes its first field goal of the 2011 season? In what may be a high-scoring game, the Blue Devils will have to put points on the board and cannot afford more empty trips to the red zone (6 empty trips already this season). Tulane's Cairo Santos has made both FG attempts from within 40 yards, but is 0/2 from beyond 40 yards on the season.

Penalties
Duke 16-131 yards, Tulane 18-159 yards
Duke has typically been a disciplined football team under Head Coach David Cutcliffe, but their few penalties this year have been particularly costly. The Blue Devils will have to play smarter football on Saturday to avoid putting themselves in a hole against the Green Wave.
PREDICTION
The Blue Devils are 10 points favorites for Homecoming this year, but this game is likely to be closer than that. The Green Wave are a balanced and talented football team that will challenge Duke in all phases of the game. Duke will have to put together another dominant offensive effort to emerge victorious Saturday, and Sean Renfree seems up to the task. Tulane will put up some points on the Duke defense, but will be unable to keep up with the potent Blue Devil passing game.

Duke 35, Tulane 31