[private]Gerald Henderson enters his junior year as one of the team's co-captains and he seems ready to do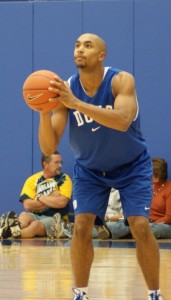 whatever it takes to lead the Blue Devils to a successful season.  Henderson is coming off surgery and is coming along as scheduled.  Those close to the program are looking for "G" to take it to another level this season. 
So, is the shaved head a new look for this season?
It was just a summer look, but if we start winning, I might stay with it.
There are those close to the program expecting you to have a breakout season ...
In between my freshman and sophomore year I worked on a lot of things the coaches wanted me to be better at.  It was a big summer for me.  I did the same thing this summer as well.  I dealt with the surgery through half the summer, but when I got back I was able to work on a lot of things to get better for this season.  Even with the hand injury I was able to run, so I worked on my conditioning.
So, what was the injury to your hand?
I had a torn ligament here (showing the scar from surgery), I'm not to sure what it's called.  It was something I could play with last season, but I needed to get it fixed in the off season.  It took about three and a half months and it got to a point where I couldn't play with it after surgery.  I still rehab two or three times a week to build the strength.
How did the injury occur?
It was the first Carolina game.  It was on an out of bounds play.  I forget who I was pushing against, but it just went back and I felt a really sharp pain.
You seemed to be fine towards the end of the season, willing your team to a win over an upset minded Belmont team ...
It took me a while to figure things out.  I had to learn to shoot a different way.  There were some games there where I played kind of bad.  After a while, with a brace and ended up shooting pretty well.
Why do you feel the team hit the so called "wall" against West Virginia?
It's hard to even think about now.
This team hasn't enjoyed the traditional high standards of Duke success in the NCAA's.  Do you have any thoughts on that?
I think my freshman year, we were really inconsistent.  We had a 22-11 record which isn't awful, but it wasn't up to our standards.  We had so many ups and downs that there wasn't a guaranteed win for us.  Last year, our loss in the second round was disappointing because we felt we could have gone further.  A lot of things went into that game ... it was real disappointing.  We are a different team now and we act like that.
In your opinion, what is this season's team looking like?
Nolan and Elliot have worked hard and I really feel like they will help us.  When it comes down to it, we have a lot of guys that can play and that's how you get time on the court.  If you are productive when you're out there, all takes care of itself.
As a captain, what advice can you give to the freshman class?
If you want to play you've got to make something happen.  My freshman year, I had some good games, but I really didn't make anything happen for the team when I was in there.  You have to influence the game.  That's what Coach wants and needs, so if you can do that you are going to play.
What do you bring to the table as a captain?
As a captain I think I bring more leadership by what I do and action.  Greg is more of a vocal leader and Jon Scheyer has come a long ways and taken the role.
Are you ready to get the season rolling?
Oh yeah.  I've been ready ... we've been ready since last season ended.[/private]