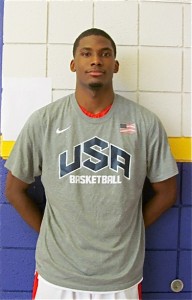 In the well air-conditioned Durango High School gym in a city with the dry heat of a sauna, Las Vegas, 6'6" Justise Winslow ended his summer in fitting fashion, with a championship trophy and an ankle wrap filled with enough ice to keep the Kennedy clan refreshed for a night in Palm Beach. Winslow's AAU team, Houston Hoops, won the Las Vegas Classic 54-53 in overtime over the Mac Irvin Fire, a Chicago-based AAU program. Despite injuring his ankle in three games prior, Justise prevailed and defended all five positions, including fronting one of his best friends, 6'11" Jahlil Okafor, in the title game of the Las Vegas Classic.
A year after not making the USA Basketball U-16 team in Colorado Springs, CO, the determined Houstonian Winslow not only made the United States Men's World Championship U-17 squad, but played such an integral role on the squad that he made the All-World Championship U-17 team in Kaunas, Lithuania. Justise, a resilient young man, roomed with Jahlil Okafor of Chicago, Tyus Jones of Apple Valley, Minnesota, and BeeJay Anya of Gaithersburg, Maryland. Bringing efficient decision-making, defensive versatility, toughness, explosive athleticism, an on-court tenacity and maturity, Winslow started the last five games for the United States, registering four consecutive double-doubles at one stretch. In the championship game against Australia, the rising junior scored thirteen points, grabbed eleven rebounds, and generated four steals to help the team capture the coveted gold medal. Soon after, the gold medal-winning team was flown more than fifty-seven hundred miles away to Sin City, watching the United States Men's team prepare for the Olympics. Justise was able to meet with the Olympic team members and observe Coach K run a practice and scrimmage against the USA Select team. Less than two weeks later, the four-time NCAA Champion head coach would offer Justise Winslow a full scholarship to Duke University.
The MVP of the World Championship and fellow Duke recruit Jahlil Okafor said of Justise, "Justise Winslow is an amazing player. He's one of my best friends. He's a freak athlete. He can shoot it, he can dribble, and he's like 6'6." He's really strong and a tremendous defender. He's an amazing player. He was my roommate and, so, we obviously hung out a lot. You know how we're both really humble. We're like-minded. We're both very serious basketball players. We don't listen to all the other stuff influence us. We have a lot in common. We're both just very focused on basketball and improving."
St. John's School in Houston, an academically rigorous institution with an average SAT score more than 130 points higher than the incoming freshman class at the University of North Carolina-Chapel Hill, had not won a basketball title in thirty-two years. In his first year of high school, Justise helped add a banner to the rafters by scoring a career-high forty-three points, grabbing fourteen rebounds, and making the game-winning assist to his older brother Josh in the waning seconds of the championship game against the Episcopal School of Dallas to win 69-67.
Following the loss of ten seniors from the first title-winning team in three decades, the Mavericks of St. John's had some initial growing pains, including Justise receiving a controversial ejection from a December game after a crowd-electrifying dunk against Antonian Prep of San Antonio. Once again, however, Winslow, a now sixteen year-old with the physique of a young defensive end in football and the reserved demeanor of a fourteen-year veteran NBA player, willed St. John's, alma mater of director Wes Anderson, to a second consecutive Southwest Preparatory Title, registering a near triple-double of twenty-five points, ten rebounds, and eight assists, against arch-rival Kincaid in the title game. For the season, the southpaw earned MaxPreps Sophomore All-American distinction, after averaging 22.5 points, 11.4 rebounds, and 3.2 assists en route to a second consecutive Southwest Preparatory Title.
The son of Rickie Winslow, a member of the University of Houston's famed Phi Slamma Jamma, who played professionally in the NBA as well as in Europe, and fellow Cougar Robin Davis, Justise's statistics belied the overall importance that he played on this year's Houston Hoops team. The rising junior averaged 9.8 points, 4.6 rebounds, and 3.5 assists, while shooting 51.4% from the field in the Nike EYBL regular season, but, infused with the confidence of his success in Lithuania, took his game to another level  at the Peach Jam in North Augusta, SC, where he averaged sixteen points, over eight rebounds and three assists in five games against a superior level of EYBL competition.
His head coach with the Houston Hoops, which also produced McDonald's All-American and incoming Duke freshman Rasheed Sulaimon, is Tim Schumacher. Coach Schumacher said of Justise, "He's a phenomenal kid. He's a phenomenal athlete, which is obvious, but he's also a high IQ basketball player. When you put those things together, the great personality, the great work ethic, and the phenomenal athlete, I mean the sky is the limit for Justise. He's really got the ingredients to be a very special player."
Of Justise's experience with both making and achieving a high level of success with USA Basketball, Coach Schumacher continued, "Well, I think it was great for Justise because he didn't make the team for the sixteen-and-under and he was really disappointed about that. He really spent about a year with that as his goal and the fact that he achieved his goal and then, when he was there, he had so much success, it really gave him a lot of confidence and swagger, which I think he needed to get. He's so unselfish and he makes all of the right decisions to such a point that, as a coach, I sometimes want him to be more selfish. Sometimes, I want him to be more aggressive with ball because he is so good. He's a very efficient player. With his work ethic, the better that his jump shot gets, the higher that his game is going to go."
Justise Winslow spoke with me in Las Vegas and Oakland about a wide array of topics, including his new offer from Duke University, his gold medal-winning experience with USA Basketball, what he's looking for in a college program, his father's advice, and his relationship with Jahlil Okafor.
Let's start with the most recent championship run.
Well, coming from Peach Jam, we went four and one, but didn't make it out of the pool. Here, we just played with a chip on our shoulder. It was a lot of fun to be able to play and win with some of these guys…some of them we'll never play again with. We just got the job done.
[private]
Now, in retrospect, talk about the strength of this team, the wings and its versatility.
Yeah, I mean we had a lot of versatile players playing with us. Some of them were playing with us for the first time like DeAndre and James, but, you know, we found a way to get it done. At the end of the day, that's what it all comes down to.
Then, today, in this game specifically..
Yeah, I struggled a little bit with..
Well, you had that great play along the baseline…
Yeah, I had that dunk, but I struggled a little bit with Jahlil's size down low. He's a great shot-blocker. So, that's why I need to go home and work on finishing at the basket, hitting that mid-range pull-up, and stuff like that so that, in these types of games, I can become more useful when I'm on the floor.
Well, you're obviously quite useful, but what happened with your ankle?
It's hurt. It actually hurts a lot.
Was that from before this game?
Yeah, it intensified in this game, but it really started about three games back. There'll be plenty of time to rest it.
Oh, I'm sorry to hear that.
Yeah, yeah. Thanks.
What was your experience like both playing with USA Basketball and making the team this year?
That was a great experience being able to make that team and then being able to play alongside all of those high-major caliber players. It was a once in a lifetime experience..being able to be so young and be able to travel the country with so many great players.
You guys were rock stars.
Yeah, and, you know, when we won, I was just so happy and it was because everyone was going for the team. Everyone was playing for a common goal, which was to win the gold medal and so it was really a great experience generally. I'm really proud of that.
To a degree, it was really your coming out party internationally. You really set yourself apart through your physicality and versatility.
Well, when I went out there, the coaches told me that my role was just to play hard and to rebound. I just took that and ran with it. You know that I got a lot of opportunities through transition buckets by hustling and through our press. Also, I tried to help through not allowing the other team to get buckets. I really just tried to play my role and fortunately it turned out well for all of us. It was a blessing.
Who did you room with over there?
I roomed with Jahlil Okafor, Tyus Jones, and BeeJay Anya over there.
Jahlil had mentioned that. I asked him for a scouting report on you and he's also very close with Tyus (Jones). What's your relationship like with them?
Yeah, I mean we're very close and, frankly, us three are looking at going to the same school together.
Is that fairly serious?
Yes, it's serious. We've talked about what schools we like and stuff like that, but..
They're good kids.
Yeah, and I really enjoy being around them. They're some of my best friends and they're not from my city or even state. I like them a lot.
Good taste. Now, the other major thing since we last spoke was that Duke offered you a scholarship.
When I got back from Lithuania, once I got to Vegas..
I was actually there that day and ran into Jahlil.
Oh, yeah.
It was crazy.
Yeah, yeah, definitely. So we saw Coach K that day, you know, working, but the day before I spoke with the assistant coach and he told me that they were going to be offering me pretty soon or, well, he actually texted me.
Coach Capel or Coach James?
Coach Capel..and so a couple of days later, Coach K called me once I got back home and offered me a scholarship.
And what was your initial reaction?
I mean I was ecstatic to be offered a scholarship from a high-major school like that with a lot of tradition and one of the greatest coaches ever. It was really a blessing.
What do you know about them?
I just know the tradition and how good of a coach that Coach K is and how many NBA players that they have produced. Also, it's a great academic school.
I remember that you go to a great high school academically as well in St. John's.
Yes, it is.
Do you have any visits planned?
On August tenth, I'll visit UCLA.
Anything else?
No, not yet.
In terms of your overall timeline, do you view this as still early in the process? Middle? Late?
It's transitioning to the middle. I'm trying to decide by Christmas of my senior year.
I know that you had an extensive list to start with. Are you planning on cutting that down to a more manageable number in the near future?
Yeah, I'm trying to narrow it down to ten by the early Fall.
Ten. Do you view this as the best basketball that you've played so far in your life?
I mean I think I can play better.
In the future, sure, but as of this point..
I think that my jump shot is better than I've shown. I just need to focus on improving..
Actually, efficiency, recognizing what is working in a given game, and playing within yourself are some strengths that you have that are usually developed through experience by older players. I think those are some of the distinguishing strengths of yours. What is your mindset?
I mean I just start off each game with the mindset that I need to score. If I'm not making jump shots, then I'm not going to take them unless I'm open. I'm going to try to either find an open shooter, drive for a closer shot, or look to finish around the basket.
I assume that your shooting is one of the main things that you're trying to work on.
Yeah, I focus a lot on my jump shooting. The crazy thing is that back home, whenever I'm in school ball, I can make everything. I can make my jump shots consistently, but, for whatever reason, out here, I just can't make them.
I've seen your crazy numbers and they clearly indicate that you're capable of it.
Yeah, I just try to not let it get to my head and just think that the next one is going in.
Now, do you work with your brother? Your father?
Yeah, my brother, my father, and Coach John Lucas.
Oh, John Lucas. That's quite a trio. What's been your father's advice? Obviously, he was successful in college and had a professional career.
Well, one of the main things that he keeps telling me is to just keep playing. Don't focus necessarily on an individual play. Know that the next shot is going to go in.
Does he often guide you? I'm trying to figure out the relationship dynamics.
He guides me, but..
Does he take a backed-off approach?
Yeah, he sort of backs off because he's been through it all. I would say that my mom is more involved with, for example, the recruitment right now.
What are their thoughts right now with what you accomplished with USA Basketball?
My mom is very proud of me. My dad is too. Well, my whole family really. She just wants me to stay humble, not get a big head, and keep working on my game.
Great advice. What are your goals for next season? You've had two successful runs. What are your goals, both collectively as a team and individually for the next high school season?
I mean we won our state championship for the last two years and so that is definitely our first goal. We'd like to win more games during the regular season as well too. As far as me, I'd just like to keep playing my game and then, hopefully, during my senior year, I'd really like to be a McDonald's All-American. I just want to make my teammates better. I'd like be able to help showcase them and I'd like to be able to play in and compete in national tournaments.
I know that you had seven sophomores this year. Do you have a fairly loaded team next year?
No, not really.
Sorry about that. For the audience members that have never seen you play before, can you describe your overall game? You're about 6'5"..
Yeah, I'm about 6'6" 212 pounds. I've got pretty good size arms for a guard. I can play the point, well, really the one, two, three or four really. I can guard all of those positions. I'm athletic. I can handle the ball. I can knock down my jump shots. I can protect the rim and rebound.
Do you work on strength and conditioning as well?
Yeah, I do a bunch of drills..some simple conditioning drills like jumping over hurdles and things like that.
I think that there are so many young people that don't focus on that aspect until it's much later and wind up using up their first year of college to prepare themselves physically for the next level.
Yeah, exactly, I'm preparing now so that I'll be prepared to contribute early. I'm definitely focusing on all aspects.
You've won two state titles already.
Yeah, it's been cool. It definitely helped me grow as a player. It was just fun being able to do it with two different teams and to be able to win it with my friends.
On the first one, you were able to win it with your brother.
Yeah, that was really cool.
You had forty-three points, drove the lane at the end, and dished it down low to your older brother to make the game-winning bucket.
Yeah, that was great to be able to share it with him.
I read in one interview that you actually really liked football, but that it was obviously a necessary sacrifice.
Yeah, I mean I really like football and all that, but basketball is just a better sport for me.
You had also suffered a concussion earlier when you were going against some NBA guys.
Yeah, I did unfortunately. I mean they're just bigger guys and one of them just knocked me around when I was younger.
Who was the guy that did it to you?
I think it was Gerald Green.
Your father went to the University of Houston and was part of that Phi Slamma Jamma. What would you say that you've gotten most from your father?
I would say my athleticism. That and he always says to remain humble.
Your high school, St. John's, is regarded as one of the best in the country academically.
Yeah, it's a challenge. It's definitely a challenge to balance the academics and athletics, but it's one that I can handle.
Has it been difficult to balance the two?
It's definitely been necessary to learn how to balance the two. It's difficult, but I like the challenge.
What's your relationship like with your AAU roommate Justin Jackson?
We work out together on occasion, but we're not too close. We're getting along better.
Do you plan on visiting Duke?
I don't know if we definitely have a visit planned, but I know that one of my coaches has been talking to them.
What are you looking for in a program, whenever you do decide?
The coach. I'd like a really coach and a comfortable environment.
Unselfishness is something that repeatedly comes up when I talk to others about you.
Yeah, I guess that I'm pretty unselfish. I mean it's in my nature, but my coaches often'll say that I need to be more selfish out there on the court. I don't know. I guess it's something that I need to work on or balance. It's not something that I think about too much when I just play, but I guess I'm unselfish.
On the AAU circuit, part of it was out of necessity, but you've played a lot of point guard and created some mismatches for your opponents. How about playing the point guard position at the next level?
I think I'd need to work on my ball-handling a lot more.
What has been your primary role on this Houston Hoops team?
Leader
The leader?
Yes.
From your perspective, what went on the time that you were thrown out of the game after dunking the ball?
I dunked on this guy. The ref said that I looked upset at him. I didn't say anything. Then, they gave me a tech. I said I didn't say anything and then he ejected me.
Another adjective description that comes up with you is efficient.
Yeah, I try not to take bad shots. If a teammate has a better shot, I try to get it to them and they should take it. I try to make the shots  that I can and move the ball when I can't. If I'm not feeling it in a given game, I'll try to drive to the basket more.
What do you consider your strengths and weaknesses?
I would say that my strengths are probably my athleticism and my IQ and my weakness is probably my jump shooting.
What would you like the audience to know about you away from the court?
I'm a fun guy. I'm pretty serious on the court, but I like to have fun away from it.
Is there a player that you try to model your game after?
Probably James Harden
James Harden. Well, he's a similar size.Were you a fan of any teams growing up? I thought I heard that you were.
Yeah, Florida and the University of Texas football teams.
That's what I thought, but no basketball ones.
Yeah, no.
Who's been the toughest guy that you've had to guard so far?
I'm not sure, probably Tyus Jones.
Tyus Jones. Well, thank you very much, Justise.
Sure thing, no problem.
[/private]