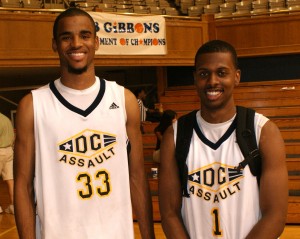 The 2010 Duke Recruiting class currently consists of three players and all were named Gatorade players of the year in their state.  Josh Hairston [6-8 forward] was voted the top player in Maryland.  Hairston transferred to Montrosse Christian Academy from Courtland HS in Virginia and enjoyed a very successful year.
Kyrie Irving was named the top player in the state of New Jersey where he played for St. Patrick's and he of course will run the point guard spot at Duke next season.  Irving was also named to the McDonald's All American team.
Tyler Thornton [6-2 guard] led his Gonzaga Prep school to the title and was named Gatorade player of the year District of Columbia.
Blue Devil Nation congratulates the three incoming Blue Devils for their success on the hardwood this season.