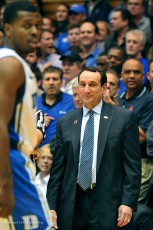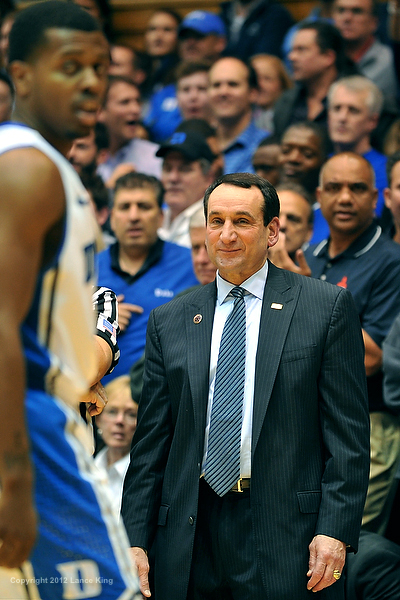 DURHAM, N.C. - Back in March, I remember sitting down and trying to figure out what to say after Duke's loss to Lehigh in the first round of the NCAA Tournament. I realized that there really were no words that could comfort anyone after the upset loss, so I told it like it was. The team did not look like a Duke basketball team that evening. The defense was suspect overall, and it felt as if Lehigh and Duke changed uniforms that day, for the guys in brown were the aggressors.Granted, Duke was without the services of Ryan Kelly in that game.  That certainly affected team chemistry, and the Blue Devils had to alter their whole approach on the fly, but still, the performance versus Lehigh was very un-Duke-like.  That realization served as an off-season motivator for all involved.
Duke would later learn that Austin Rivers was taking his game to the NBA, and then there would be a couple of misses on prospects that the staff had recruited for a long time. Everybody in the media pounced, getting their shots in on Duke while they could.  Rivals on the recruiting trail did so as well, going negative like never before.
Over the summer, Duke Coach Mike Krzyzewski led Team USA to a second consecutive Olympic gold medal; two-thirds of his staff traveled with the team as well. The whispers began that Duke's team would not be as developed when the season started as they would have been had Krzyzewski not been "distracted" by serving his country at the highest level.
In the pre-season, most in the media succumbed to the lazy "what have you done for me lately" shtick, failing to actually look at what the Blue Devils had on this year's team, and just assuming that Duke would not respond well to last season's tailspin and be the same team as the one that went out to Lehigh. Duke was not talked about in the same way as were teams like Kentucky or Indiana, at all.
Many had the Blue Devils ranked in the mid-teens nationally, and many pre-season ACC projections surfaced with Duke being ranked third or even fourth in their own league.
Locally, all the media could focus on was N.C. State, a team that had a decent late-season run in 2012 and returned many of its players, and they did add a big recruiting class. Nobody seemed concerned that this group really hasn't done a thing on the court yet. But the Wolfpack were the chic pick, and were eventually selected as the pre-season favorite.
Those same people who picked N.C. State to win the league seemingly slept on the fact that Duke had three battle-tested seniors returning in Mason Plumlee, Ryan Kelly, and Seth Curry. They also chose N.C. State's Rodney Purvis as the pre-season ACC Rookie of the Year; he's the second best freshman on his team to date. While Purvis is truly a talent, there are few that would trade him today for Duke's Rasheed Sulaimon, who has been a coach's dream. In addition, the Wolfpack's talented C.J. Leslie was slated to be the ACC Player of the Year. This despite his history of inconsistency. In the meantime, Mason Plumlee, who worked all off-season to improve his game, was an afterthought.
Over the summer when Krzyzewski addressed the media, there was the hint of a sly smile on his face when asked what it was like to be picked behind UNC and N.C. State, and how he felt about those two teams getting all the publicity.  You could almost sense him licking his chops, loving every second of Duke being underestimated, content to have all the talk be about the others.
History shows us that Duke and Krzyzewski are at their best when questions and worry abound. In 2010 they lost rising sophomore Elliot Williams via transfer to Memphis just before the season started, and there was talk that Krzyzewski -- coming off his successful duties with Team USA --  had neglected his day job.  The fan base also went into "Chicken Little" mode, in particular on the message boards. "Duke has no athletes," many exclaimed, as they stated confidently that the Blue Devils would be a good team but was not a national contender.   Duke would be running shooting guard Jon Scheyer at the point all season and were too slow to have any hope of competing, the minions claimed.  There was doom and gloom in the air.
We all know how history played out. Duke won the national championship with a spectacular run, with seniors and two savvy juniors leading the way.
This year's team is comparable, but every team is of course unique.  This time, all of the "What have you done for me lately?" types are being forced to jump on the bandwagon of an undefeated team, a team that is battle-tested like no other team in the history of college basketball at such an early date.
What this tells us is that the Duke staff had a plan all along.  Implementation of that plan meant the nation gaining another gold medal in Mens Basketball while at the same time Coach K and company were pushing all the right buttons in the off-season to maximize Duke's opportunities for improvement as well.  Not an easy balancing act, but it's an accomplishment which is finally starting to be recognized.
Duke does not look anything like the team which lost to Lehigh a season ago. They instead look like a team in every sense of the word. They play together, they're unselfish, and they are focused. Their defense is once again a strength.  Each starter is a threat to score when on the court.
The Blue Devils have taken on all comers in a season where there is no one dominant team, and they've done so in a way that has made it clear that this team will be a factor come March.  After rolling through the likes of Kentucky, Virginia Commonwealth, Minnesota, Louisville and Ohio State, there will be no sneaking up on anybody.  Duke is and always will be the team circled on an opposing teams' schedules, so tests are coming.   There is plenty of work left to be done and a long season ahead, as the ACC season has yet to get underway, but what an early season resumé this bunch has put together.   To date, the Blue Devils look as good as anybody.  But now, the team must learn how to play with the weight of what will soon be immense expectations.
The Blue Devils are now in an eleven day break, their longest of the season, after whipping another formerly undefeated team in Temple. During this time, Duke will get plenty of hype, and the next stage for this team is handling new-found expectations, the same ones some of us had all along including a coach with a sly smile loving that his Blue Devils were being overlooked early on.
Because if the question is "What have you done for me lately?"  the answer to that question is "Plenty."