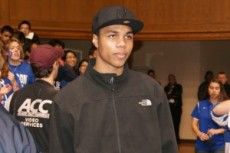 CHARLOTTE - The last of the big high school All Star games kicked off this week as the nations top prospects headed to Charlotte for the Jordan Brand All Star Classic Game.  Duke bound Austin Rivers and Michaeel Gbinije will suit up for the East team, as will UNC newbies, PJ Hairston and James McAdoo.  It may be the last time you see these four guys play togeher for their next stop is at their respective schools in or around July.
You can bet that Michael Jordan will be flying about as the event celebrates it's 10th Anniversery the game takes place in his Bobcat's Arena.  The game is loaded with talent with names like Michael Gilchrist, Quincy Miller, Anthony Davis, Marquis Teague and Bradley Beal to name a few.
There will also be a North Carolina regional All Star game which features future Blue Devil Marshall Plumlee and six other future ACC players and then their is the international game.  Did we mention the International game?  That makes three games on Saturday begginning at 3:30, capped off by a concert with J.Cole.
Tickets are still available, so get out to Charlotte and see the future of Duke and ACC Basketball in an All Star environment.  You may get tickets by going to the link ad at the top right of our site.  See you there!