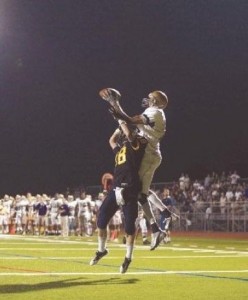 Under Head Coach David Cutcliffe, the Blue Devil offense has featured some of the best receivers in the Atlantic Coast Conference and the country. This fall, Duke fans hope to watch All-ACC candidates Donovan Varner and Conner Vernon help lead the Blue Devils to a bowl game. With Varner listed at 5'9" and Vernon at 6'2," the Duke offense has been lacking a long, physical receiver to create match-up problems with opposing cornerbacks. With only a few available scholarships remaining in the class of 2012, Duke could still use a big, physical receiver, and Bayard Rustin's Anthony Nash could be a big target. At 6'4" and 180 pounds, Nash had a standout junior year, finishing with 62 catches for over 1300 yards and 16 touchdowns. His efforts earned him 1st Team All-League and 2nd Team All-Area in Pennsylvania. After a slow start, Nash's recruitment has heated up on the camp circuit this summer, where he recently earned a Duke offer. Duke fans are hopeful that Nash will join the Duke class of 2012 and bring a new dynamic to their offense. [private]
BDN: What are some of your strengths as a player?
My strength as a player is my size. As a wide receiver, it's hard for corners to jump with me. I have good speed for my size, I run a 4.3-4.4 40.
BDN: What are some of the things you have been working on this offseason?
Definitely footwork, a lot of footwork, and my route running.
BDN: What are your goals for your senior year?
For my senior year, just to play well as a team, hopefully win a state championship and just do better than we did in the past few years.
BDN: What are the most important things you are looking for in a college?
Education, if they have a good education, then that's going to benefit me in the long run. Certainly to see if they have my major, I want to study animal science because I want to be a veterinarian.
BDN: Which schools have been recruiting you the hardest, or have you had the most contact with?
Duke, they gave me an offer when I went up there for camp. I've been in a lot of contact with North Carolina, Maryland, and Boston College. Boston College wants me to take a visit up there, they say they have an offer waiting for me, so we'll see how that goes if I take a visit, probably in August, to Boston College. I'm going to North Carolina, in July, July 22.
BDN: Are both of those visits for camps, or just unofficial visits?
North Carolina is a 7-on-7 thing.
BDN: You mentioned you took a visit to Duke already; which other schools have you had a chance to visit?
I took a visit to Penn State and to Connecticut, that was awhile ago, though.
BDN: Can you talk a little about what you liked so far on your visits?
I liked Penn State because they have a nice campus and they have a nice football facility as well, plus their history, that brings them out more. Connecticut was fine, it was a little small, though, so I didn't really care about it that much, but it was pretty cool. The camp at Duke went well, pretty good. I was impressed with it also.
BDN: Do you have an idea for how or when you would like to narrow things down and make your decision?
I'm going to wait it out. I'm going to see in August if I can cut it down to my top 3 schools and then maybe in September make my decision.
BDN: Thanks a lot, Anthony, and best of luck to you.
Thank you, you too.
[/private]