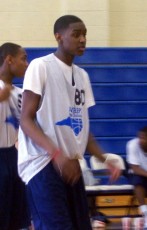 There was more AAU action in Las Vegas today as the event nears the end.  There are complete reports from the events on the Blue Devil Nation Premium message board and plenty will be coming in the week ahead.  Mark Watson has just finished up with the Showcase in Orlando and is ready for the AAU Nationals which begin to day.  The Blue Devil Nation is on top of Duke Basketball recruiting folowing true targets to close out the AAU season.
The following are notes from Las Vegas [private] which are located on the premium message board from Sunday.  For the complete group of notes, go to the message board.  If you are a paying subscriber (which you are if you can read this) you need to register for the message board separately if you haven't already.
Team Detroit hung on to win 51-50 over MBA Elite.
McCallum and Ferguson had 12 apiece.
LaQuinton Ross and Rodney Hood were a combined 3/17. Demarco Cox had 10 points and 8 boards.
D-One wins 87-76, but the score isn't indicative of how close the game was.
Bello was 8/9 from the field.  Amazingly, he still hasn't hit a jump shot from the field in the seven games I've watched of his. They now advance to the semi-finals of the Reebok Summer Championships.
I'm not sure whether they'll be broadcasting the next game live, but they do have some videos up already.
Miller and Bello are set to tip off against the Franchize All-Stars.
California Supreme(Gary Franklin, Dwayne Pollee, Keala King, Tyler Lamb) will take on Team Detroit (McCallum, Ziegler, Ferguson) in the other semi-final.
It's scary to think that this kid has two more years of high school. Miller could get minutes on this team now...Q Miller with a three as I'm typing this. LoL  He had four blocks in one sequence. [/private]