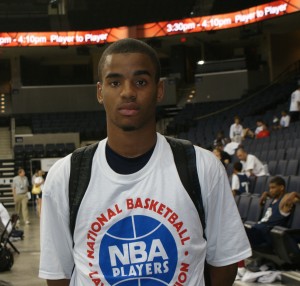 A plethora of high school basketball action has taken place this past week. Holiday tournaments are in full swing this weekend with future Blue Devils and recruiting targets participating in tournaments such as the Iolani Classic (Tyler Thornton and Josh Hairston) in Honolulu, the Chick-fil-A Classic (Marshall Plumlee) in Columbia, the City of Palms Classic (Austin Rivers) in Fort Myers, and the Kreul Classic (Quincy Miller) in Miami. [private]
This edition of High School Hoops 2010 was scheduled to start off with a look at future Duke guard Kyrie Irving. Unfortunately, St. Patrick's first two games, on Friday night and Saturday, were cancelled. For an in depth look at Irving and St. Patrick's, go to the NJ.com website as they have a New Jersey basketball season preview posted along with a quick blurb on each of the state's top 50 players and the state's best teams.
Turning to the Holiday Tournaments, in the Iolani Classic in Honolulu, Josh Hairston scored 20 points on Thursday as Montrose Christian destroyed Kahuku 70 – 27. On Friday, Tyler Thornton scored 14 points as Gonzaga rolled over Moanalua 84 – 56.
On Saturday, both Hairston and Thornton were in action. Hairston scored 22 points with 12 rebounds as Montrose Christian defeated Iolani 71 – 49. Thornton scored 18 points but Gonzaga fell to Columbia (GA) 55 – 53.
This article at ESPN includes some very nice verbiage on Hairston. Reggie Rankin states, "Hairston will be a good fit in the intense Duke man-to-man defense…" This ESPN RISE Magazine article is complimentary toward both Hairston and Thornton with statements such as: "Tyler Thornton was born to lead" and "Tyler Thornton and Josh Hairston couldn't be stopped." The buzz surrounding these two players has been relatively subdued, possibly due to their early commitment, however, Duke fans should be ecstatic about these two players arrival next season.
In the Chick-fil-A Classic, on Saturday, Christ School defeated Norfolk Christian 78 - 60. Marshall Plumlee's line was 8 points, 4 rebounds, and 3 blocked shots in 18 minutes. Carolina commit James McAdoo scored 19 points for Norfolk Christian. The State has a tournament preview article, which highlights 10 players to watch.
At the City of Palms Classic, on Saturday night, Winter Park faced Findlay Prep. Austin Rivers scored 22 points and dished out five assists but it wasn't enough as Findlay Prep prevailed 86 – 75.
Linking to ESPN RISE Magazine once again, here is a detailed article on Austin Rivers and his desire to improve as a defensive player.
Quincy Miller scored 32 points including a 16-17 performance at the free throw line, as Quality Education Academy defeated Central Carolina Sports Academy 90 – 85 on Tuesday December 15. QEA is participating in the Kreul Classic this weekend and on Friday night Miller scored 17 points in a 70 – 60 victory over North Miami Beach.
In action earlier in the week, J.P. Tokoto scored 21 points in leading Menomonee Falls to a 65 – 46 win over Sussex Hamilton.
That's a wrap for this week's edition of High School Hoops 2010. Blue Devil Nation's coverage will continue next week so be sure and stay tuned in order to gather in the scoop on all high school players currently committed to Duke or being recruited by Duke. [/private]