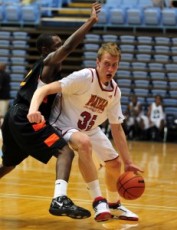 It wasn't that long ago that Alex Murphy was a part of the 2012 class where he joined Rasheed Sulaimon as two of the Blue Devils to be.  Since that time, Murphy, who had the credits, decided to graduate early and attend Duke University this coming season.
Murphy will have graduated from school by the start of next week and, after spending a bit more time with his family, he will be in Durham no later than July 1st to enroll.
The first two calls to Murphy went unanswered in that he was in the gym getting his shots up with his Dad or working out with Chris Herron.  I worked around his schedule in order to bring you the latest on the soon to be freshman basketball player at Duke University.
Murphy will join a five man freshman class and the group will hit the road running once on campus in an effort to crash course the newcomers on the intricacies of the Duke system.  One month after their arrival, they will head to China with ten practices under their belt.
You've been working out a lot in the off season while finishing up at St. Mark's.  Can you describe an average workout for Duke fans?
The things I try to do? I get a lot of shots up right now.  There are a lot of guys I work with around here, sometimes my brother and a few other guys.  We go one on one and work on some skill stuff and conditioning.
What is your current height and weight?
I'm about 6-8 and 215 pounds.
What position do you envision for yourself at Duke?  Would you consider yourself a hybrid forward, a wing?
Yeah, I mean, anywhere.  Kind of a hybrid forward or wing.  I think I am most comfortable on the wing especially in transition and in the half court as well.  That's where I envision myself.
When will you arrive on campus?
I am not sure of the exact date but probably July 1st or 2nd.
Once there, you will be going on a trip to China and Dubai with the team.  Are you looking forward to that?
Yeah, yeah, absolutely. I am not sure the exact date we'll leave for that either but it will be some time in early August.  So, we'll have a period of time together before go and hopefully will be on the same page when we get over there.
Duke recently added Jeff Capel to an already solid and stable staff.  And Nate James will still be in the fold as well.  What do you think of the Capel addition and have you had a chance to talk with him?
I haven't spoken to him yet but obviously he has a great reputation having coached at Oklahoma, I think for five years.  Any time you have a guy with head coaching experience and wants to come back, especially to his alma mater you want the guy there.  I think we have the best, one of the best coaching staff in the country now.  As you said, with Coach James still being there and around, he's a great guy too.
Was Nate James involved with your recruitment?  I know Chris Collins was the lead assistant, but anything from James?
Um, yeah, a little, he definitely watched us play a few times and I talked with him when I was down there and he's a great guy and all the players get along with him really well.  He's got a great personality, so ...
Is there a part of you that second guesses your decision to graduate a year earlier than planned? 
No, not at all.  Before I made the decision, it was tough because I didn't know whether or not I wanted to do it.  But once I made the decision I haven't looked back once thinking maybe I shouldn't have done it.  I knew it was what I want to do, so ..
Are you a bit nervous about the situation?  Is there extra pressure or a sense of urgency to prepare?
Yeah, a little bit.  I am excited, anxious, nervous, a lot of different things.  Coming in your freshman year I think it's a good thing if you are a little nervous.  I will just come in and do the best I can.
Have you had a chance to speak with the staff of late?  Have they spoken to you about how they might use you and what to prepare for?
Not as much about how they are going to use me.  They sort of mentioned that throughout the recruiting process, so not too much of that recently.  I talk to Collins a lot.  In fact, I'm going to call him a little bit later today.  They've been great in this.
Do you talk to the players much or have you been staying in touch with any of them?
Yeah, a little bit.  Here and there we talk a bit.  I know all the guys I am coming in with, Marshall, Mike, Quinn and Austin.  I talk to them a bit but obviously when I get down there the whole team will be together and we'll spend a lot of time together, so that will be good.
What is the one thing you look most forward to when getting to Duke?
I don't think there is one thing, I am just excited about the whole experience.  Just to be with the team all the time, working out, meeting new people, seeing more of the school, just everything.
Many have talked about certain players who might redshirt this season, but my understanding is that no plans have been made and the staff wants all to compete and go from there.
Yeah, that's the idea right now.  I'm going to come down ... there is no plan to redshirt right now, so I am going to go down there with the mentality I am not going to and try and earn a spot.  There is no plan and it will not be decided until the season comes.
Alright man, I appreciate your time Alex, have a good day.
Yeah, absolutely.
Alex Murphy to Duke
Discuss this article on the BDN message board by becoming a member and gain full site access.  BDN Premium is an extended coverage subscription option that takes you behind the scenes with all the latest news on the recruiting trail.  Join now and get live reports from not only the Tournament of Champions, but the Nike EYBL in Los Angeles.  No other site covers the summer recruiting circuit like BDN Premium where we bring you in depth interviews and analysis of every major event.  We'll be in the trenches this weekend bringing you up to date coverage on Tony Parker, Alex Poythress, Jabari Parker, Rasheed Sulaimon, Julius Randle and many, many, more true Duke prospects.