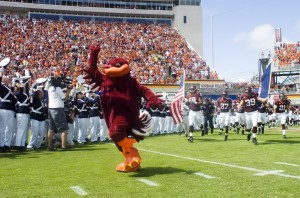 The Blue Devils will host the Virginia Tech Hokies on Saturday in Wallace Wade Stadium. The Hokies enter the game first in the ACC Coastal Division, and with a 10-game winning streak against Duke. The Blue Devils will have a tough task if they hope to pull off the big conference upset against David Wilson and the Hokies.
To help give us a look at the Hokies' 2011 season so far, BDN welcomes back our good friend furrer4heisman from Gobbler Country.
BDN: The early October loss to Clemson took the Hokies out of the spotlight, but they still sit atop the ACC Coastal Division at 7-1 overall. What potential roadblocks lay between Virginia Tech and a rematch with Clemson in Charlotte?
Well, they've got to beat Duke before they worry about anything else. It may be coachspeak, but Duke is no longer a team that you can take the week off and still expect to win easily. When you've got a quarterback like Sean Renfree, you've got a chance if the game is close. Tech can't start slow again and give Duke hope. They're a banged up football team. They haven't had a bye yet and it's easy to get caught looking ahead. They can't do it, even if it's "just Duke."
Beyond that, there's a road game on Thursday night against Georgia Tech and I don't like our chances in that one. Tough environment against an offense that has given us fits ever since it arrived in the conference. Then there's a Thursday night game home game against UNC, a game we lost in the same situation two years ago and then the rivalry game against UVa. There's plenty of landmines, but things have kind of set up nicely for Tech so far this year. They just have to handle their business and they'll get another shot at Clemson.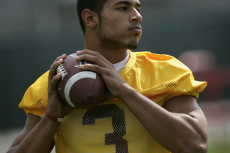 BDN: As many expected, David Wilson and Logan Thomas have been very good in their first year as starters for the Hokie offense. How would you rate their season so far and what do they need to improve during the second half of the season?
Wilson has been outstanding and has a good chance to break Ryan Williams' school record for rushing yards in a season. Where he sometimes gets in trouble is on runs designed between the tackles, he won't just take his yards that are available and he'll try to bounce it to the outside.
Thomas has been very solid. He's had one bad game. Like most quarterbacks, he just needs to work on the consistency of his throws. I'm happy with the progress he's making and so far he hasn't been careless with the ball.
BDN: Despite several injuries, the Hokies' defense remains one of the top units in the ACC. How does Bud Foster do it year in and year out?
Well, we had a down year last year, finishing eighth in the ACC in terms of both yards per game and yards per play allowed. It was an uncharacteristic Bud Foster defense in that teams were able to run right at us. We just so happened to score A LOT of points and it didn't matter as much. Tech's defense is at its best when it keeps teams behind the chains.
When you look at last year, the Hokies were giving up over five yards per carry on first down. Only Duke and Virginia were worse. This year that number's down to 3.7, which is certainly better but not outstanding.
Tech's success comes from doing well on first down and then pressuring the quarterback. We've had some good cornerbacks that we've trusted to be left in man coverage, allowing the Hokies to commit more personnel to the run game and then blitzing the opposing quarterback, which is where that success has come from. But if you're not doing your job on first down, everything else starts getting compromised.

BDN: You picked Duke to upset Boston College earlier this season. Even though the Blue Devils have lost 10 in a row to the Hokies, do you think they'll be able to give VT a scare on Saturday?
Vegas certainly does. The line started at -14. It's since moved to -15, but obviously the odds makers think this one will be closer than it's been in most years. If the Hokies are caught looking ahead to the bye week and beyond that to Georgia Tech, then they're in for a surprise. Duke has enough talent to put a scare into the Hokies, but I like the matchups on offense and defense for Tech and think they'll win comfortably. Not overwhelmingly, but comfortably.
BDN: Thanks for your insight!