[private]The ghost of former Raleigh Broughton player, "Pistol" Pete Maravich would have loved to play in his former gym on Friday night.  The reason was there was a standing room only crowd so big that a horde of people were turned away outside.
The reason for the huge gathering of basketball fans was the 37th Glaxo Smith-Kline Holiday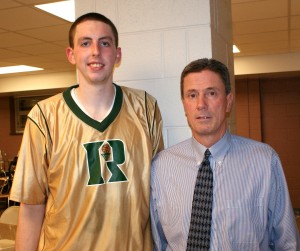 Invitational.  Day One saw Duke commitment Ryan Kelly lead Ravenscroft to a 71-56 victory over Apex.
Kelly tallied 21 points and added 4 rebounds and 3 blocked shots according to the official stat sheet.  Kelly displayed a wide variety of moves.
"We definitely began to get in a little bit of rhythm as we get into this tournament in Glaxo and didn't do as well as we had liked to down at Chic-Fil-A (Invitational).  But we finished with a win there and started out with a win here," said Kelly after the game.
In the nightcap, John Wall displayed his incredible athleticism as his Word of God team advanced with a 67-41 blowout against Rocky Mount.  Wall finished the game with 16 points, 3 blocks and 2 assists.  He had three resounding dunks in the contest which brought the crowd to its feet.
Word of God will not play again until Monday evening and Ravenscroft takes to the court again tonight at 9:15.  Preceding that game, Mason Plumlee and Christ School open with their first contest in the tournament.
Duke Assistant Coach Chris Collins and his Father Doug were there to take in the event.  Raleigh Police were called in to help handle the crowd outside where a line stretched for more than 100 yards two and three deep.
For complete and unmatched coverage, consider joining Blue Devil Nation Premium.  There you will find quotes from Kelly and Wall and analysis of the event that few fans were able to see.  You can also read our live blog from the event on the members only message board.  BDN will continue to report the results of the games in our free section as well, so check back in this evening.[/private]