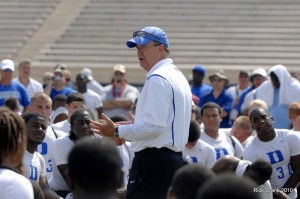 A friend of mine told me over the weekend that it must be nice to finally have a break in my work with the season over and no sports in play around the Duke campus.  As I explained to him, there are no breaks when you run a Duke web site for there is always something going on.  Just this past weekend Duke Football held there annual camp as some of their top prospects and area talent put their skills on display.   BDN will be bringing you coverage from the event this coming weekend and we'll recap the past weekend as well tomorrow.  Coach Cutcliffe is turning the football program around and it's exciting to watch him add building blocks for the future.  BDN continues to offer our football prospect interviews for free, so please visit often for we are dedicated to following Duke Football Recruiting.
Returning Duke players Kyle Singler, Nolan Smith and Seth Curry all attended the CP3 Developmental Camp this past week as well.  Reports and sources say that all of them enjoyed a successful camp.  And speaking of camps, the Duke Basketball Camp gets underway this weekend as well.
Another big camp kicks off this week and that is the NBA Top 100 Camp in Charlottsville, Virginia.  Several Duke prospects will be on hand as will BDN to bring you coverage via out site and our popular twitter page.  Be sure to sign up for our twittwer page for updates as the camp progresses.  For a complete listing of the prospects on hand, check out BDN Premium's message board.  Also, see our trial one month offer for BDN Premium, so that you might see if you like what we have to offer.
BDN's Andrew Slater talked with Isaiah Austin recently and we bring premium members an in depth interview with a kid who is ranked #2 in his class by Prep Stars.  Austin is an Arlington, Texas native and stands 6-11 and while listed as a center, he has great perimeter skills.  Check out Andrew's in depth interview with a kid who is truly one of the nations elite.
It was good to see former Blue Devil Quin Snyder be tabbed as an assistant coach by Doug Collins, the new coach of Philadelphia 76'ers.  This is a great opportunity for Quin.
We still have a couple of offerings on the way from the Coach K Academy including a nice one on one with ESPN anaylist Jay Bilas.  Be sure to check out the Chris Collins interview and Elton Brand, both of which have already been posted.
Good Monday all, and Go Duke.  Oh!  And there is never an off season if you want to cover Duke Athletics right.  Don't forget to sign up and follow us on twitter where we are listed as BlueDevilNation.  Also, see and join us on our facebook page as well.