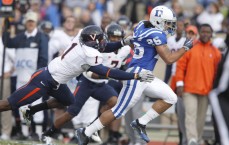 The Duke Blue Devils earned a win on the football field in Wallace Wade Stadium on Saturday afternoon by scoring 55 points, the most of any team in the past decade.  While it is true, the defense struggled to stop Virginia, the real story was that these Blue Devils had no quit in them no matter the circumstances.  There were a lot of positives to come out of the game and we'll discuss those in our weekly BDN Sunday Quarterback article.
An ACC win and hindsight
Duke got a much needed conference win and in the process now have a three game winning streak against Virginia, a team which was coming off a win over Miami.  One cannot help but look back at contests with Maryland and Wake Forest, two other games the Blue Devils could have easily won had the ball taken one extra bounce.  That would put them at 5-4 on the season.  While fans cannot dwell on that, it is a sign that Duke, at least on offense has improved and that they are playing their best football this season after Saturday's effort.
Sean Renfree continues his great play
With 6:07 to go in the fourth quarter, Sean Renfree broke down the field for a 37 yard run and a touchdown, but it was his throw on 4th and 18 from the Duke 13 yard line to Cooper Helfet that really put the Blue Devils in position to win an exciting game.  Renfree  beamed with confidence in the post game press conference and it's safe to say that he has turned another corner on the learning curve.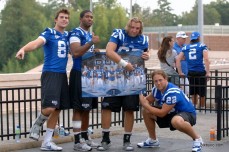 Speaking of Cooper Helfet ...
The Duke tight end made some big time catches and led his team 7 catches for 122 yards.  With Conner Vernon knocked out of the game, he became the playmaker and all his catches were huge.  UVA clamped down on Vernon and Donovan Varner so Coach Cutcliffe used the big tight end to get Duke out of a lot of jams.  Meanwhile, he got Varner in the game with a 9 yard run off the left tackle which scored.
And then there was Brandon Connette
Renfree looked like he had been in a prize fight after the win with some bloody nicks on his face and  Connette was no different.  Connette, a true freshman was a load for the Cavaliers defense rushing for 81 yards on 12 carries.  On one drive Connette and Duke had the ball on the 46 yard line. The tough nosed youngster ran the ball the first five plays from scrimmage until the ball was on the Virginia nine yard line before the aforementioned  Varner went untouched into the end zone while the Cav's defense was prepping for another  Connette run.  By the way, both Renfree and Connette scored two rushing touchdowns apiece.  Now go see when the last time two QB's did that in one game at Duke via the record books.  Oh yeah!  And his two rushing touchdowns ties Chris Douglass as the most from a freshman.
A third quarterback from St. Louis played a role as well
I am an on the field guy when covering the games but the weather kept me in the press box during the first half.  But once entering the battle zone in the second half, I got to talk to and see Thaddeus Lewis, Duke's record setting quarterback who is now with the NFL's St. Louis Rams.  I came to know Lewis over his four years at Duke and his character hasn't changed one bit.  When Varner scored, he came up to Lewis who was by my side and the two exchanged pleasantries before he went back to the bench.  Lewis was yelling encouragement to his ex teammates all game long and in crunch time he rolled into the bench area for support.
The game was physical and for men
The two teams were laying down some hits all game long and the play from up close was very physical in nature.  After one defensive stand, Duke nose guard Charlie Hatcher came off the field right beside me and was punch drunk.  I put my hand on his shoulder pad and pointed him the direction of the bench and about that time a teammate came up and got him there.  Hatcher was a warrior in the middle and came right back and made plays including a shoe string sack of  UVA quarterback Marc Verica.
Desmond Scott and Duke ran the ball well
The last time Duke gained 259 yards rushing was against NCCU last season but it was 2003 when Chris Douglass played that Duke gained as much against an ACC foe.  Desmond Scott fell 3 yards short of 100 yard for the day but his touchdown as time was winding down will be long remembered.  I just happened to be standing at the pylon near the endzone andthat meant I had an incredible birds eye view of the play.  Scott ran wide with the ball and just when you thought he was down and Duke was close to allowing Will Snyderwine to be a hero, but the sophomore had other plans.  Scott made a move and then tight roped his way down the sideline jumping and stretching toward the pylon two feet in front of me for the score.  His effort was tremendous and he grew up even more as a running back on a play I can still see in my minds eye.
Ross Cockrell is a playmaker
There were times when I wondered what Cutcliffe had seen in his redshirt freshman defensive back for he has learned on the fly by trial and error this season.  Cockrell had a coming out game versus Virginia with two interceptions and he was so close to a third that was called a dropped ball when nobody in the stadium saw it as such.  The replay was insufficient for the angle was bad, but many feel he made the play, but why harp on that with a huge Duke victory?  For what it's worth, Thaddeus Lewis said he was going to be the real deal and used his name in the same sentence as other great Duke DB's like John Tally.  The lessons learned this season will make Cockrell one of the best at his position as his career moves ahead.
You should have been there, you really should have been there
Duke has just under 23,000 in attendance and those who missed this game, missed a good old fashioned offensive shoot out.  I cracked on the students  via our twitter  game updates in that there may have been 30 there for kickoff and that number went to maybe 120 for the game.  The students who were there were supportive and warriors and are to be commended but for others to not support a team playing their hearts out late in the season is a tad tacky if not selfish.  The students there were shown appreciation by Cut and the team when they ran over to greet them after the game and it was emotional in a most good way.  Cutcliffe would later say he appreciated their support, calling them and those around for the celebration their real fans.  It would be nice to see the place full for the Boston College game this coming week where Duke can win their third straight game and  pick up another ACC win.
Closing the season on a high note thus far
After many early struggles, this Duke team has showed they have no quit in them.  Duke wants togo into the off season with momentum and they have a chance to do that in their remaining three games, two of which are at home.  Duke had several recruiting prospects at the game and word is they were impressed by the direction the Blue Devils are going in.  Many of the Dukies return a season from now and the rebuilding process is on track in a year when they lost key defensive players.  Cutcliffe said their goal was to get better each day in practice and that hard work is starting to pay off.  But nothing is sweeter than a win and yesterday Duke reached deep and won in exciting fashion.  See you in Wade for the Boston College game and when I do let me see the friend you invited by your side.  BDN supports Duke Football and so should  you!